Estimated read time: 2-3 minutes
This archived news story is available only for your personal, non-commercial use. Information in the story may be outdated or superseded by additional information. Reading or replaying the story in its archived form does not constitute a republication of the story.
MIDVALE — The Utah Department of Transportation launched a new campaign that promotes safety in getting to school.
A new app, Walking School Bus, is part of an ongoing effort by UDOT to promote safe walking and biking among schoolchildren. Using GPS data and an in-app group messaging feature, Walking School Bus helps parents find, create and organize small walking groups to take the place of carpools, helping parents and trying to keep kids safe in groups.
"It's a wonderful idea," said Principal Francis Battle of Nibley Park Elementary School. "Our students are riding their scooters and their bikes, so not only are they getting exercise, but they are also learning about safety habits and being cognizant of crosswalks and things like that."
After running several months of beta tests at a few Salt Lake City elementary schools, including Nibley Park, UDOT launched Walking School Bus on the Apple store last August. Since then, it has been used to form over 260 walking groups at 163 Utah schools.
But UDOT's aspirations are much larger.
On Friday, the department launched a campaign to further encourage both app usage and exercise. "Spring Walk 'N' Win," which will run through April 30, enters students and parents into drawings for prizes each time they use the Walking School Bus app. Individual winners will take home bikes or scooters; a randomly selected walking group will win $500 and be escorted to school by the Jazz Bear.
"Parents can win prizes, kids can, the school can — it's a win-win for everybody," said Charissa Wood, UDOT's school and safety manager.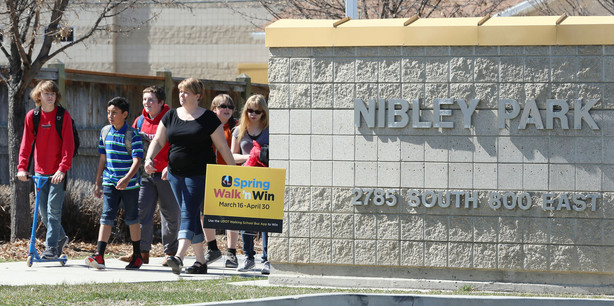 In fact, said Wood, the entire program is mutually beneficial.
"Walking to school is a great benefit for the children as well as the parents," she said. "It's a great opportunity for parents to create relationships with their own children as well as the children in their neighborhood and other parents. It gives them the opportunity to really get to know their neighborhood."
Aimee Horman, a mother of three who leads a walking group of 12, also noted Walking School Bus's community benefits. Her group uses the same walking path as their neighborhood's state senator, Sen. Gene Davis, D-Sugarhouse, and they frequently cross his path on their way to school.
"It's a great way to talk about the Senate and what the Senate does and 'Do you know who your senator is?' with kids who would never bother to ask that," she said. "But this little walking group happens to have those conversations because they have an adult leader to direct them."
"They've been a big part of school and a big part of learning," she later said of the morning walks.
Walking School Bus is available for free in both the Google and Apple app stores. Email: aoligschlaeger@deseretnews.com Twitter: @allisonoctober
×
Photos
Related Stories