Estimated read time: 4-5 minutes
This archived news story is available only for your personal, non-commercial use. Information in the story may be outdated or superseded by additional information. Reading or replaying the story in its archived form does not constitute a republication of the story.
El novato de los Grammy Sam Smith lució muy elegante con una pajarita blanca y Madonna se impuso en una de las alfombras rojas más ecléctica de la temporada, con un sombrero de torero, un corsé y botas altas.
La moda nunca sigue reglas en los Grammy, incluyendo a los caballeros, pero el ganador del premio al mejor artista nuevo, Smith, aumentó las expectativas con un smoking tradicional al tratar de controlar sus nervios caminando junto algunos de sus ídolos el domingo.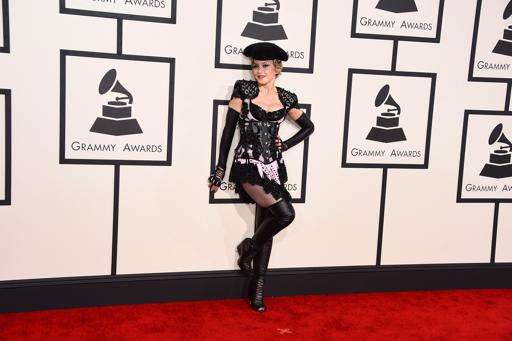 El atuendo de Madonna, con hombreras y una falda cortísima, fue creado por Riccardo Tisci de la casa Givenchy. Debajo de esa faldita la diva pop no llevaba casi nada, pues en un momento se la levantó y lució su tanga y su trasero en el Staples Center de Los Angeles. La cantante fue criticada por algunos en Twitter: "Acabo de ver llegar a Madonna, parece mezclar a la duquesa de Windsor con Mae West", dijo con humor un usuario.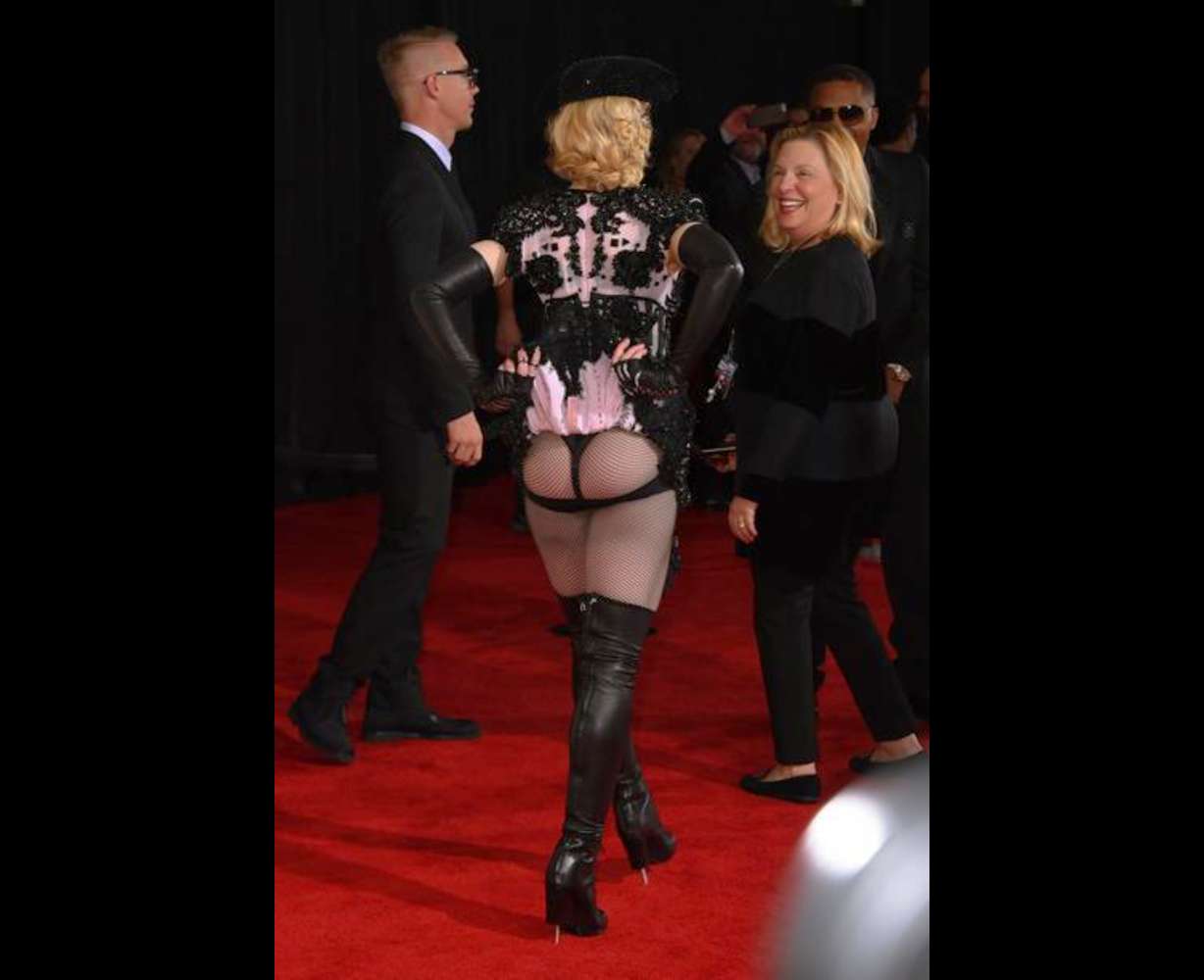 Beyoncé y Miley Cyrus optaron por el negro — Cyrus con un vestido largo con cortes estratégicos y la reina B con un vestido con un escote en V y cola larga de Proenza Schouler.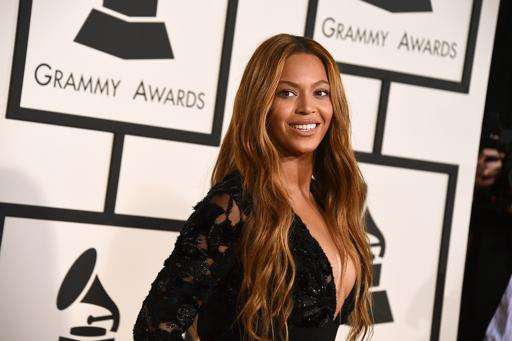 La atrevida cantante Joy Villa se lució con un vestido estructural en naranja brillante que asemejaba una jaula que la tenía encerrada (sin nada abajo) y no estaba claro cómo le hizo para ver Sia debajo de esa enorme peluca platinada que le cubría el rostro.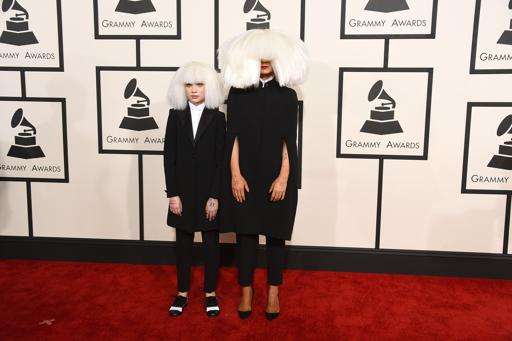 La rockera y diseñadora Gwen Stefani, un ícono de la moda, lució espectacular con unos pantalones de corte árabe y un corsé que tenía la mitad negra y la otra mitad de patrones geométricos sobre color crudo.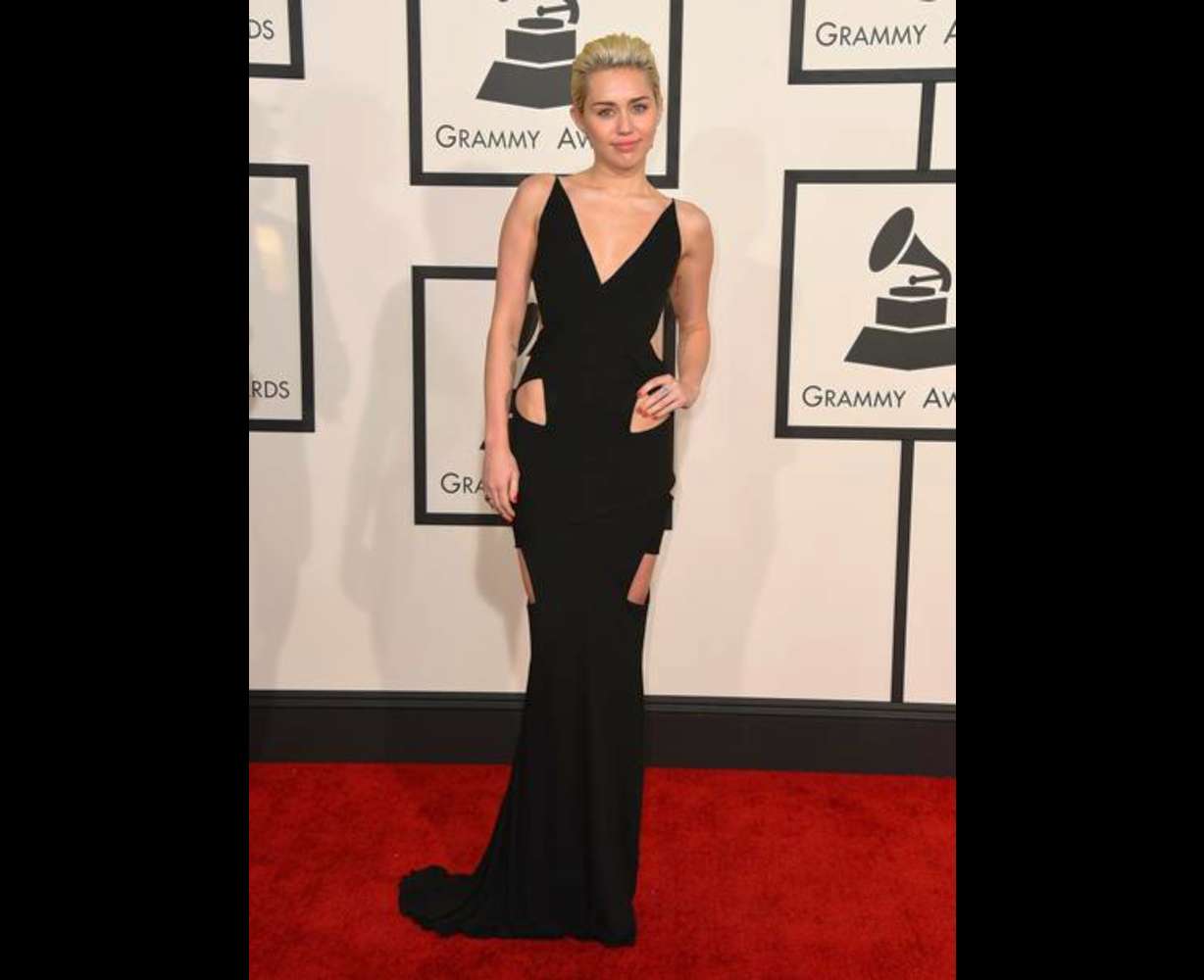 Brandy Clark combinó un par de tacones brillantes de Prada con un vestido recto plateado con negro, mientras que Nick Jonas guardó sus manos en sus bolsillos al portar un traje de cuatros en gris claro con un toque de amarillo y pantalones extra entallados. El cantante estuvo acompañado en la alfombra por su novia, la ex Miss Universo Olivia Culpo, que lució sobria toda de negro.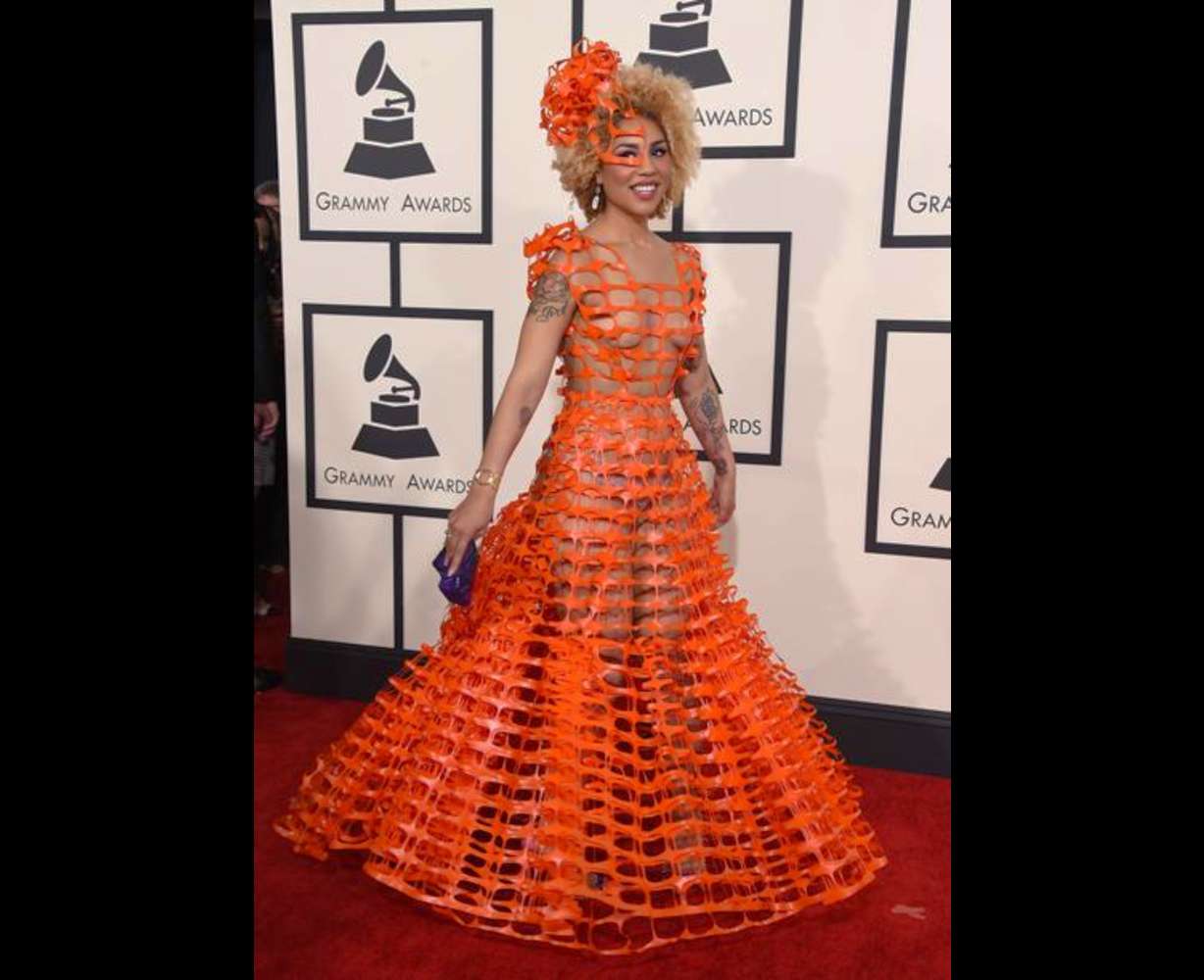 Clark reveló algunos de los detalles de manejar su fama reciente. "Como enfundarme en este vestido para principiantes", dijo a The Associated Press. El cantante colombiano Juanes, quien tendría uno de los números musicales de la noche, dejó que su esposa Karen Martínez se luciera con un vestido de encaje rojo mientras que él optó por un traje negro con corbata del mismo color.
Ariana Grande no abandonó su característica cola de caballo, que llevó con un vestido blanco y plata de Versace con bandas en la espalda y un sólo tirante. Iba acompañada por Big Sean.
"Llevo Saint Laurent de pies a la cabeza", dijo Sean sobre su smoking negro. Aloe Blacc llevó un sombrero negro con una pajarita gris y un smoking azul marino de la casa danesa Sand Copenhagen. Famoso por lucir pierna, Pharrell Williams no dejó su estilo: llevó un traje gris de pantalones cortos con una corbata de lazo a juego de Adidas. Pero los smokins no son sólo para los niños estos días. Charlie XCX lució uno blanco de Moschino, con una corbata de lazo rosa brillante y una estola.
"Odio la moda aburrida, quería hacer algo tipo años 80 y fabuloso", dijo. "Algo impredecible".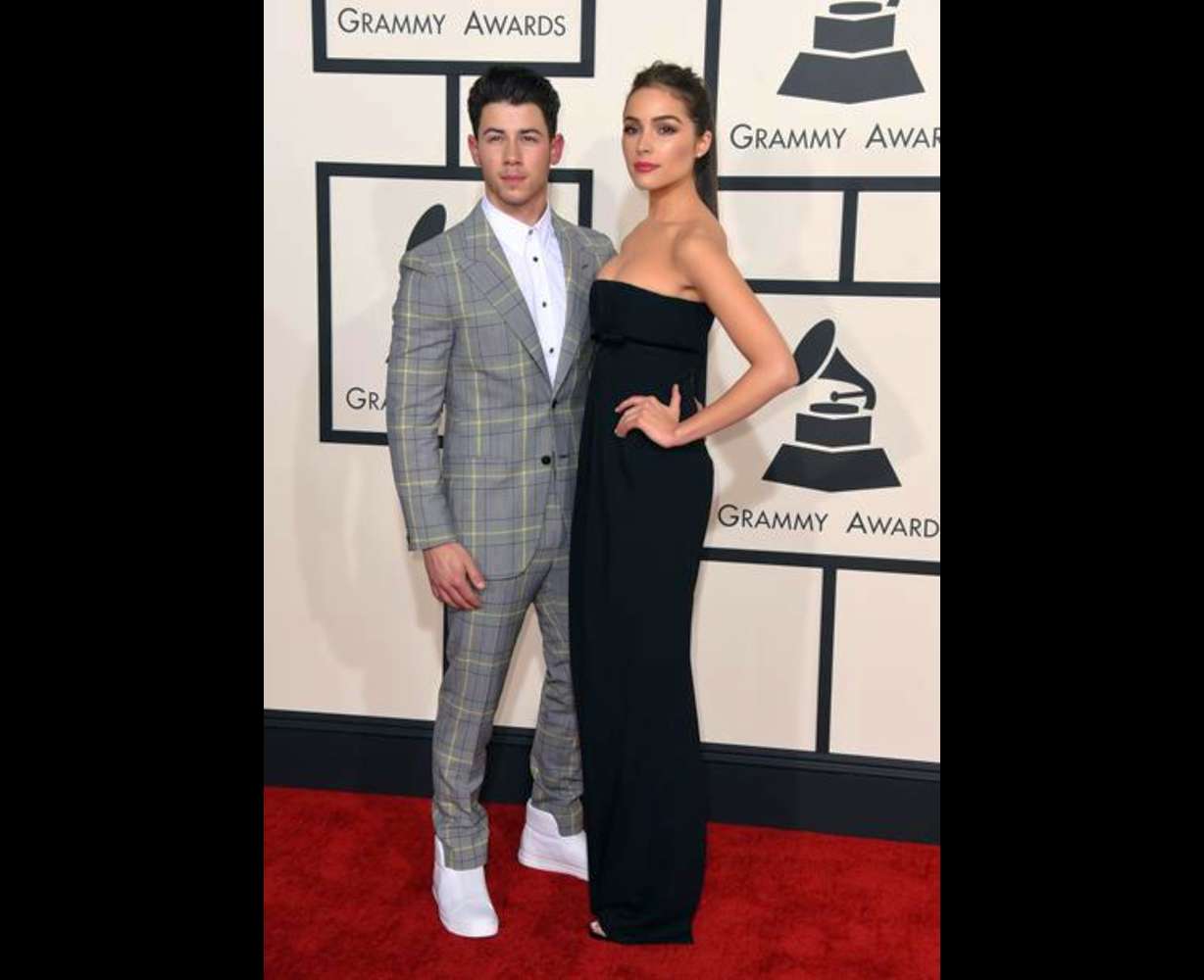 Meghan Trainor lució un minivestido entallado negro con una capa de manga larga adornada con estampado negro para su primera alfombra en los Grammy, a la cual llevó a nada más y nada menos que a su papá.
Katy Perry dejó suelto su pelo violeta para mostrar su vestido plateado con adornos metálicos, recién salido de la pasarela en París de Zuhair Murad.
"Quería brillar como un diamante", dijo Perry.
Perry fue saludada en la alfombra roja por Nicki Minaj que llevaba un vestido negro de Tom Ford, con un escote hasta la cintura. Ford también vistió a Jennifer Hudson en un sencillo pero impresionante vestido blanco que le quedaba justo debajo de la rodilla y con el pelo corto como complemento perfecto.
Lady Gaga optó por el gris para caminar con Tony Bennett. Complementó su modelo de Brandon Maxwell con una gran abertura en la falda con un collar de diamantes y esmeraldas de Lorraine Schwartz.
Taylor Swift llevó un vestido turquesa de Elie Saab que fue criticado por algunos: "cortinas sobre un minivestido", tuiteó uno de los usuarios de Twitter sobre su estilo. Kim Kardashian llevó un John Paul Gaultier dorado que gritaba "soy una bata de baño", pero su cabello corto lucia genial.
"Me encanta que brille tanto", dijo. "Me encanta".
Iggy Azalea usó una trenza gruesa como corona que contrastaba con su vestido azul rey de Armani Prive.
Rihanna, quien suele destacar por lo revelador de sus atuendos, se fue al extremo opuesto con un vestido rosado súper esponjoso, bajo el cual se perdía totalmente su figura.
×
Most recent News stories