Estimated read time: 4-5 minutes
This archived news story is available only for your personal, non-commercial use. Information in the story may be outdated or superseded by additional information. Reading or replaying the story in its archived form does not constitute a republication of the story.
OREM — Utah Valley University is a step closer to realizing its dream of constructing a fine arts center on campus with the announcement Thursday of more than $15 million in private donations toward the cause.
After spending Thursday morning advocating for the arts on Capitol Hill in Salt Lake City, UVU President Matthew Holland announced that $15.4 million has been raised with the goal of reaching at least half of the center's $36 million projected price tag through private donations.
"To drive creativity and innovation for industry and commercial purposes, we need the arts to flourish at our institution," Holland said. "Currently, our arts program is doing pretty well, but they're doing it despite really impoverished physical settings."
Utah Valley is the only university in the state without an independent performing arts center. Arts classes have struggled to carve out space in the school's trade and technology building, which also houses UVU's only theater.
"We've become an all-Steinway school," Holland said. "And the only place we have to put those Steinways is next to the auto body shop."
That hasn't stopped the school from gaining recognition for the quality of its work.
---
To drive creativity and innovation for industry and commercial purposes, we need the arts to flourish at our institution. Currently, our arts program is doing pretty well, but they're doing it despite really impoverished physical settings.
–Matthew Holland, UVU President
---
"This has been a long time coming," said Zoe Wilde, a senior in UVU"s Theater Acting major. "They've been talking about this since I was a freshman."
Wilde has spent five years performing on UVU's single, undersized stage. She received national recognition for her role in last year's musical production "Next to Normal," which was chosen as the year's best musical at the Kennedy Center American College Theater Festival.
The year before, UVU's performance of "Vincent in Brixton" was honored as outstanding production, outstanding performance by an actress, outstanding direction, outstanding scenic design, outstanding costume design and distinguished ensemble at the national Kennedy Center American College Theater Festival.
"Honestly, I think we deserve it," Wilde said. "We do great shows and our space is not that great. We're really making a name for ourselves, and I would love to have a building that reflects that."
As the Utah Legislature works to finalize the 2015-2016 education budget, Holland is petitioning for partial public funding of what he has deemed an expedient addition to the university.
"The arts is an essential part of a university education," Holland said at an on-campus press conference Thursday afternoon. "It's what makes higher education higher. Whether you're going to go into it professionally or not, university students need to be exposed to it. That's why we're doing this: not just for the arts students themselves, but for the whole campus."
Despite demonstrated need, Holland said the school "faces big hurdles" as business and government officials, as well as educators, focus on continuing and growing emphasis on science, technology, engineering and math education.
Six of the nine capital facilities on the Utah State Board of Regents' 2015 priority list would in some fashion facilitate instruction, research and training in STEM fields. In its place just third from the bottom of the list, UVU's Performing Arts building stands out as one of the few non-STEM related projects.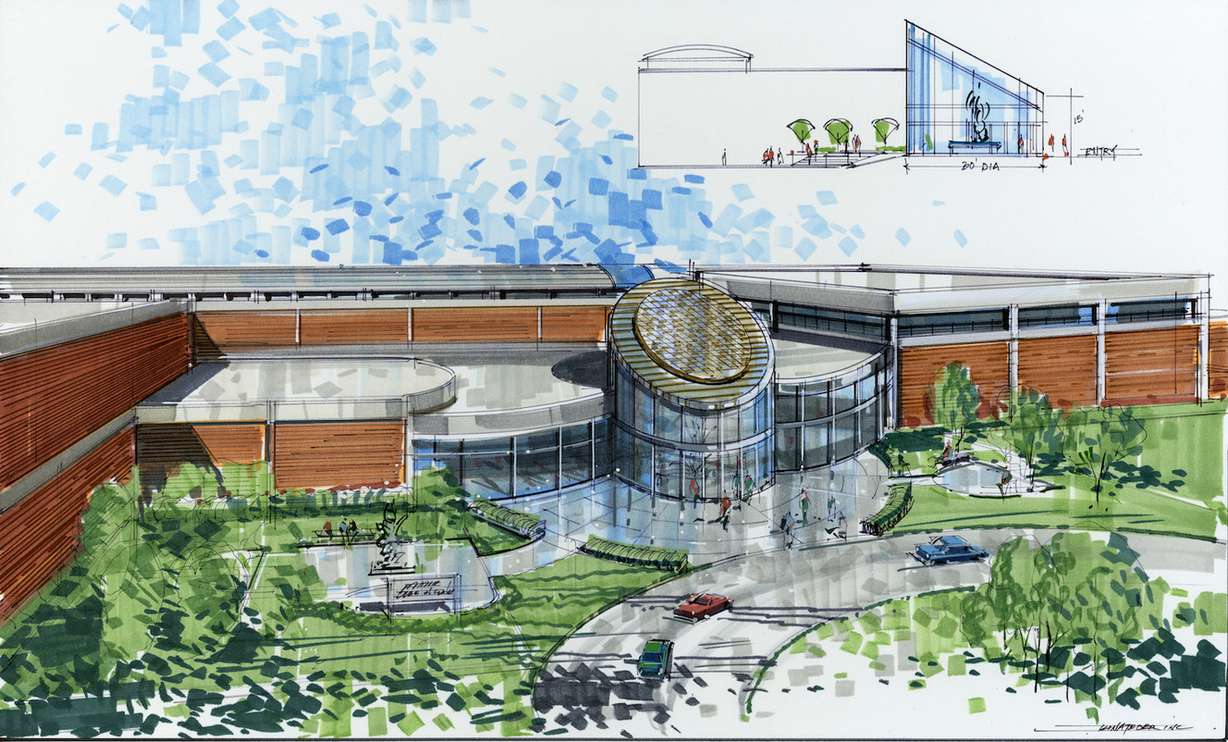 "Whether we can be victorious this session or not remains to be seen," Holland said. "But I'm hoping that this message will come through: that this community really needs this, wants this, and is supporting this. Whatever help we can get from the Legislature, whenever we can get it, will certainly be welcome."
Meantime, Holland and his team plan to continue soliciting private donations. They are currently finalizing the details of a donation-matching effort, in which wealthy donors will match the donations of UVU students at a 10-1 ratio.
"We're going to open this up to students first, to let them make a difference in the building," said Marc Archambault, vice president of development for the Utah Valley University Foundation. "We want this building to really be theirs."
Archambault said the fundraising opportunity will later be extended to university alumni, the parents of UVU students, and other community members.
"It's not so much with the goal of raising a bunch of money — although we'll have the match and all the gifts that are contributed — but of generating excitement about what the school of the arts is all about and how we're all coming together," he said.
Archambault's vision is one of a center that serves both UVU arts students and Utah Valley at large. In addition to essential classroom and rehearsal space, the new facility will include theaters, recital halls, and public space for art exhibits. The amenities will be used to showcase artists from all over the world, along with UVU's own students.
---
Allison Oligschlaeger is currently studying English and Arabic at the University of Utah while completing an internship with the Deseret News. Contact her at aoligschlaeger@deseretnews.com.
×
Photos
Related stories
Most recent Utah stories