Estimated read time: 5-6 minutes
This archived news story is available only for your personal, non-commercial use. Information in the story may be outdated or superseded by additional information. Reading or replaying the story in its archived form does not constitute a republication of the story.
PROVO — The BYU Cougars added 23 new players to their football program Wednesday during college football's national signing day.
Of the 23 players, two of them, DB Eric Tenaka (Snow College) and RB Squally Canada (Washington State) were midyear signees.
In addition to Wednesday's signees, BYU will also welcome back 14 scholarship players returning from LDS Church missions.
The Cougars did a nice job of balancing out their class, getting commitments from 12 players on the defensive side of the football and 11 on offense.
BYU head coach Bronco Mendenhall was pleased with how the day turned out and the types of players the Cougars are getting.
"My coaches worked really hard," Mendenhall said. "I think they did an outstanding job in finding the needs and meeting the needs that we had for this particular class and this particular team … What we were looking for is to add young, exceptional talent that belongs at BYU and is qualified at BYU."
BYU's recruiting class is made up of players from five states. Nine players are from the state of Utah; six recruits hail from Texas; five from California, as well as signees from Kentucky, Hawaii and the island of Tonga.
The Cougars' ability to recruit the state of Texas is a big deal for the program. Mendenhall credited second-year wide receivers coach Guy Holliday, whose recruiting area is Texas, for the success.
"That's basically where Coach Holliday's expertise is. We targeted that not only because that's where he's familiar with, but the quality of football that's played there," Mendenhall said. "It's just taken (some) time for the BYU brand to take hold, and beating Texas helps. The way that BYU is perceived in that state, it's big-time football that's capable of beating anybody."
While BYU brought in several players from Utah, a lot of high-profile in-state talent decided to go elsewhere. For Mendenhall, recruiting Utah is important, but the players have to be a good fit for the Cougars.
"Really the only kids we wanted and didn't get are ones that I prolonged our offering. Normally, we're first on any kid that belongs at BYU. In the event that we held for a little bit longer, those would be the ones that we didn't get, so I learned," he said. "I agree that the talent this year was very good. When you start looking at future classes as well the state of Utah is becoming, not only highly recruited, it is really a good area. It's great for us."
Ironically, the most talked about player that BYU signed most likely doesn't even know how big of a star he already is. DL/OL Motekiai Langi, 6-foot-7, 410 pounds, is currently in the Missionary Training Center in Provo as he prepares to serve an LDS mission in Arizona.
Within moments of BYU football's Twitter account tweeting out his official signing, he became a trending topic. From Cougar fans, to the who's who of college football, everyone was in awe of Langi's sheer size.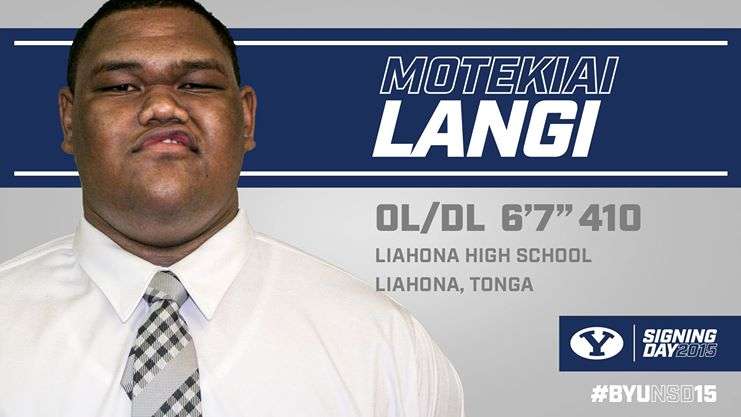 Langi's recruitment began two years ago when defensive line coach Steve Kaufusi discovered him on a trip to Tonga. The Tonga High School product has never played football, and according to Mendenhall, he really didn't expect anything to happen when Langi stopped by the football offices the day before entering the MTC.
"I had no intention of offering a scholarship, I was just anxious to meet him," Mendenhall said. "I've never done anything like this before. I've met him in person and seen him 15 minutes in my entire life. He's leaving to go on his mission, and I just felt, why not?
"I think he can play something and so we're going to play him at nose tackle first, maybe we'll just have him lay sideways right off the snap and just block the whole thing out. There's got be some way he can do something."
One addition to this year's BYU signing day was having former players announce the names of the signees once they became official. Players like Austin Collie, Bryan Kehl, Steve Young, Robbie Bosco and Brady Poppinga took part in the festivities. The role of alumni in the BYU program has been a topic of discussion after a former player made comments about the alumni not having a role in the current program.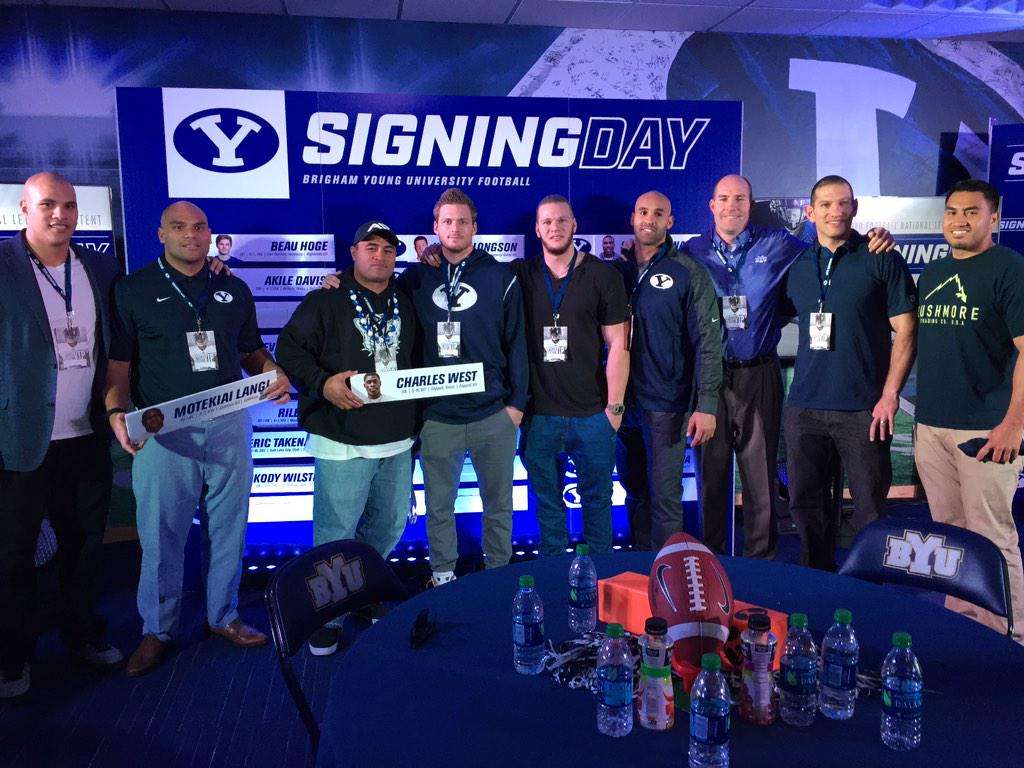 Mendenhall very candidly addressed the topic during his press conference.
"I think I can do much better. What I've struggled with for a long time is being the head coach as well as the defensive coordinator, and then having three young kids at home and then trying to have enough time for everything," he said. "I'm a pretty direct and blunt person, but what I realize is that relationships aren't an event, relationships take constant maintenance and care and reaching out. It's not my strength, and I can do a lot better, and I would like to do a lot better."
Eight members of the 2015 recruiting class plan to serve LDS missions prior to enrolling at BYU. Cougar fans' first chance to see most of the signees will come in March when spring practices begin.
"I don't think that we missed on any needs," Mendenhall said. "I'm not sure I can look at any other spot on our team and say we need one more of this or one more of that. I think we're in pretty good shape, with momentum."
BYU Football 2015 Recruiting Class
| NAME | POSITION | HEIGHT | WEIGHT | HOMETOWN |
| --- | --- | --- | --- | --- |
| Kieffer Longson | OL | 6-7 | 295 | San Ramon, California |
| Akile Davis | WR | 6-1 | 186 | DeSoto, Texas |
| Micah Simon | WR | 6-1 | 185 | Dallas, Texas |
| Beau Hoge | QB | 6-1 | 198 | Fort Thomas, Kentucky |
| Kody Wilstead | QB | 6-6 | 215 | St. George, Utah |
| Charles West | RB | 5-10 | 187 | Coppell, Texas |
| JJ Nwigwe | OL | 6-4 | 260 | Rockwall, Texas |
| David Lui | DL | 6-4 | 255 | Pittsburgh, California |
| Devin Kaufusi | OLB | 6-6 | 240 | Provo, Utah |
| Will Sedgwick | MLB | 6-2 | 220 | Laguna Hills, California |
| Jeremiah Leremiah | MLB | 6-0 | 230 | Hurricane, Utah |
| Riley Burt | DB/RB | 6-1 | 195 | Mantua, Utah |
| Zayne Anderson | DB | 6-2 | 190 | Stansbury Park, Utah |
| Dayan Lake | DB | 5-11 | 190 | Layton, Utah |
| Trevor Brent | DB | 5-10 | 165 | Balch Springs, Texas |
| Demetrius Davis | OL | 6-4 | 265 | Pleasant Grove, Utah |
| Jacob Jimenez | OL | 6-6 | 275 | Pflugerville, Texas |
| Motekiai Taukolo Langi | OL/DL | 6-7 | 410 | Liahona, Tonga |
| Eric Takenaka | DB | 5-10 | 205 | Salt Lake City, Utah |
| Squally Canada | RB | 5-10 | 192 | Milpitas, California |
| Brady Christensen | OL | 6-6 | 240 | Bountiful, Utah |
| Tevita Mo'unga | DL | 6-3 | 300 | Murrieta, California |
| Mika Tafua | OLB | 6-3 | 225 | Laie, Hawaii |
×
Most recent Sports stories