Estimated read time: 5-6 minutes
This archived news story is available only for your personal, non-commercial use. Information in the story may be outdated or superseded by additional information. Reading or replaying the story in its archived form does not constitute a republication of the story.
SALT LAKE CITY — A vast blueprint for the central Wasatch Front that includes a network of trails, expansion of transit that could include trains to mountain resorts, and a tunnel connecting two canyons begins a public airing Wednesday as the plan balances protection of precious water and land resources with Utah's growth and economic expansion.
Mountain Accord, a consortium of 20 public and private entities, has released its proposed plan for future development of the central Wasatch recreation areas, noting economic centers and transit routes, and wants the public to give specific feedback about what Utah should look like in the future.
"It's the future we choose," said Ben McAdams, mayor of Salt Lake County, explaining the often-heard phrase he uses to inspire county employees to look and plan ahead.
McAdams serves as chairman of the executive committee board of Mountain Accord. He said he and the other stakeholders, which include business interests and environmentalists, are seeking compromise as they work with both "a sense of urgency and a sense of caution," he told the combined editorial board of the Deseret News and KSL broadcasting this week.
Urgency because the population along this central Wasatch blueprint area is projected to grow from 1.1 million to 1.6 million by 2040, with the number of visitors to its recreation areas estimated to jump from 5.7 million to 7.2 million a year by then.
Caution because compromise is sought to find workable solutions for the network of interests that includes resorts, homeowners, business owners, transit officials and those charged with protecting the watershed.
"We're looking for long-term solutions that will stand the test of time," said Laynee Jones, Mountain Accord project manager, noting that she hopes 10,000 people will weigh in on the plans in anticipation of completing an environmental impact statement during the next two years.
She detailed four main actions of the plan: preserving the environment, focusing economic development in business centers while keeping tourism competitive, creation of a regional trail network, and expanding transit service that connects urban centers to the mountains.
---
We're looking for long-term solutions that will stand the test of time.
–Laynee Jones, Mountain Accord project manager
---
"As a town, we think that more connectivity is good, but it's always a balance to keep it a nice place for our residents and our visitors," said Park City Councilman Andy Beerman, responding to the plan. "But we also have to keep it accessible (to provide) a healthy economy."
Beerman said transportation has long been a concern in Park City and figuring out "a better way to move people around" is a key component to the long-term growth plan for his community.
He said any transportation plan likely would include federal funding to build the project, whether it includes rail or buses, and he'd like to see development begin in the next two years or so.
"It's an aggressive timeline, but we feel a sense of urgency on this," he said. "I expect the debate to be long and spirited. There is a common sense of urgency that growth is coming and we need to better prepare for that if we want to protect the Wasatch."
Save Our Canyons executive director Carl Fisher said his organization has had "huge concerns" with the idea of interconnection between the canyon resorts, but this proposal does address a number of conservation issues that are important to preserving the environment.
"We have a lot of concerns about these proposed transit connections," Fisher said of his group, dedicated to preserving the beauty and wilderness of the mountains. "But this is what's going out to the public and what we need to know from the community is, 'Is this a good deal?'"
He said the plan represents the most palatable compromise that could be reached while maintaining the highest level of conservation gains they could reach with other stakeholders.
Neither Jones nor McAdams put a price tag on the ambitious plan, saying it depends on what comes forward as priorities. But they hope to engage both public and private resources as the plan moves forward.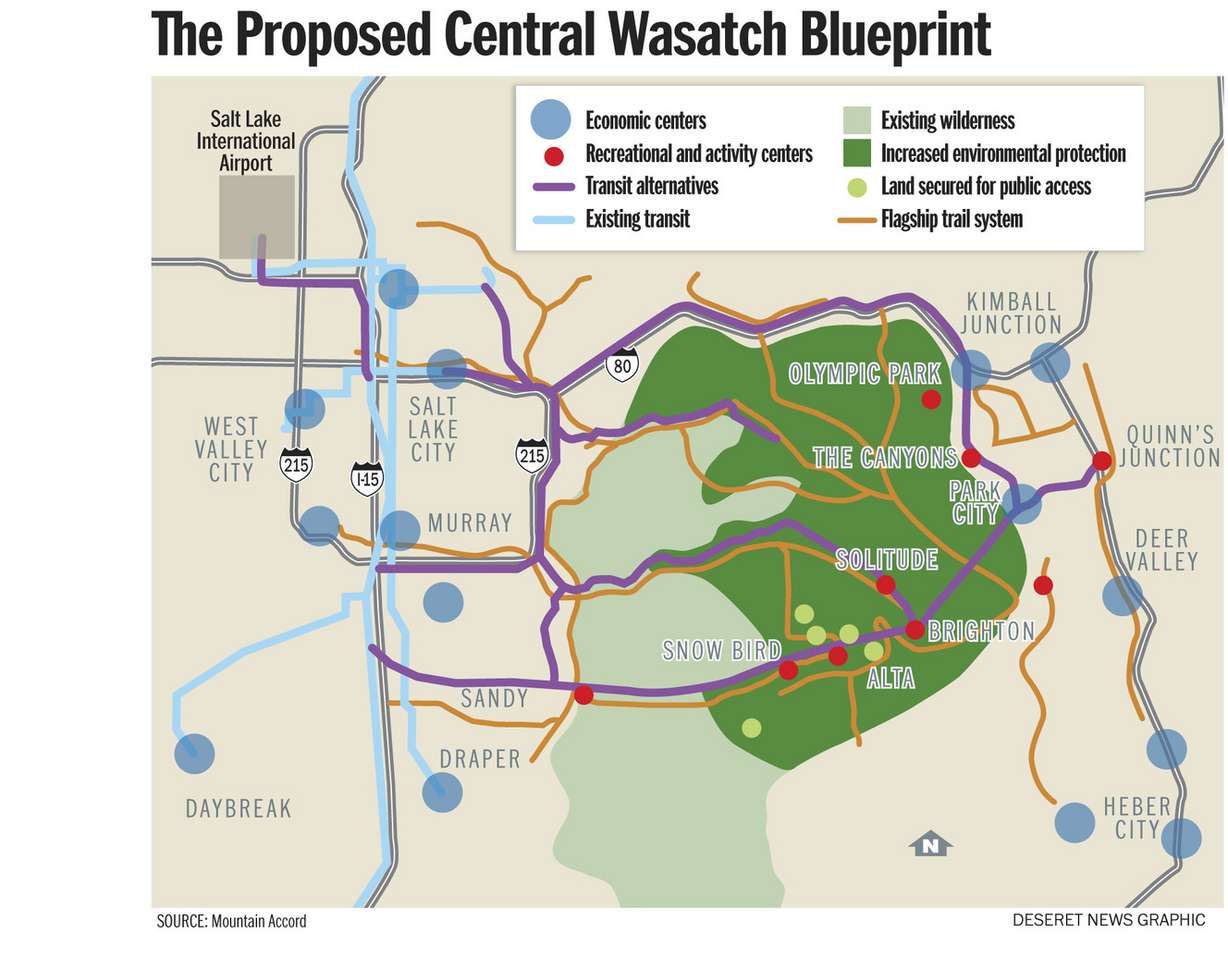 Fixed rail lines debate
Among the most debated will likely be the concept of fixed rail lines that would take passengers to and from the canyons. The blueprint includes maps showing proposed transit connections from already existing light rail and commuter rail lines to ski and recreation areas in Big and Little Cottonwood canyons, along with Millcreek and Parley's canyons.
Connecting the canyons is a way to help Utah compete in a global economy, McAdams said.
The benefits would not just be for ski resorts and their visitors, but for tourism in general and attracting businesses and jobs, he said. Leveraging the rail system and the mountain are sought-after ideas for businesses, he said.
"We want to know what the economic benefits are (in order) to tap into those benefits to pay for the project," McAdams said. "We see a lot of potential beneficiaries, both governmental and private."
The Utah Transit Authority, the state's largest agency, is taking a measured approach to the proposal.
"UTA understands the need for a transportation system that will preserve our mountain resources," said spokesperson Remi Barron. "We are waiting to hear what the public has to say about the proposals for canyon transit."
He said UTA would collaborate with all of the partners to identify transportation options and determine the best solution.
Public comment
The full Mountain Accord blueprint can be found at mountainaccord.com and comments about the proposal can be submitted online.
A public Q-and-A session with Mountain Accord and government officials will be conducted Feb. 11, 6 p.m., at Cottonwood High School auditorium, 5715 S. 1300 East.
A public meeting in Park City is scheduled Feb. 24 at 6 p.m. at the Eccles Center for the Performing Arts, 750 Kearns Blvd. A second meeting will be conducted the following day, Feb. 25, at 6 p.m. at Skyline High School, 3251 E. 3760 South.
×
Photos
Related stories
Most recent Utah stories