Estimated read time: 7-8 minutes
This archived news story is available only for your personal, non-commercial use. Information in the story may be outdated or superseded by additional information. Reading or replaying the story in its archived form does not constitute a republication of the story.
SALT LAKE CITY — With fans cheering away, and stage managers reminding the audience not to ask the stars for hugs or to give a personal shout out to their mom via iPhone, "Doctor Who" actors Karen Gillan and Billie Piper entered the stage at the Salt Lake Comic Con, followed by Matt Smith bursting through the doors of the Tardis in classic "Who" fashion.
Eager fans already lined up to the microphones began asking the actors a smattering of questions.
One of the first questions asked concerned what their favorite aspects of working on "Doctor Who" was, and in turn the actors responded with a slew of witty retorts and serious answers as well.
"Getting to wear a bow tie every day," said Smith, the Eleventh Doctor in the series.
"I loved running away from things like that," said Gillan, pointing to a "monster" in the audience. She played Amy Pond, one of the Doctor's traveling companions.
"I think it's all the wild and wonderful storytelling that takes place," said Piper, who played one of the Doctor's early companions, Rose.
Each actor also had a favorite villain from the series.
"I think mine is the Ood," Piper noted, referencing an alien species with telepathic abilities.
"Weeping angel is my most favorite villain," Smith said, "because I just think the concept behind them is really brilliant. The villains were actually based on a game from England (Red Light, Green Light in America) about not moving when you are looking at them."
Smith was put in an awkward situation when he was asked who his favorite companion was.
"You don't have favorites in the companion realm," he said. "It translates into your best friend — I love them both equally more than each other."
The actors unanimously agreed that it was "Doctor Who" that launched their respective acting careers. Gillan is living in the U.S. now, working on an upcoming Western film with Ethan Hawke and John Travolta.
"I didn't really have (a career) before 'Doctor Who.' I came completely from obscurity. It transformed everything for me. Like one time I was on Skype trying to impress a director that I was auditioning for, and during the interview he took a swig out a Tardis mug drinking coffee, and I just thought for sure, I am going to get this job now," Gillan noted. "My mom almost fainted when I told her I was going to star in her favorite show."
"It transformed our personal lives. And everything," Piper said.
When it came to talking about some of their favorite things about being in the United States, Gillan and Piper were impressed by the comical, yet very American aspects of life in the States.
"America has good fun portion sizes, and gyms," Gillan said.
---
I think that the Doctor would be the best villain somehow.I was really interested in his dark side. There is some sort of darkness. There is really an angry devastated man in there.
–Matt Smith
---
"Plumbing. You can flush anything down the toilets, with those pipes," Piper added.
While the actors trailed off on several tangents, and the typical English bantering about soccer (football), and whose team was the best, there were also some touching moments at the panel, striking a chord with some of the fans in the audience.
At one point, while asking a question about the series, a fan choked up, reflecting on the recent death of her mother, and how she contemplated taking her own life for a time after her death. Piper and the rest of the crew subsequently invited the woman up to sit with them on couches for the rest of the panel.
"Well done for being strong. Come back and ask us a question. We are all chums," Piper and Smith said, inviting the woman on stage. "Come here. You are not alone."
Now, with the woman sitting between Gillan and Piper for the duration of the event, fans continued to pepper the actors with a diversity of questions, from what was each actor's favorite episode to whether they would want to travel backwards or forwards in time.
"My favorite episode is 'The Eleventh Hour,' because it was our first episode. Everything was new and exciting," Gillan said.
"'Fathers Day' was my favorite one, it was the most domestic episode. And after like running around in CGI madness, it's quite nice to do something strictly about relationships," Piper said.
Smith said "Vincent and the Doctor" was his favorite, referring to an episode about time traveling back to help the artist Vincent van Gogh.
However, the actors were torn about which direction they would like to time travel in.
"I love going back in time. I hate the future. I am much more of a romantic. Revisiting times that you had absolutely nothing to do with. The futures are terrifying," Piper said.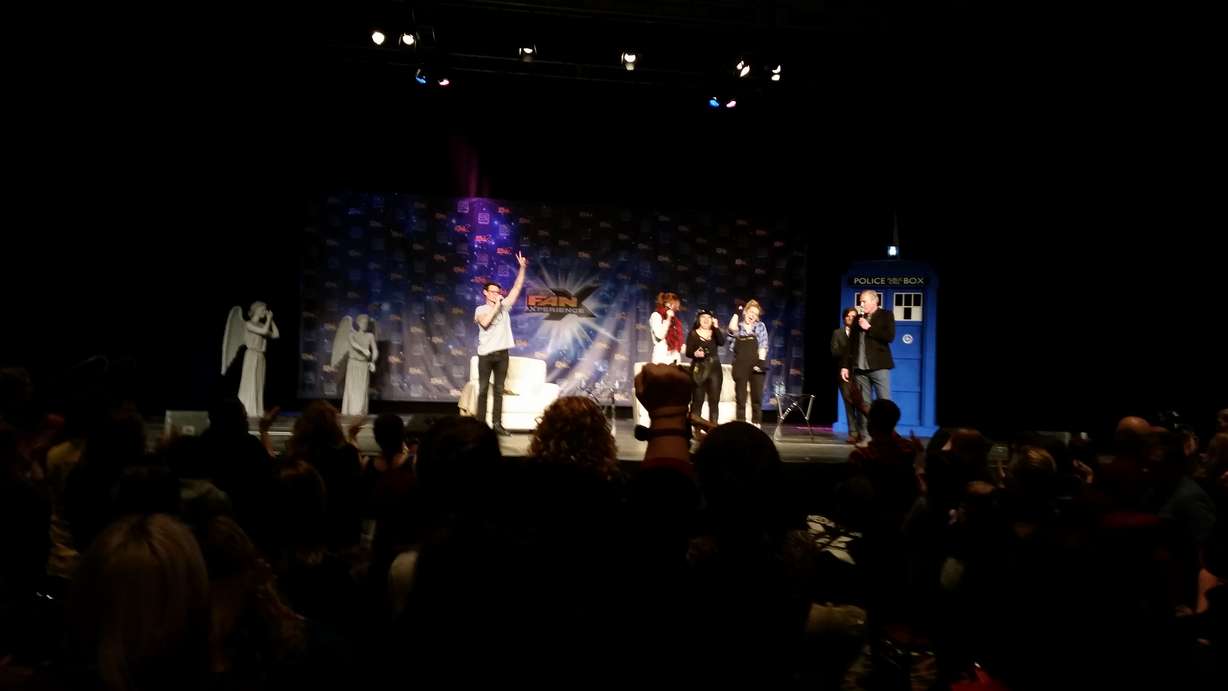 "If I was really going to time travel, I would go forward to see how we develop. In the future we would probably be just massive brains and one big thumb for texting," Gillan joked.
"I like the fact that you can go back and forth each week," Smith concluded.
The crew agreed that there weren't really bad moments filming on "Doctor Who," except for how cold it was often while filming.
"I hated being cold at night shoots in Wales," Smith said.
"Filming with Cybermen meant you had to be outside at 4 or 5 in the morning. I hated Cybermen," Piper added.
"Shooting in caves. We didn't see the light of day. Remember when we went underground for like three weeks?" Gillan said.
When offering tips for aspiring young actors, Gillan and Piper had sage advice for the Comic Con audience members.
"I would say in this day and age, its really easy to be self-generating. You can put things online and people might see it. That's a really good thing to do," Gillan said.
"Hang out with a vast arrangement with people. Don't make acting a sport. It just becomes quite vulgar when it becomes quite competitive. When it becomes bloodthirsty—that is a massive don't," Piper said.
Wrapping up the panel, a fan asked if they could create a "Doctor Who" villain, what would it be?
---
Hang out with a vast arrangement with people. Don't make acting a sport. It just becomes quite vulgar when it becomes quite competitive. When it becomes bloodthirsty—that is a massive don't.
–Billie Piper
---
Smith, who kept commenting throughout the discussion on his fear of "small wrists," said that his would be "wrist woman," and all you would see of her would be these scary emaciated wrists.
"Sometimes I send pictures of my wrists to Matt to freak him out," Gillan added on.
"I am scared of tennis balls," Gillan said, noting that since most villains were actually CGI, they often had to stare at tennis balls representing the villain during scenes.
"They will just have like a tennis ball on a stick. You had to look really scared of tennis balls and it's crept into my real life. No Wimbledon for me."
Piper took a more serious tone when answering the question.
"Kind of potentially realistic — ghosts — probably. I totally believe in those, something authentic, something like freaky children, that is always something quite powerful. Some kind of demon. I mean, what haven't we touched on, though?" Piper concluded.
"I think that the Doctor would be the best villain somehow," Smith said. "I was really interested in his dark side. There is some sort of darkness. There is really an angry devastated man in there."
Lastly, the fans asked the panel to narrate or come up with their own "Doctor Who" episode on the spot. The story began with Smith discussing how the Tardis crashes into the Salt Lake Tabernacle, and ultimately ended with Piper joining in about Rory, Amy Pond's husband on the show, coming out of a huge bloody lake screaming.
Each of the actors ended by quoting their favorite line from the series, each one echoing a classic and timeless response in the series.
"But why, Doctor? Doctor? Doctor!" Piper and Gillan added in various intonations.
"They had 50 ways of saying doctor," Smith said.
When visiting a real doctor, Smith said he never tires of hearing, "Well, two doctors here today, then."
×
Photos
Related stories
Most recent Utah stories