Estimated read time: 4-5 minutes
This archived news story is available only for your personal, non-commercial use. Information in the story may be outdated or superseded by additional information. Reading or replaying the story in its archived form does not constitute a republication of the story.
This story is sponsored by Young Automotive Group - providing customers with value, respect and understanding.
Sure, applying makeup, singing along to Taylor Swift and balancing your checking account are all part of everyday life (right?). Although the average American spends 101 minutes per day driving, according to Harvard Medical School, even the world's most skilled multitasker should likely save some activities for later on down the road (no pun intended).
Changing your clothes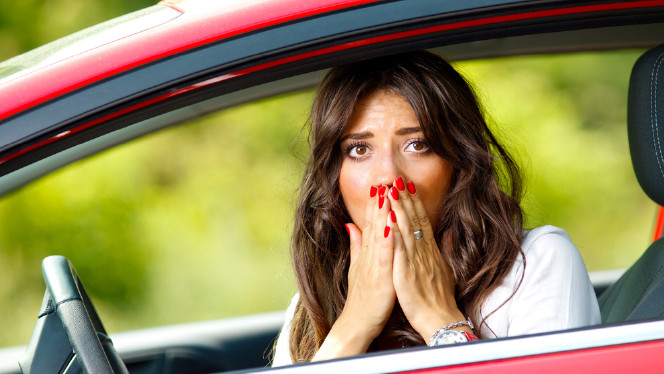 Photo credit: Shutterstock
Late for that spin class? You may be tempted to change on the go. But beware; stripping down behind the wheel can be a dangerous — and humiliating — proposition.
Not only could you wind up in an accident, but you'll also be half-naked when the cops show up. And have you ever experienced the tangled mess that happens when you take your shirt off before you've unlatched your seat belt? You don't want to.
Getting your funk on
Photo credit: gifsoup.com
Do you love to sing along to the car radio? Well, you're not alone. DME Automotive recently reported that 56 percent of drivers sing in the car. But when do you not want to be caught singing? Well, maybe when you've gotten a little too into it. Yes, we're talking to the guy at the stoplight shaking it up harder than Taylor Swift.
Applying your makeup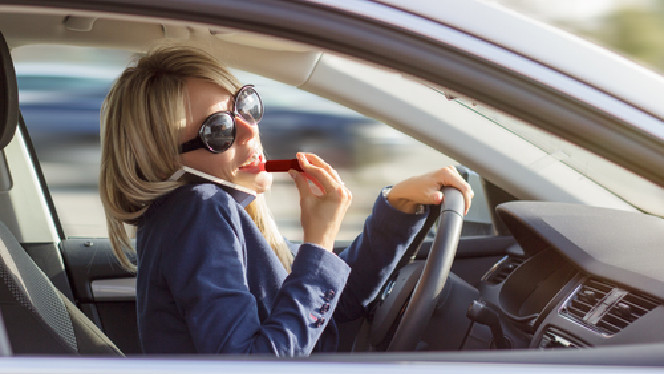 Photo credit: Shutterstock
Everyone runs a little late now and then. But that's no reason to treat every red light as an opportunity to play cover girl. Not only will you annoy the drivers behind you (who will no doubt remind you with a loud honk when the light turns green), you'll also likely smear your eyeliner (the horrors!).
Scarfing down a Big Mac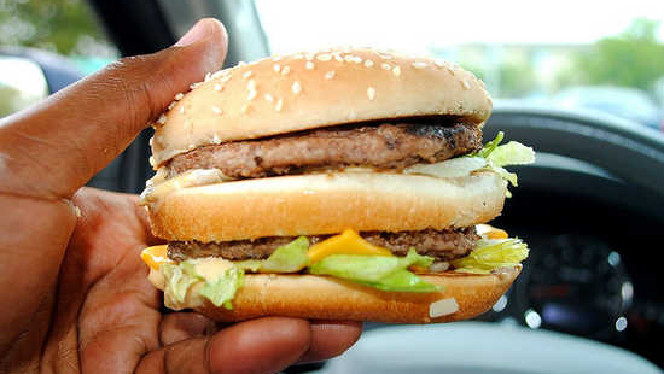 Photo credit: dailykos.com
We all eat on the go. But be discriminating about what you choose; for instance, a scone and drink are easy enough to handle on the road. A Big Mac with extra special sauce? Not so much.
When someone you know sees you scarfing that thing at a stop sign while a Thousand Island-like substance dribbles down your forearm, he may recommend therapy.
Picking your nose
Photo credit: knowyourmeme.com
According to Kristoff from Disney's Frozen, "All men do it!" Which brings up an entirely new discussion that we won't venture into. What you need to remember, however, is that your car is made from a good deal of glass, not a Space-Age aluminum that ensures invisibility. People can still see you when you're driving, so remember this rule of thumb: If you wouldn't do it in a public place, don't do it in the car.
Making out (or more)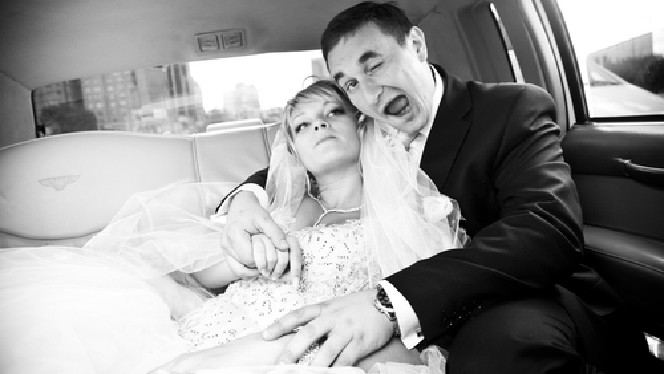 Photo credit: Shutterstock
Daniele Watts taught everyone a very important lesson last year; you shouldn't make out (or whatever) in the car. After being reported for lewd conduct in her car, the actress was then arrested when she refused to show police officers proper identification — also something you probably shouldn't do.
Letting your emotions out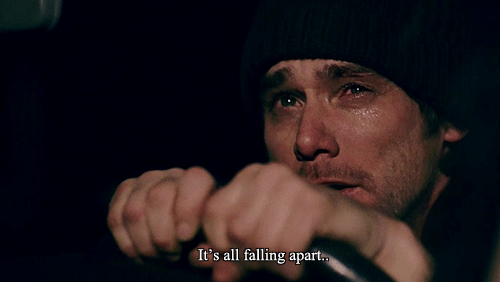 Photo credit: Tumblr.com
A car erroneously bestows a sense of privacy on those inside. But don't be fooled; your actions are as public as Kim Kardashian's selfie collection. Although there's nothing wrong with crying, openly weeping behind the wheel could get you some referrals to local psych hospitals before you've even made it to your destination.
Fighting with your significant other
Photo credit: Shutterstock
You're always late; she's always impatient — the road is a breeding ground for lovers' quarrels. Although you might be tempted to go at it in the car, just keep in mind that your raised voices, expressive hand gestures and over-the-top eye rolls are providing great entertainment for your fellow drivers.
Just because being in the car doesn't provide extreme privacy doesn't mean it can't provide extreme comfort and style. Find your match at a Young Automotive Group dealership.
What's the craziest thing you've seen people doing in the car? (Keep it family friendly please).
×
Most recent Utah stories