Estimated read time: 2-3 minutes
This archived news story is available only for your personal, non-commercial use. Information in the story may be outdated or superseded by additional information. Reading or replaying the story in its archived form does not constitute a republication of the story.
Una sentencia a un hombre de Utah sirviendo cadena perpetua por un doble asesinato que cree que fue dirigido por Dios dice que sus ideas probablemente influyeron en la decisión de una pareja de ingerir una sobredosis fatal junto con sus hijos.
Dan Lafferty dijo a la Associated Press el jueves que él se ve a sí mismo como el profeta Elías y el mundo como el infierno, una filosofía que jugó en las muertes de Benjamín y Kristi Strack ocurridas en septiembre.
Los asesinatos de Lafferty ocurridos en 1.984 cuando mató a su cuñada, Brenda Lafferty, y a su hija de 15 meses fueron la crónica en el libro de Jon Krakauer 2003 "bajo la bandera de los Cielos".
Lafferty de 66 años de edad, dice que primero se hizo cercano a la pareja hace unos 10 años, después de Kristi Strack tuvo un sueño sobre él mientras estaba leyendo el libro. Ella se acercó a él, y, finalmente, Kristi y Benjamin Strack se convirtieron en visitantes casi semanales a la prisión estatal de Utah.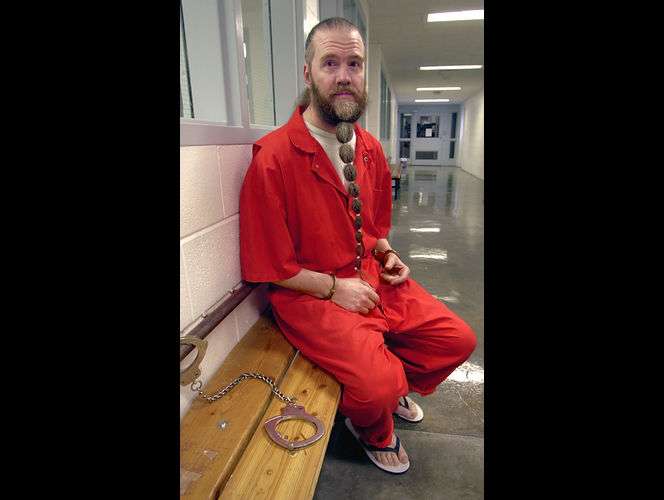 Lafferty dice que él y Kristi Strack se enamoraron, algo de lo que su marido estaba al tanto y no le importaba. En un momento dado, Lafferty se cortó el cabello largo que le legaba hasta la cintura y la barba a petición de ella, y los envió a la familia.
La amistad decayó después de que la pareja se declaró culpable de cargos criminales, incluyendo la falsificación y la posesión de drogas en el 2008, lo que puso fin a sus privilegios de visita a la prisión.
Ellos intercambiaron cartas después, pero Lafferty dijo que Kristi Strack no creía que él era Elías, y cuando él insistió ella dejo de contestar sus cartas.
Lafferty dice que él no había hablado con la pareja durante años y no sabía de sus planes o forma de pensar.
"Voy a extrañarlos, pero estoy feliz por ellos", dijo. "Creo que ellos están en el paraíso ahora".
Lafferty, quien es educado y amable en la conversación, tiene una filosofía de elaboración propia a la que él se refiere como su locura; aunque dice que no es una locura.
"Mi 'locura' se mete con la vida de las personas", dijo. "Es sólo la forma en que es".
×
Most recent News stories