Estimated read time: 4-5 minutes
This archived news story is available only for your personal, non-commercial use. Information in the story may be outdated or superseded by additional information. Reading or replaying the story in its archived form does not constitute a republication of the story.
SALT LAKE CITY — From the moment Gordon Hayward was drafted, he appeared to be the perfect fit for the Utah Jazz: clean-cut, a local boy done good at a college in his home state.
The narrative was familiar for Jazz fans, and he reminded them of a certain former guard who became an NBA Hall of Famer — John Stockton.
However, while that "certain guard" had an organization that was stable and fairly consistent, Hayward hasn't had the same luxury. In his fifth year with the organization, Hayward has had three head coaches, been through a season of contract questions and had to develop into a team leader.
For Hayward though, the refiner's fire has paid off.
Five years in, he is the unquestioned leader of the Jazz and is putting up all-star quality numbers. The forward has started every game of the season and is averaging 19 points, 4.7 rebounds, and 4.2 assists a game. He's also shooting 45.1 percent from the floor.
In all things, Hayward is growing; his numbers are growing, his monetary value is growing and his importance to the Jazz is growing.
#UJ1
Jazz coach Quin Snyder was a fan of Hayward's from the beginning and said he is a cornerstone of the Utah franchise.
"He carries a lot of weight with our team as far as what we ask him to do on the floor," Snyder said. "Sometimes that's hard but by and large, he's met those difficult challenges."
Hayward entered the league fresh off of a noted college career at Butler where Boston Celtics coach Brad Stevens coached him to an NCAA runner-up finish to Duke.
Stevens said he's not surprised Hayward has risen to his current level.
"He's playing great," Stevens said. "I'm really happy for him. I said last year I thought he was playing well, but this is a different rhythm than I've ever seen him, playing wise.
"He probably is less known for how good he is, and how good he's playing, but the opportunity to be a max-contract player speaks to what their organization thinks, and what people around the league think of him."
Statistically speaking, this year represents the biggest uptick in Hayward's statistics since he became a starter in 2011. According to ESPN's basketball statistics, he is posting his highest-ever basketball rating (31.02), highest-ever scoring efficiency (1.369), and his highest shooting efficiency since he became a starter (.515).
Hayward said this season he's becoming more and more comfortable with understanding the ever-moving chess game of an NBA court and taking advantage of defenses.
"I've gotten a little bit better at decision-making," he said. "(I'm) reading some things and staying in the pocket on the pick-and-roll. (I'm) not necessarily taking one dribble and getting rid of it. That's been a huge thing. I've been trying to work on a floater (as well). Kind of just that pocket game."
Besides his improvements, the Indiana native said he's seen a lot of growth in his team from the beginning of the season, both on and off the court.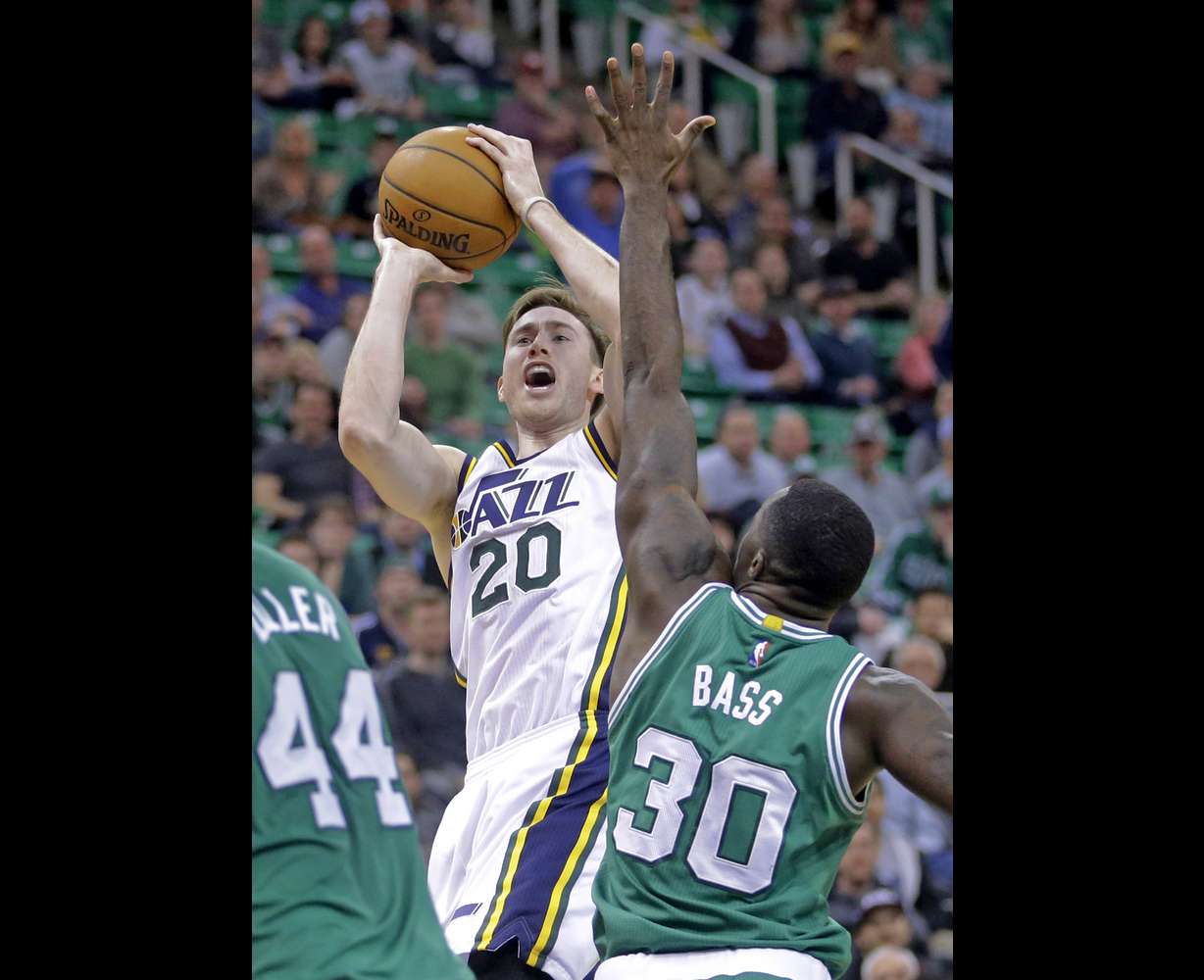 "We've gotten a lot better defensively," he said. "We're really protecting the rim a lot more. Rudy (Gobert) is doing a great job of that. In turn, because we have somebody to protect the rim we can get up and pressure people."
A team-first mentality has been part of Hayward's DNA since he arrived in Salt Lake City, as have his increasing amounts of leadership in the locker room. Snyder said he wants to see Hayward's presence in everything the team does.
"The fact is that he's out there a lot," he said. "I think I hold him to a pretty high standard because I know he understands his example and his leadership. I'd like to see it permeate everything we do, and I think that's been the case for him this year."
In spite of all the growth, in his play, demeanor and leadership style, there still is room for Hayward to improve, specifically defensively. Snyder said he hopes to see Hayward improve as a complimentary defender.
"I want him to continue to improve defensively off the ball," he said. "When we've given him defensive assignments, he's been terrific. He's taken the challenge and really done a good job. I want him to continue to be aware and alert off the ball. But it's really hard when you're asking someone to rebound, defend, score and pass. That doesn't mean we're not going to keep pushing him."
It's hard to project where players will be five years from now, or even where they could be in a single season. However, Hayward has progressively trended upward, and Snyder said he doesn't see that trend stopping anytime soon.
"Even though he's at a high level, he's continuing to improve and can improve more," he said.
×
Most recent Sports stories