Estimated read time: 6-7 minutes
This archived news story is available only for your personal, non-commercial use. Information in the story may be outdated or superseded by additional information. Reading or replaying the story in its archived form does not constitute a republication of the story.
MAPLETON — Former University of Utah quarterback Scott Mitchell had just received some of the most humbling news of his life.
As part of an entrance physical exam to appear on NBC's "The Biggest Loser," Mitchell sat down with the show's doctors, who checked him for any medical conditions that could negatively impact him during his run on the popular reality television series this past fall.
Mitchell, who played 12 seasons in the NFL with four teams, was told he was one of the most unhealthy contestants the series' physicians had ever seen. A combination of severe sleep apnea and an abnormal level of triglycerides nearly kept him from stepping onto the famed NBC set.
"That was a heartbreaking, humbling conversation about the reality of my health," Mitchell said by phone from Los Angeles prior to the finale. "They said my sleep apnea was the worst they ever had. I stopped breathing 92 times an hour. It was a very scary thing for me; I would dread going to sleep at night with the challenge of it.
"My triglyceride level was off the charts. They contemplated whether they wanted to allow me on the show or not. I was kind of a walking time bomb. I was pre-diabetic; it was really shocking and humbling. But I watched my dad die, saw that as my future, and knew I wasn't that far off."
After the doctors allowed him to stay, Mitchell made the most of his opportunity, losing more than 100 pounds to finish the competition at 251 when he exited the show with only a half dozen contestants remaining.
Mitchell and the rest of the cast will reunite Thursday at 7 p.m. MST on NBC for the live finale of "The Biggest Loser: Glory Days." Though he was eliminated and fell in a "comeback canyon" effort already, the former Springville High quarterback and coach can still win an at-home challenge among the show's eliminated contestants.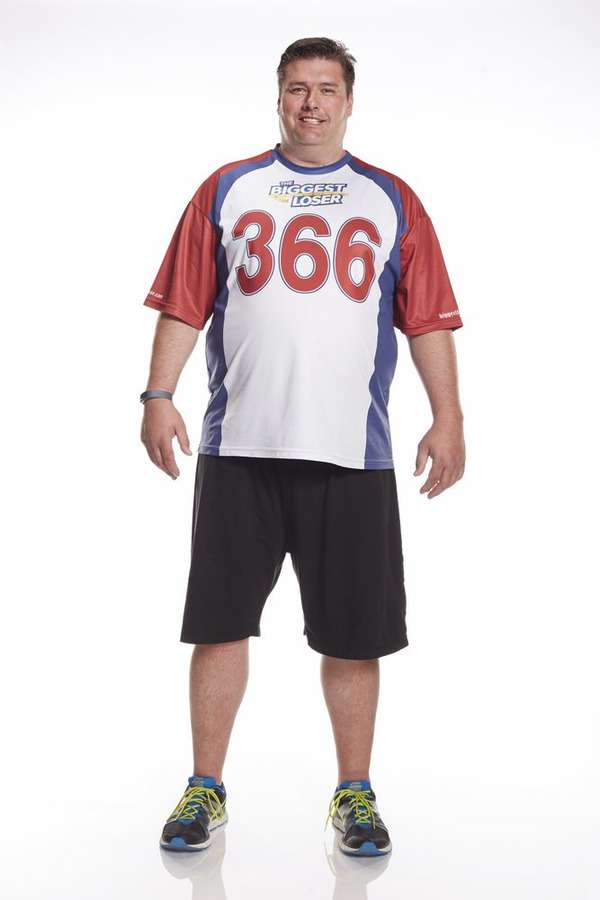 A fourth-round draft pick by the Miami Dolphins in the 1990 NFL draft, Mitchell played four seasons in South Florida before catching on with Detroit, Cincinnati and Baltimore after a standout career at the University of Utah. He amassed 15,692 passing yards and 95 touchdowns in his 12 seasons in the NFL, hanging up his cleats in 2001.
In 2008, Mitchell returned to Utah high school football at his alma mater. He finished 30-17 in four years as head coach of the Red Devils before stepping down in 2012 to focus on his family and software business. During his tenure, Springville advanced to the Class 4A state title game in 2009 and made it back to the state semifinals in 2010.
But through his post-playing life, Mitchell's weight continued to rise. He visited his father shortly before his death a year ago, and watched as the elder Mitchell's weight swelled to 450 pounds. After his father's death from complications due to diabetes, Mitchell saw himself heading down the same path — spending his final years unable to stand, with the potential for leg amputations, gangrene and cellulitis, caused by obesity and poor health habits.
He knew he had to do something to change — and "Biggest Loser" offered him just that.
"It's hard to describe when you feel like this has saved your life," Mitchell said. "How much more can you get out of it than that? I watched my dad die the past six years, and I saw that as my future. To be able to go the show, and get my life back, it's hard to put into words what that means."
Aside from dramatic, full-time exercise and strict adherence to personal trainers Bob Harper, Dolvett Quince, Jennifer Widerstrom and Jessie Pavelka, Mitchell said "Biggest Loser" also allowed him to open up his diet. He joked about attending the Scott Mitchell Culinary School during his time on the show, often experimenting with foods as bland as egg whites in his non-workout hours.
"I found that I really love to cook, and I had to cook every day for myself while I was on the show," Mitchell said. "Every meal for 100 days, I cooked for myself. That was a real challenge for me in the past, where I thought food that tasted good couldn't be healthy.
"I went on this quest to figure out how to make something as bland and plain as egg whites taste incredible, which I've done. It's an ongoing joy and challenge to find all the ways to make healthy food taste great. And I've done that."
Mitchell's competitive attitude from his days quarterbacking at Utah and in the NFL showed itself several times during the competition against former college and professional athletes and Olympians. But looks can sometimes be deceiving; Mitchell said the show was less about competing against the other contestants, and often about bonding with people who experience similar hardships with their health.
"I never felt like anyone was cutthroat or out to get anyone else. But you do want to compete; I wanted to do the best I could, win the show, stay on as long as I possibly could," Mitchell said. "I didn't want to be a jerk in the process. And I don't think anyone really was like that. I always felt like I wasn't on this reality game show; I felt like I was having this life-changing transformation."
Related Story:
Mitchell's wife Wendy noticed her husband's change as soon as he walked into the couple's Mapleton home following his elimination.
"When he first came home, it was just amazing. It was the person I remember back when we got married," she said. "That was the person that I knew from way back then. It was a life-saving experience."
The Mitchells have rallied around their father since his weight-loss transformation, giving each of them a new lease on life.
"We're so grateful for 'the Biggest Loser,' " Wendy Mitchell said. "I couldn't thank them enough for giving Scott his life back."
Since returning home, Scott Mitchell's new lifestyle spread enthusiasm to his two youngest children, Madison and Zach. He jumped right back into coaching his daughter's Bantam League basketball team, his sleep apnea has completely subsided, and he finds himself sporadically exercising at moments he never would've considered before "Biggest Loser."
During the few weeks he spent at home before returning to Los Angeles for the finale, Mitchell had to take his car to the auto shop for a brake check. Rather than wait for the mechanic to finish, he decided to run home — seven miles away.
"I did it because it was fun, and I could do it," he said. "It was a great celebration for all I could do and all I went through on the show."
Contributing: Rod Zundel
×
Photos
Related stories
Most recent Utah stories