Estimated read time: 2-3 minutes
This archived news story is available only for your personal, non-commercial use. Information in the story may be outdated or superseded by additional information. Reading or replaying the story in its archived form does not constitute a republication of the story.
UINTA-WASATCH-CACHE NATIONAL FOREST — La Patrulla de Caminos de Utah está llamándole un milagro.
"No hay víctimas mortales. No se registraron heridos. Es un verdadero milagro que no hubo heridos en este accidente en particular", dijo el sargento de UHP, Blaine Robbins. "No puedo reiterar lo afortunados que son estas personas. Es irreal. Son muy, muy afortunado".
Heather Slack, de Eagle Mountain, conducía hacia el oeste por la I-80 con sus dos hijos la tarde del martes cuando trató de cruzar a otro carril de distancia para alejarse del camión cisterna mientras el camino formaba una curva cerca del East Canyon.
"Y entonces debo haber pisado un poco de hielo, ya que me lanzó al otro lado, y no sé lo que pasó", dijo Slack. "Yo no sabía que estaba debajo del camión. Y de alguna manera sentí que estaba cayendo por un precipicio. Estábamos gritando porque podíamos oír algo, pero no sabía qué".
El coche de Slack quedó debajo del tanque del camión y fue arrastrado unos 200 metros antes de que el camión pudo parar. Durante ese tiempo, Slack dijo que escuchó chillidos y el sonido del metal en concreto.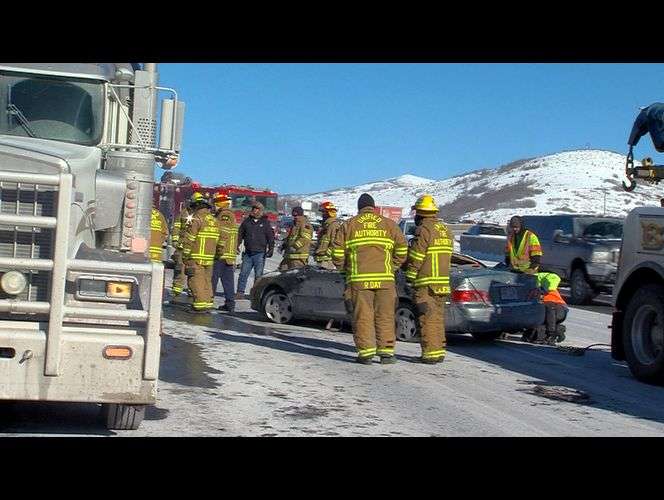 El techo del coche se rompió. Pero, sorprendentemente, el coche aplastado formó "bolsas" alrededor de Slack y sus hijos. Slack las describió como "pequeñas vainas" que los protegían.
Pronto, la familia escuchó las voces de los equipos de emergencia que llamaban desde el exterior y temían lo peor.
"Le dije: 'Tienes que sacarnos de aquí porque tenemos que tener algunas cosas increíbles para hacer porque el Padre Celestial me protegió totalmente a mí y a mis hijos hoy, y somos muy, muy bendecido por ello'. Sabemos que tiene un plan para nosotros, y tenemos mucho que hacer, porque todavía estamos aquí", dijo.
Slack, su hija y su hijo fueron sacados por los paramédicos y liberados en la escena.
Robbins dijo que el accidente pudo haber sido causado por que Slack iba demasiado rápido para las condiciones del clima. Dijo que fue un buen recordatorio para todos los automovilistas de reducir la velocidad en el invierno y tener en cuenta que puede existir hielo negro en los días fríos, incluso si las carreteras se ven claras.
×
Most recent News stories