Estimated read time: 3-4 minutes
This archived news story is available only for your personal, non-commercial use. Information in the story may be outdated or superseded by additional information. Reading or replaying the story in its archived form does not constitute a republication of the story.
SALT LAKE CITY - Una bola de espejo gigante que reemplazará a los fuegos artificiales en la celebración del centro, EVE, de este año se dio a conocer la noche del lunes, ante la emoción de la fanática de discoteca, Jackie Hobbs.
El residente de Holladay sonrió mientras ella se subió a la bola brillante de 20 pies de ancho y levantó las manos por encima de su cabeza para una foto.
"Me encantan las bolas de discoteca", dijo Hobbs, mientras su esposo y dos hijos asentían en el fondo. "Creo que esta es una gran alternativa para los fuegos artificiales. Mis amigos y yo donamos miles de dólares para que esto suceda.... Tenemos una bola de discoteca más grande que la ciudad de Nueva York. Etso es bastante increíble".
Hobbs se jacta de que ella tiene una colección de bolas de discoteca, incluyendo algunas en suspensión en el sótano de su casa donde la familia celebra su fiesta anual de baile de fin de año. Este año, se baila en EVE.
La fiesta anual del centro, organizado por Downtown Alliance, incluye actuaciones, actividades y eventos para todas las edades hasta la medianoche del miércoles.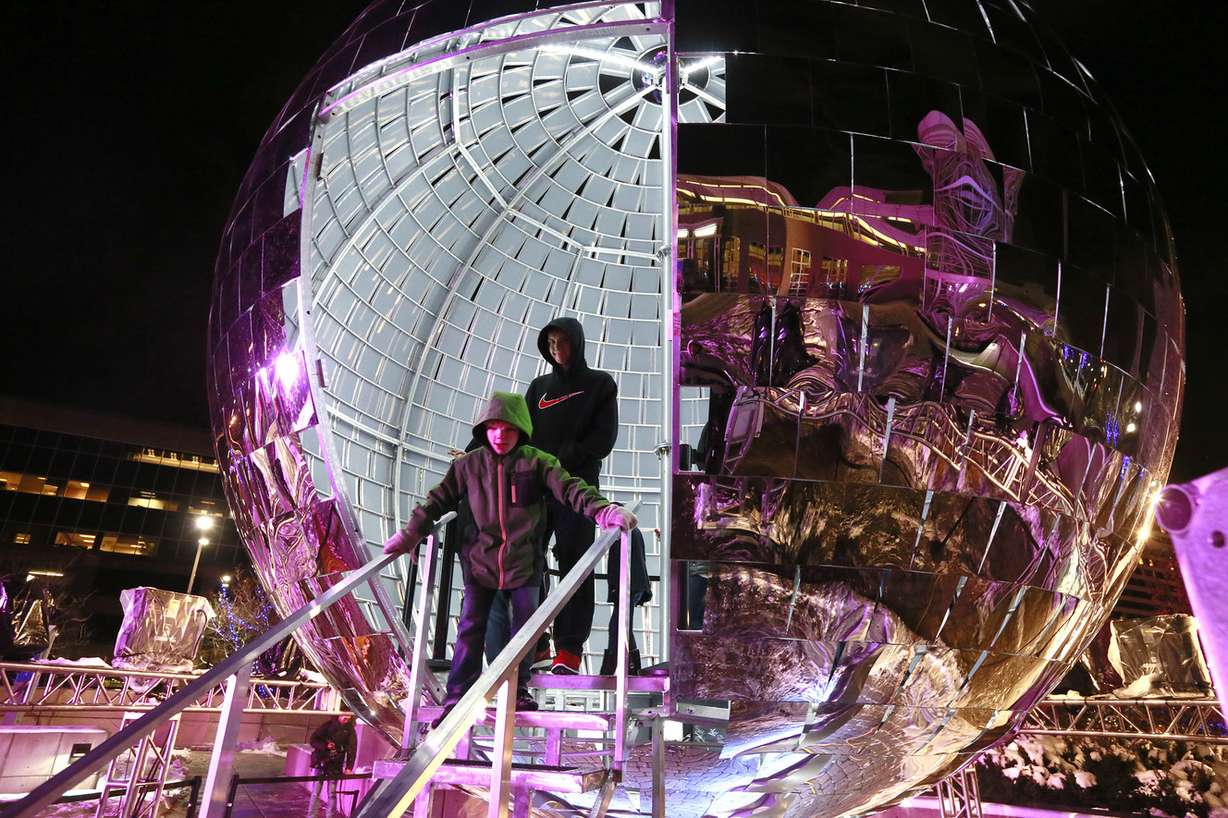 Las entradas también incluyen la entrada a El Leonardo, el Discovery Gateway, el Planetario Clark, Off Broadway Theatre, Broadway Theatre Centre. El martes, los primeros 1000 poseedores de entradas que presenten su pulsera o recibo de las entradas en la oficina de tickets del Salt Palace Visitors Center recibirán asientos en la parte baja de el Energy Solution Arena para el partido del Utah Jazz que se estará enfrentando con los Timberwolves de Minnesota.
En el interior del Salt Palace, habrá actividades familiares con habitaciones llenas de pelotas de playa, casas de brinco, y un pozo de Lego gigante abiertas las tres noches. La comida de una variedad de vendedores y bebidas de cervecerías locales también están disponibles.
Habrá presentaciones de coro y actuaciones musicales en el Edificio Conmemorativo José Smith y Tabernáculo de Salt Lake también estarán abiertos al público el martes y miércoles por la noche.
El artista local Derek Dyer, quien diseñó la bola de espejos, dijo que puede o bien girar sobre un pedestal, como lo hará la noche del martes, o ser izada en el aire, donde se coligará por encima del Salt Palace para un espectáculo de láser la noche del miércoles.
Con una altura de dos pisos, es incluso más grande que la bola de espejos gigante que Dyer construyó hace 12 años, un récord mundial Guinness en su tiempo. La pieza central, libre de contaminación, EVE, pesa 2300 libras, cuenta con 1.200 espejos y se compone principalmente de materiales de las empresas locales.
Es adecuado para la celebración de Año Nuevo, Dyer dijo a un pequeño público que se junto durante la inauguración del lunes como una manera de "reflexionar sobre quién eres y quién quieres ser".
Las entradas a EVE se pueden comprar en línea en eveslc.com, o en persona en el Salt Palace. Un programa completo de eventos está disponible en el sitio del evento.
Actividades de fin de año:
Mediodía: Kid cuenta regresiva en Discovery Gateway Broadway cantar juntos en el Salón de Actos 5:00 p.m. Actuaciones en directo en el vestíbulo del Joseph Smith Memorial Building: 5:30-10:30 pm Actividades en el Salt Palace (Salón de baile, BounceTown, fábrica de ladrillos, HoopDeDoo) 6:00 p.m. Rumba Libre salsa y el baile latino 6:15 p.m. Sky City DJ Plaza 6:15 p.m. Laughing Stock Comedy and Improv, 7:00 p.m. Espectáculo en vivo en Salt Palace (Folk Hoggan, Westward the Tide, Fictionist) 7:30 a 11:45 p.m.
Email: mromero@deseretnews.com Twitter: McKenzieRomero
×
Most recent News stories