Estimated read time: 3-4 minutes
This archived news story is available only for your personal, non-commercial use. Information in the story may be outdated or superseded by additional information. Reading or replaying the story in its archived form does not constitute a republication of the story.
SALT LAKE CITY (AP) — A Utah National Guard solider will be among a handful of women going to the grueling U.S. Army Ranger school as part of the first steps toward integrating the elite combat unit.
First Lt. Alessandra Kirby of South Salt Lake is among 31 women from around the country who will report in January to Ranger school, which is designed to push soldiers to the edge to find those suited for the most high-risk combat jobs.
The women are observers and advisers, not yet eligible to become Rangers. Instead, their experiences will help inform Army leaders about whether and how to bring in women.
"Right up front, they didn't fool anyone," Kirby said. "They said, 'If you're looking to become the very first female Ranger this might not be for you. Right now, we need females that are willing to provide service.'"
---
I don't look at this as a pioneer, I look at it as a great opportunity. Ranger school is finally opening the doors to women. I want to be there. I don't have time to waste.
–Alessandra Kirby
---
For the 37-year-old, entering the program was about becoming a better solider, something the native of Brazil said she's been passionate about since she was a child. She enlisted in 2008, shortly after becoming a U.S. citizen.
"I don't look at this as a pioneer, I look at it as a great opportunity," she said. "Ranger school is finally opening the doors to women. I want to be there. I don't have time to waste."
Lt. Col. Steven Fairbourn, a spokesman for the Utah National Guard, said the women headed to the school at Fort Benning in Georgia are taking a risk.
"They're very much acting on faith, and hoping the decision will be made in their favor," he said. Kirby has already passed a brutal weeklong evaluation to earn her spot in the program, including completing 49 pushups in two minutes, a 5-mile run in less than 40 minutes, a combat water survival test and assessments of her navigation skills by day and night.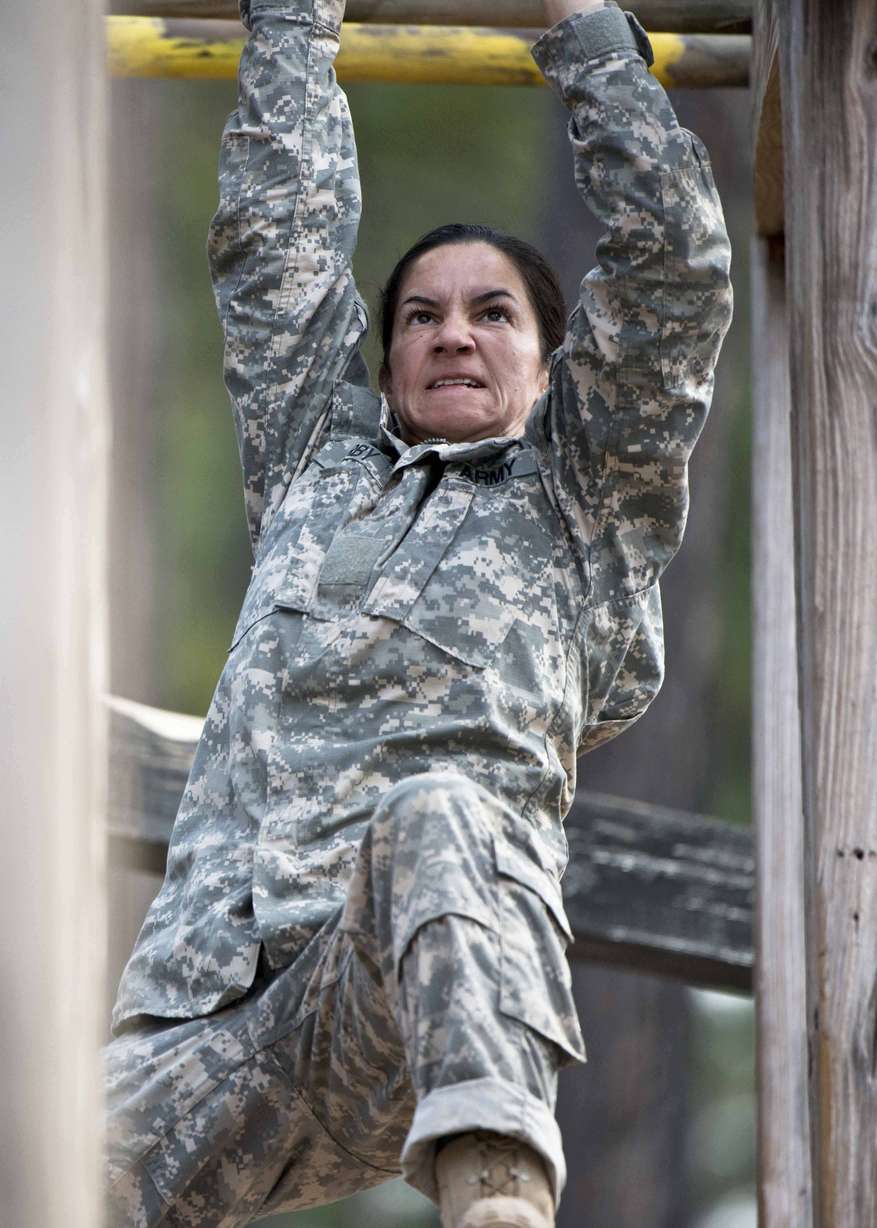 The military is working under a deadline of January 2016 to open all combat jobs to women or explain why any must remain closed. The Pentagon lifted its ban on women in combat two years ago, but gave the services time to integrate.
Women could potentially play a key role in high-risk operations that the Rangers specialize in, Fairbourn said. Soldiers going undercover behind enemy lines, for example, could be less suspicious if they were posing as a couple.
And women's physical differences from men can be an advantage. They can typically survive on fewer calories, and a limited diet is part of Ranger training and often a reality in the field. On the other hand, women require more iron than men. That nutrient could be added to food if the Army officially integrates Ranger school, Farbourn said.
For now, Kirby said she's been working out three to four hours a day, trying to mentally and physically prepare herself for the 9-month training.
"Our society, our way of life doesn't separate the women and the men," she said. "We have to be able to give anyone in our society the opportunity to become the best they can be."
Copyright © The Associated Press. All rights reserved. This material may not be published, broadcast, rewritten or redistributed.
×
Photos