Estimated read time: 2-3 minutes
This archived news story is available only for your personal, non-commercial use. Information in the story may be outdated or superseded by additional information. Reading or replaying the story in its archived form does not constitute a republication of the story.
SALT LAKE CITY — The Utah economy added more jobs last month, a new report stated, continuing a yearlong trend of job growth during each month in 2014.
According to the state Department of Workforce Services, Utah's nonfarm payroll employment for November grew by an estimated 3.3 percent, bringing on 43,400 new jobs to the economy compared with November 2013. The seasonally adjusted unemployment rate remained unchanged at 3.6 percent for the month.
The current employment level in the Beehive State registered at nearly 1.4 million, while about 51,400 Utahns were without jobs and actively seeking work in the month. Nationally, the jobless rate was unchanged at 5.8 percent for November.
"Thus far, the winter season is running strong for Utah's economy," said Carrie Mayne, the department's chief economist. "Seasonal industries are performing well. Retail trade added 4,200 positions, and arts, entertainment and recreation added another 2,100 positions."
The delayed snowfall has allowed construction employment to continue growing as well, Mayne said. Coupled with various economic factors, construction experienced the greatest percentage of job growth over the past year, the report stated.
"Those companies that were required to shrink to survive years ago now are seeing more work and bringing people back on," explained Ross Ford, executive vice president of the Utah Homebuilders Association.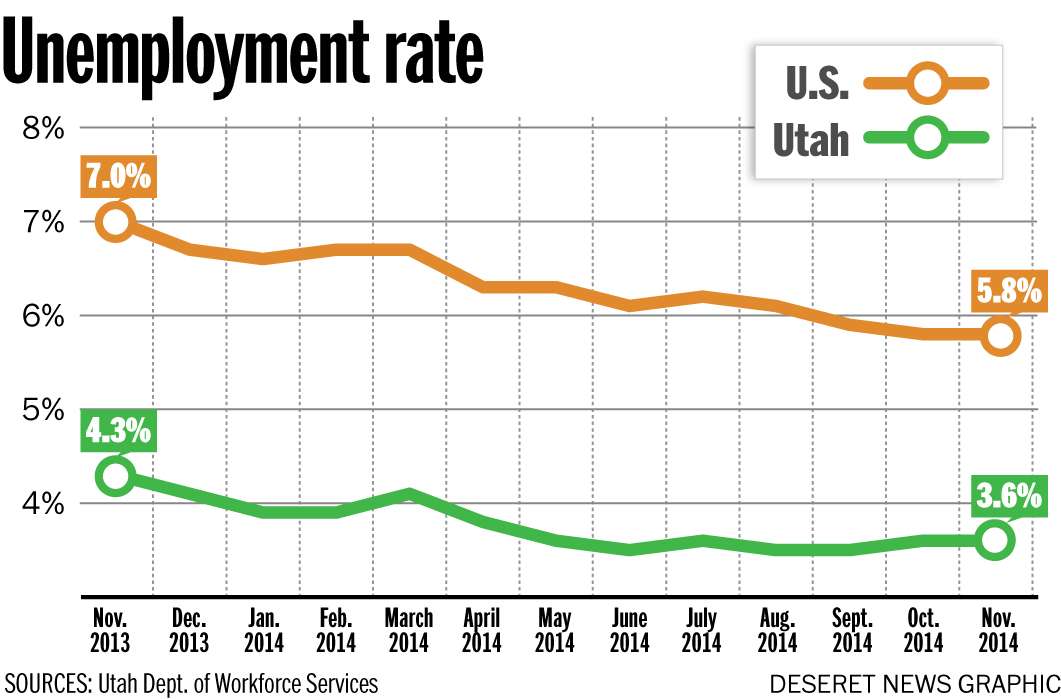 Increased demand for new homes have helped contribute greatly to rising job growth in the industry, he added.
Ford also noted that some builders have reported challenges in finding enough qualified workers in construction due to fact that many had left the industry during the low point of the economic downturn. If the worker shortage becomes too severe, then a potential unintended consequence could be an increase in housing prices, he noted.
For now, however, the market seems to be in a stable position and should remain that way for the foreseeable future, barring any unforeseen circumstances or economic interference from the federal government, Ford said.
Of the 10 private-sector industry groups measured in the establishment survey, each posted net job gains during the month compared with the same time last year.
The largest private-sector employment increases were in trade, transportation and utilities, which added 10,100 jobs, with construction adding 7,400 new positions, and education and health services adding 5,300 jobs. The report also noted that the fastest job growth occurred in construction, up 9.6 percent; information, up 7.3 percent; and natural resources, up 6.6 percent.
Overall, Utah's private-sector job growth was tied for the third highest in the nation with Delaware at 3.4 percent, trailing only North Dakota at 5.9 percent and Texas at 4.3 percent.
×
Photos
Related stories
Most recent Utah stories