Estimated read time: 4-5 minutes
This archived news story is available only for your personal, non-commercial use. Information in the story may be outdated or superseded by additional information. Reading or replaying the story in its archived form does not constitute a republication of the story.
SALT LAKE CITY — Near silence filled the chapel as one by one, people lit candles in memory of those killed by gun violence on the second anniversary of the shootings at Sandy Hook.
Fifty candles — one for the gun deaths in each state — sat on a table in front of the room at Calvary Baptist Church in Salt Lake City. A carved wooden sign bearing the words "This do in remembrance of me" was behind the table. While the words were placed as a reminder for worship and communion services, they also illustrated a sobering reality as the faces of those killed by gun violence flashed on two large drop-down screens.
"All lives matter because all people are precious in the eyes of God," said the Rev. Canon Scott B. Hayashi, in his remarks Sunday afternoon.
He was one of the local faith leaders who came together for an interfaith service involving prayer, hope and remembrance for the victims of the Sandy Hook shootings and others killed by those using guns. Similar events were held in 194 communities around the country.
It is important to speak about gun violence, Rev. Hayashi said, but the conversation often gets taken off track by political concerns about the right to own and use guns.
"Once it hits (the political arena) then it's hard to have any kind of rational conversation at all," he said, to echoes of "Amen" from those in the pews. "What has to happen, my friends, is that gun owners and those who believe in the rights of all gun owners and people who believe the opposite, need to be able to sit down and … agree that we have too much gun violence in the country. I believe that we agree upon that. … what we haven't agreed upon is what to do about it."
Pastor Davis, in his remarks, mention that each has been affected by gun violence. Two of the night's speakers confirmed this account: Bishop John C. Wester of the Catholic Diocese of Salt Lake City recently attended a funeral of a friend whose 22-year old-grandson was killed by a gun in San Francisco and Rev. Hayashi was shot while working at a store when he was 19.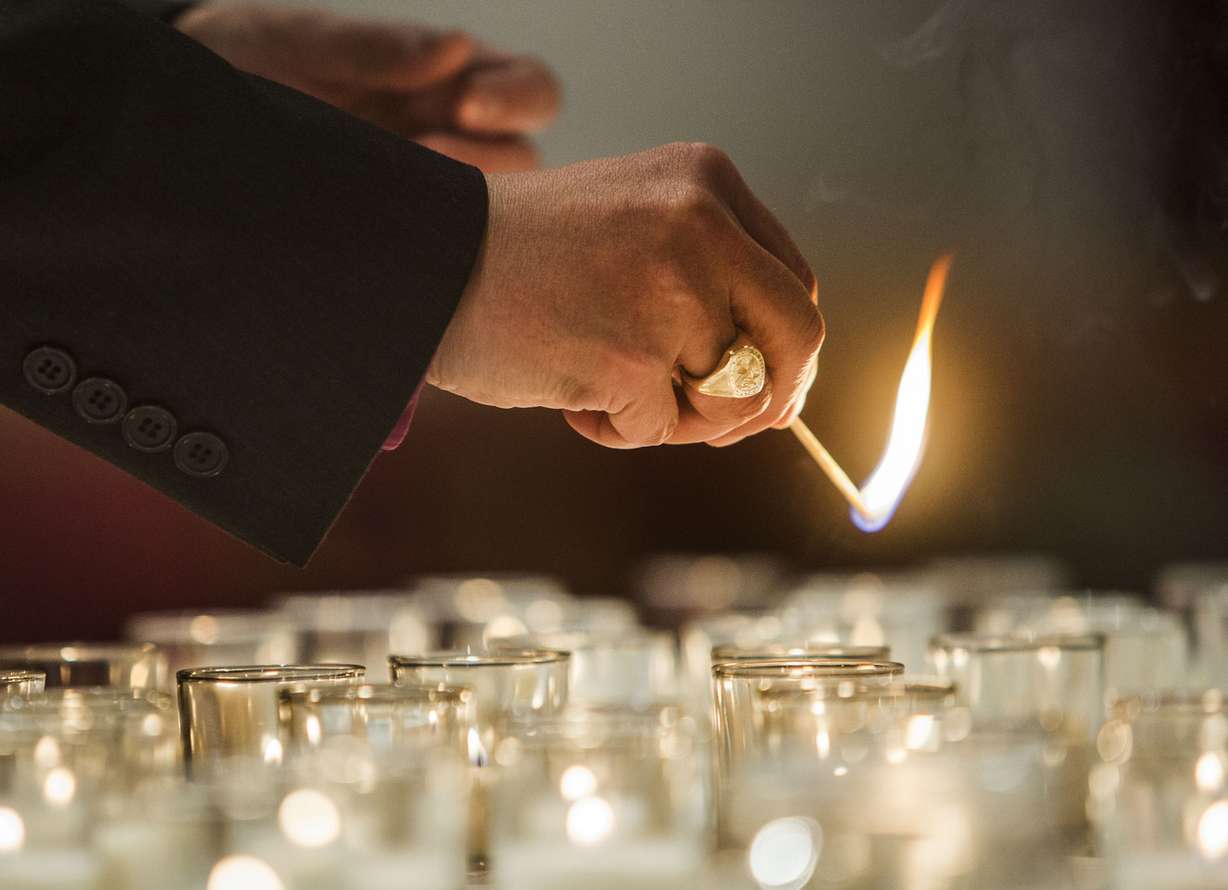 The event, sponsored by the Gun Violence Prevention Center, was in honor of the victims of the Sandy Hook school shootings as well as the victims of gun violence killed in the two years since. States United to Prevent Gun Violence estimates this number to be 60,000.
On Dec. 14, 2012, a gunman shot and killed his mother before heading to Sandy Hook Elementary where he killed 20 students and six staff members, before taking his own life in one of the deadliest school shootings in the nation's history.
Many people wait for someone else — God, their leaders, a committee — to fix problems, said Rev. Jerrod Lowry of the Community of Grace Presbyterian Church. He read the 61st chapter of Isaiah, verse 1: "The Spirit of the Lord is upon me," and offered the word "breath" as an alternate translation to the verse. Each person who has been given breath by God has a responsibility to help solve problems like gun violence, he said.
"All of those that God has given breath and life to have been called by God to stand up and do something," Rev. Lowry said. "So if you can breathe, you need to know that you have been called. If you can breathe, you need to know that you have been equipped. If you can breathe, then you need to know that God has prepared you … to do something."
For Bishop Wester, that something was giving up.
On Nov. 3, 1980 at 9:38 p.m., he smoked his last cigarette.
"I enjoyed it very much," he said.
He gave them up because "I enjoyed my life even more, and I valued my life even more," he said.
Similarly he hasn't shot a gun in almost 45 years, except for time he spent in the Army Reserves, "not because I didn't enjoy it but because I enjoy life more, value life more," he said. "I'm here because human life is sacred and guns are a real and present danger to this God given gift of life, of breath, that we all have."
Each needs to communicate with elected officials that "we will no longer tolerate a march toward a culture that prioritizes deadly weapons over human life," Bishop Wester said.
×
Photos
Related stories
Most recent Utah stories