Estimated read time: 4-5 minutes
This archived news story is available only for your personal, non-commercial use. Information in the story may be outdated or superseded by additional information. Reading or replaying the story in its archived form does not constitute a republication of the story.
FOUNTAIN GREEN, Sanpete County — Scott Kerksiek sorted the mail by hand Friday, shuffling through envelope after envelope.
About 1,000 people live in Fountain Green. As the town's postmaster, Kerksiek says the office gets about 500 to 1,000 letters and packages each day.
"Today, we'll be sorting and delivering close to 40,000 letters and packages," he said Friday.
Most of them are addressed to one little girl — 6-year-old Addie Lynn Fausett.
"I didn't know asking for a card would turn into all of this," Addie's mother, Tami Fausett, said.
Addie's condition is undiagnosed. At age 3, she stopped growing. One year ago, Addie's MRI was normal, her mother said.
But last month, extensive cerebral atrophy has left the Fausett family with a heartbreaking prognosis.
"They told us she probably won't last much longer, and they told us roughly a year," Fausett said.
The atrophy and deterioration left Addie with other symptoms. Her mother said she is impulsive and has no restrictions; mentally, she is regressing.
"She doesn't get to play with kids, so we thought if everyone sent her a card, we could tell her they were all her friends and it would just help make her Christmas a little bit better," Fausett said.
She smiles as she rips into cards from Germany, Sweden, Saudi Arabia, Scotland and Australia.
Packages of teddy bears, artwork, jewelry and Hawaiian coconuts have also shown up in the mail.
---
Today, we'll be sorting and delivering close to 40,000 letters and packages.
–Scott Kerksiek
---
Fausett jokes with her daughter and says, "Look what your friends did to my house!
"She laughs, she thinks it's funny. She think's it's great," Fausett said.
The Fountain Green post office has pulled in extra help from Fairview, Ephraim, and Moroni to sort the mail and get it delivered to Addie.
Fausett constantly apologizes to the postal workers.
"They usually get one or two bins of letters," she said. "Today there's 89."
But it is work they're happy to do.
Postal worker Kevin Bright, who usually works in Ephraim, said the mail is a testament of what the world can do when strangers come together.
"You can see the amazing outpouring of concern and care from the world to little Miss Addie and her situation," Bright said as he shuffles through a stack of letters.
"They all want to be a part of it, and they should be happy and pleased that they are a part of it, because it's changed a little girl's life."
Fausett said the her family is doing its best to open all the letters. She's been putting them in totes and plans to keep all of them.
"Addie loves it," she said, especially playing in the pile of mail in the front room. "She smiles, especially when she gets to rip into them."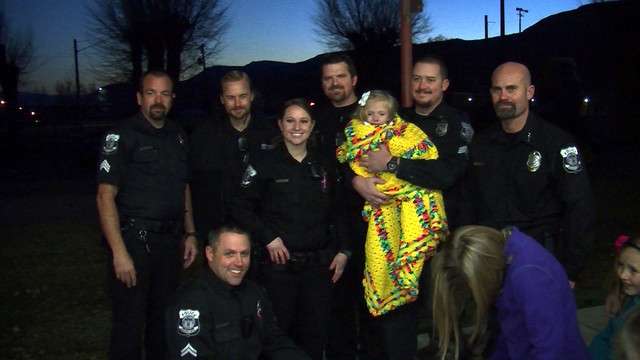 The mail brings a smile to everyone involved.
"Every once in a while we cry. For the most part, we all smile," Fausett said. "The girls have all been smiles. There's nothing else to do. We just all smile when we open it."
Cards and letters to Addie began to pour into Box 162 shortly after Thanksgiving.
And after thousands have seen and read Addie's story on KSL.com, the mail has continued to flow in from family, friends and strangers.
"We have gotten thousands of cards, and I feel it is amazing that so many people care to send a card," Fausett said.
Addie also got a special delivery from the Pleasant Grove Police Department the first week of December.
"We donate every year to a charity and I wanted to donate to this charity because it touched my heart, the story touched my heart, and I wanted to help the family out," officer Nakell Humes said.
Officers picked up cards from schools, residents and businesses. They filled a trailer with cards and gifts to deliver to Addie.
"We have amazing people helping us out so all the people that donated, it's been amazing." officer Derek Clegg added.
Donations also aided in making one of Addie's dreams come true — a trip with her family to go to Sea World.
Fausett said the outpouring has been overwhelming, and through it all she hopes Addie knows her friends around the world care about her.
"I hope she knows she's loved," her mother said.
Those wishing to send mail to Addie can send it to Addie Lynn and Sisters at Box 162, Fountain Green, UT 84632.
×
Photos
Related stories