Estimated read time: 4-5 minutes
This archived news story is available only for your personal, non-commercial use. Information in the story may be outdated or superseded by additional information. Reading or replaying the story in its archived form does not constitute a republication of the story.
This story is sponsored by Blendtec, the last blender you'll ever own.
The weather outside may be frightful, but the holiday season can be so delightful — especially if you're embracing it like, well, a Christmas elf might. From tree trimming to cookie baking to good old-fashioned present wrapping, the delights of the season are all around for the enjoying — that is, if you're doing the holidays right.
Are you enjoying the season like a true North Pole resident? If any of these activities seem familiar, you're likely half elf already.
You're getting about 40 minutes of sleep
If the phrase "catching a few winks" is really hitting home lately, you might just be embracing the season. Between Christmas shopping, holiday decorating and whipping up batches of sugar cookies and other treats, who has time for eight hours a night?
You're singing loud for all to hear
You know how to spread Christmas cheer, and you're not afraid to do it; if you're singing in the car, the shower and around the shopping mall — you're practically Buddy's best friend already. Now prepare yourself for a massive snowball fight, that is, when snow finally falls.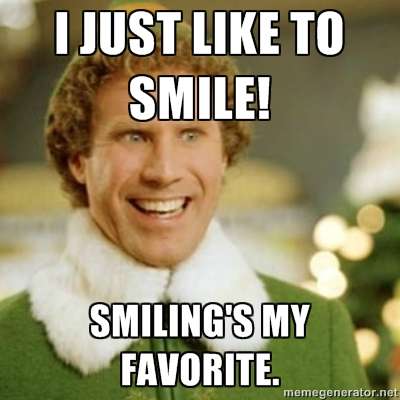 Smiling is your favorite
To the outsider, it's yet to be determined whether that sugar is taking it's toll on you or if you're actually always that smiley.
Sugar has become your main food group
Sure, fruit is healthy, but if you prefer it pureed and mixed with sugar and spices (a la this decadent blackberry thyme jam recipe) you're really beginning to embrace the tastes of the season. Of course, jam is always better when combined with warm baked goods so you can up the anty with this almond-and jam-topped pastry.
You're on the lookout for the world's best cup of coffee
Between getting too little sleep and a prevalence of freshly baked holiday goods, a good cup of coffee can be the season's best gift. Of course, no cup of coffee can be labeled the "world's best" unless it's paired with something decadent (peppermint brownies, anyone?)
You're thinking a lot about the man in red
If Santa is on your mind a lot these days, you just might be turning into a Christmas elf yourself. Of course, there's one way to make sure you're on Santa's nice list this year — never keep your holiday cooking and baking to yourself.
You're planning a (few) holiday parties
If rockin' around the Christmas tree is one of your highest priorities this month, you've already taken a cue from Buddy himself. Take your Christmas cheer to a new level with delightful appetizers.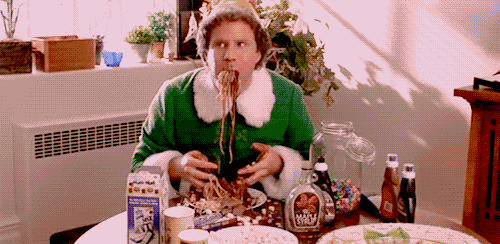 You're turning everything into dessert
Maple syrup on spaghetti for breakfast may not be your thing, but if your appetizers and main courses are looking like holiday desserts — like this feta-and artichoke-stuffed savory appetizer cheesecake — you're really getting into the holiday spirit. And that, friends, definitely shows Buddy the Elf like qualities.
You're gift-wrapping everything
If you're holiday M.O. is "can't stop won't stop," you may soon be wrapping yourself into a corner. If you're out of gifts and you're still finding objects to wrap (like unopened rolls of paper towels, your DVD player or your blender), you may be taking the holidays to a new extreme.
You're falling in love
There's nothing more romantic than a Christmas amour. Whether you've got a new flame or you're reigniting the holiday spark with your old love, there's no time like the holidays to bump up the romance. And nothing says romance like a date night where you spread holiday cheer.
You're already thinking about next Christmas
Done with your planning, shopping and decorating? If you've already got next year's festivities in mind, you may as well buy a one-way ticket to the Arctic Circle. Of course, you'll need to pack some warm clothes — and a whole lot of Christmas treats and snacks for the road.
×