Estimated read time: 2-3 minutes
This archived news story is available only for your personal, non-commercial use. Information in the story may be outdated or superseded by additional information. Reading or replaying the story in its archived form does not constitute a republication of the story.
RICHMOND, Cache County — Cherry Peak Ski Resort, Utah's 15th and newest ski resort, is enjoying warmer temperatures to get construction projects finished before opening day.
There is still a lot of work to do; then again, building a ski resort never was easy.
"You can't even imagine," said John Chadwick with a laugh. "Let's just say it's never a dull moment."
Chadwick is the owner of Cherry Peak Ski Resort, Utah's 15th and newest ski resort, nestled in the mountains above Richmond in Cache County.
There is still a lot of construction going on at the resort. Saws, hammers, and bobcat-type vehicles can be heard from sunrise to sunset. But the resort is close to opening.
"I'll know about three days in advance when we're going to open. We wanted to be open by Thanksgiving this year, but with construction, things just got delayed," Chadwick said.
Of course, the most glaring part of the resort missing—is snow. Northern Utah hasn't had a lot of snow so far this winter. In fact, most of Utah hasn't seen normal snow fall so far this season.
However, for Cherry Peak, that's a good thing.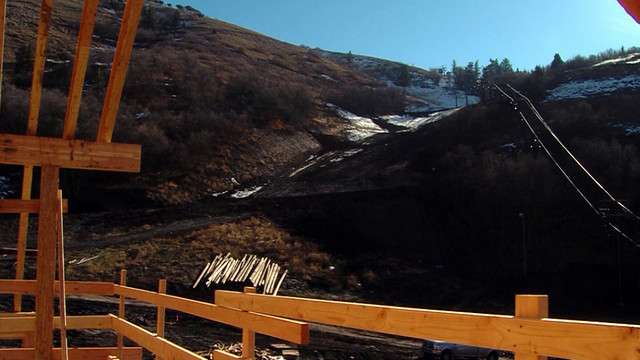 "We are so lucky. I wish the rest of the state had snow, but this little postage stamp right here, I'm glad it doesn't have much right now," Chadwick said.
That's because, with the construction delays, Cherry Peak might not have been able to open this season if the area had normal snow fall this time of year. However, without the snow, construction crews can finish projects that need to get done, such as snow-making lines, lights, and the grand lodge itself.
Chadwick got the idea to build a ski resort on his family property after taking an Olympic ski coach from Argentina for a run down the mountain.
"We got to the bottom, looked up, and he said 'you have got to build a ski resort' and that's really what ignited the fire in me," Chadwick said.
In all, Cherry Peak will have 29 runs for skiers and snowboarders, day and night, and will be the county's second ski resort after Beaver Mountain.
"It's a big deal, and I believe it's a big deal for the Cache Valley and a big deal for Utah," Chadwick said.
×
Photos
Most recent Utah stories