Estimated read time: 3-4 minutes
This archived news story is available only for your personal, non-commercial use. Information in the story may be outdated or superseded by additional information. Reading or replaying the story in its archived form does not constitute a republication of the story.
Deanie Wimmer reportingThe state plans to toughen up the dress code this year for infants and toddlers who want to swim in pools. Thousands of people got sick last summer by swimming in public pools contaminated by the parasite cryptosporidium. So, why aren't swim diapers alone enough?
Swim diapers are becoming standard pool apparel. But they may not be fool-proof enough, at least in Utah, which leads the nation in kids per capita, and maybe not coincidentally, in the crypto outbreak. Our swim diaper test revealed a lot more than most swimmers would like to see.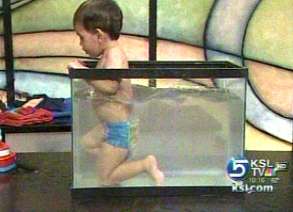 Little swimmers kick, splash and do other things we can't see that call into question the safety of swim diapers. We worked with the state health department to come up with a swim diaper test that, while not scientific, could be useful. Here's what we came up with.
To prevent a real biohazard, we filled a baby's diaper with some oatmeal, a consistency most parents would agree is close to the real thing, just much less gross. We added red and blue food coloring to make the oatmeal purple and put a little into the diaper of our unsuspecting and semi-willing participant.
When the swim diaper was the right size, it was easy to see the purple cloud that escaped within the first few minutes. Minutes after that, a floaty appeared. And as our test subject started to have more fun, the water became cloudy.
Test subject number two wore a swim diaper that is the wrong size -- too big. Within two minutes, a little purple cloud was visible from the back. Not long after that, several purple floaties lined the bottom of the tank, and the water became so cloudy it was hard to see anything.
We dumped the water and brought in our swimmer for test number three, with a swim diaper under a swimsuit. We went for about eight minutes until we finally saw the cloud.
For test number four we used a swim diaper and plastic pants, the kind sewn right into the swimming suit. It's along the lines of what the state wants to require: plastic pants of some kind over a swim diaper. After several minutes there was a floaty or two, but the water was noticeably clearer, especially when compared to the test in just the swim diaper.
We showed our video to the state's epidemiologist, Dr. Robert Rolfs, who is pushing for the new plastic-pants rule. He said the comparisons illustrate why, as popular as swim diapers have become, they don't provide adequate protection to keep us safe against crypto. He says, "Thousands of people getting sick is something we take seriously, and we're going to try and make sure that doesn't happen this summer."
So, to Stay Safe:
Buy swim diapers in the right size
Swim diapers and a swimsuit work better together
Best of all, and what state will require, place a plastic pant over the swim diaper
And, of course, don't swim when you're sick or for two weeks after.
E-mail: dwimmer@ksl.com
×
Related links
Most recent Utah stories