Estimated read time: 4-5 minutes
This archived news story is available only for your personal, non-commercial use. Information in the story may be outdated or superseded by additional information. Reading or replaying the story in its archived form does not constitute a republication of the story.
When winter sets in and the days turn to nights much earlier, it's easy to feel down in the dumps. For parents, it can be worrisome when a normally energetic kid starts to lack energy, act moody or behave in a way that lends itself to a parent wondering, "Could my child be depressed?"
It's a question worth asking, notes Nathan Bexfield a pediatrician at University of Utah Health Care's South Jordan Health Center. Bexfield can answer a few of the most common questions about depression in kids, as a way to help parents become more informed about what to look out for as the season of winter blues arrives.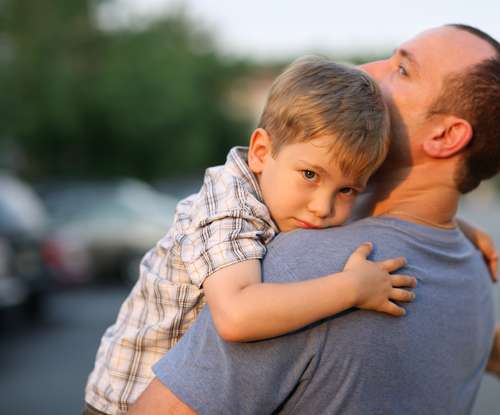 Q: Some people might be surprised that kids can be diagnosed as clinically depressed. What causes this?**A:** Depression is due to multiple small genetic effects as well as environmental influences specific to the individual. Symptoms of depression can be appreciated in children as young as 3 years old. The symptoms of depression are very similar in both children and adults, but children and adolescents are more likely to present with an irritable mood rather than a sad or depressed mood.
Q: What are the warning signs for parents?
A: Depression can be manifest by symptoms and impairment in function. The symptoms of depression include: depressed or irritable mood, diminished interest or pleasure, change in appetite or weight, sleep disturbances, psychomotor agitation (handwringing, unable to sit still, pacing, pulling or rubbing clothes, skin, or other objects), fatigue or loss of energy, feelings of worthlessness or guilt, inability to concentrate or make decisions, and recurrent thoughts of death or suicide. Impairment of function can include disturbances in school functioning, relationships with parents and peers, and daily activities and responsibilities.
Q: How do you know if it's depression that warrants a visit to the pediatrician, or if your child is just in a moody phase that may pass?
A: If you suspect your child has any sign or symptom of depression for whatever reason, I would recommend a visit with your doctor. If nothing else, a health professional can evaluate your child with questions and tools designed to diagnose depression.
Q: What are the treatment options for depression in children?**A:** The most important step in treatment is to determine if there are any thoughts of suicide as well as a plan to carry out those thoughts. If these are not present then treatment options usually include medications, therapy, or a combination of both. The combination option has been found to be more effective than either medication or therapy alone.
Q: Winter brings colder weather, less time in the sun and longer, darker days. For some kids, this means seasonal affective disorder. What's the difference between seasonal affective disorder and depression and how can they be treated differently?
A:Seasonal affective disorder is defined as recurring major depression with seasonal onset and remission. It is not considered a separate mood disorder. Rather it is a subtype that can occur as part of other mood disorders including major depressive disorder and Bipolar disorder
Two seasonal patterns of SAD have been described: the fall-onset type and the summer-onset type. The fall-onset type, also known as "winter depression," is most common; major depressive episodes begin in late fall to early winter and remit during summer months.
Light therapy has been found to be beneficial in these cases. If this is not helpful, then we generally treat seasonal effective with combination therapy as we would major depression.
At University of Utah Health Care, we have wonderful primary care physicians that are trained to address generally uncomplicated cases of depression disorders. More complicated or severe cases might require further input by our psychiatrists and psychologists.
Think you know the warning signs of depression? Take our interactive quiz to make sure. Depression quiz.
Check out other Ask an Expert articles here.

×