Estimated read time: 4-5 minutes
This archived news story is available only for your personal, non-commercial use. Information in the story may be outdated or superseded by additional information. Reading or replaying the story in its archived form does not constitute a republication of the story.
ZION NATIONAL PARK — If you were out running or hiking in Zion National Park earlier this month, there is a chance that you could have crossed paths with one of the fastest distance runners in the world.
American record holder Ryan Hall, along with his wife, Sarah, who is also a world-class athlete, visited Utah for the second time in the space of three months, making Zion National Park their choice destination.
"My wife and I decided to take a little two-day camping trip to Zion National Park since it is only a five-hour drive from our home in Flagstaff, Arizona," Hall said. "We had heard amazing things about Zion and it more than lived up to the hype. Running through the canyon was one of my favorite runs I have ever been on. Absolutely epic!"
Hall also visited Utah this past July with his dad, who had just retired after 30-plus years as a high school special education teacher. The two stayed in Heber with some friends and enjoyed fly fishing at the Falcon's Ledge in Altamont. And while he enjoyed fishing, Hall was eager to put his legs to work on many of the scenic trails and parkways surrounding the area.
"We had an amazing time at Falcon's Ledge and connecting with the running community in Heber," Hall said. "We caught tons of fish and I got to run wherever we were fishing. It was a great time with great people."
Among the people Hall was able to connect with while doing a running clinic in Heber were high school athletes and local runners.
"I loved connecting with the running community in Heber. I really enjoyed taking the kids through a grass workout at a local park," Hall said. "I love to be a part of clinics because I get to pass along a little of what I have learned during my 14-year running career. I like to be around kids; it reminds me that running is just supposed to be fun. I also see the greatness in the kids I work with and love to try and get that greatness out of them."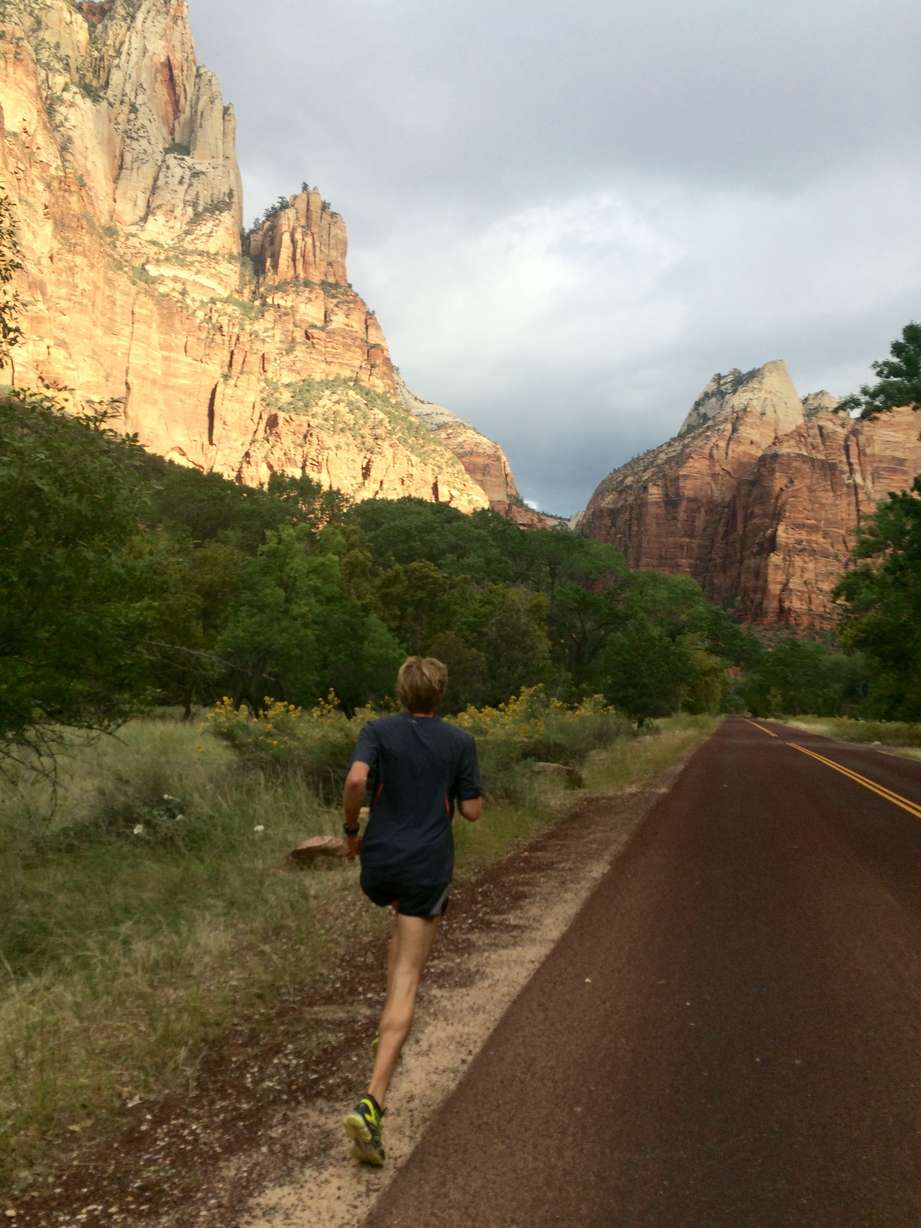 After Hall's stay in Heber, he couldn't pass up a chance to visit Park City.
"My dad and I stayed a day in Park City and I ran on the Mid Mountain Trail ski slopes," he said. "It was one of the best single track trails I have run on. I loved Park City!"
Hall hopes to make a couple of more trips to Utah in the coming months, and even has plans to bring his wife to Park City soon so the two can see the fall colors and run through the aspens.
"Everywhere I've been in Utah is beautiful, and there is so much more still to explore."
Another trip to Utah is scheduled this coming June as Hall was recently asked to be a keynote speaker at the annual Utah Valley Marathon Expo.
"We reached out to Ryan to gauge his interest in coming to speak," race director Gary Robinson said. "During our discussions, we asked if he'd be interested in running the race, and he said sure."
When Hall, who is the American record holder for the half marathon (59:43), was asked if he planned on shattering any records at the Utah Valley Half, he was humble in his response.
"The race is still far off," he said. "I never intend to run a certain time on a course I have never run. The first time out is always a learning experience. With that said, hopefully I will be in excellent shape and be able to put out a good time. I always like to go to the starting line humble and respectful of the course and those who have run it."
Hall then spoke of his eagerness to interact with the people of Utah.
"Everyone is super friendly and gracious in Utah. The people are my favorite part about being in Utah."
At the Marathon Expo, the record holder plans to share his story with others.
"I like to always share a part of my story and a few of the things I have learned along the way," he said. "I hope to share about the biggest secret I've learned about breakthrough performances. It can all be summed up in one word, but it's taken me 14 years of running to learn it. I won't spoil my talk by saying what that one word is; runners will have to come to the talk if they want to learn the secret."
For more information on Hall's upcoming visit or for the chance to race with him, go to utahvalleymarathon.com. For more info on Hall and causes he is involved in, go to thestepsfoundation.org.
---
![](http://media.bonnint.net/slc/2505/250517/25051768\.jpg)

About the Author: Arianne Brown -------------------------------

Arianne is a mother to six young children. Her down time is spent running the mountain trails of the Wasatch Mountains and beyond. Contact her at ariannebrown1@gmail.com, follow her on Twitter @arimom6 or search her Facebook page, "A Mother's Write."

×
Photos
Related Stories