Estimated read time: 3-4 minutes
This archived news story is available only for your personal, non-commercial use. Information in the story may be outdated or superseded by additional information. Reading or replaying the story in its archived form does not constitute a republication of the story.
LEHI — "My pumpkin is bigger than your pumpkin" isn't a phrase one normally boasts, but for Matt McConkie, pumpkin growing is in his blood.
McConkie beat the Utah state record for heaviest pumpkin Sept. 27 in the Utah Giant Pumpkin Growers Weigh Off at Thanksgiving Point with his 1,731-pound fruit.
The record he beat was his own 1,600-pounder in 2011.
McConkie's childhood passion for pumpkins skyrocketed in 2008 when he started growing the orange giants.
Though giant pumpkins can be grown in small garden boxes, McConkie grew this year's winner in a self-constructed greenhouse in order to manipulate temperatures.
"The biggest difficulty growing in Utah is our summer heat," McConkie said. "We try to lightly shade the plants or mist them to keep them cool."
McConkie grows four pumpkin plants each year, beginning in mid-April, and the ensuing summer months require intensive labor each day.
"There's a misconception out there that all you do is put in a seed and fertilize it, but these plants require half an hour per plant per day of care," McConkie said. "It consists of feeding it, bearing vines and pruning back the plant."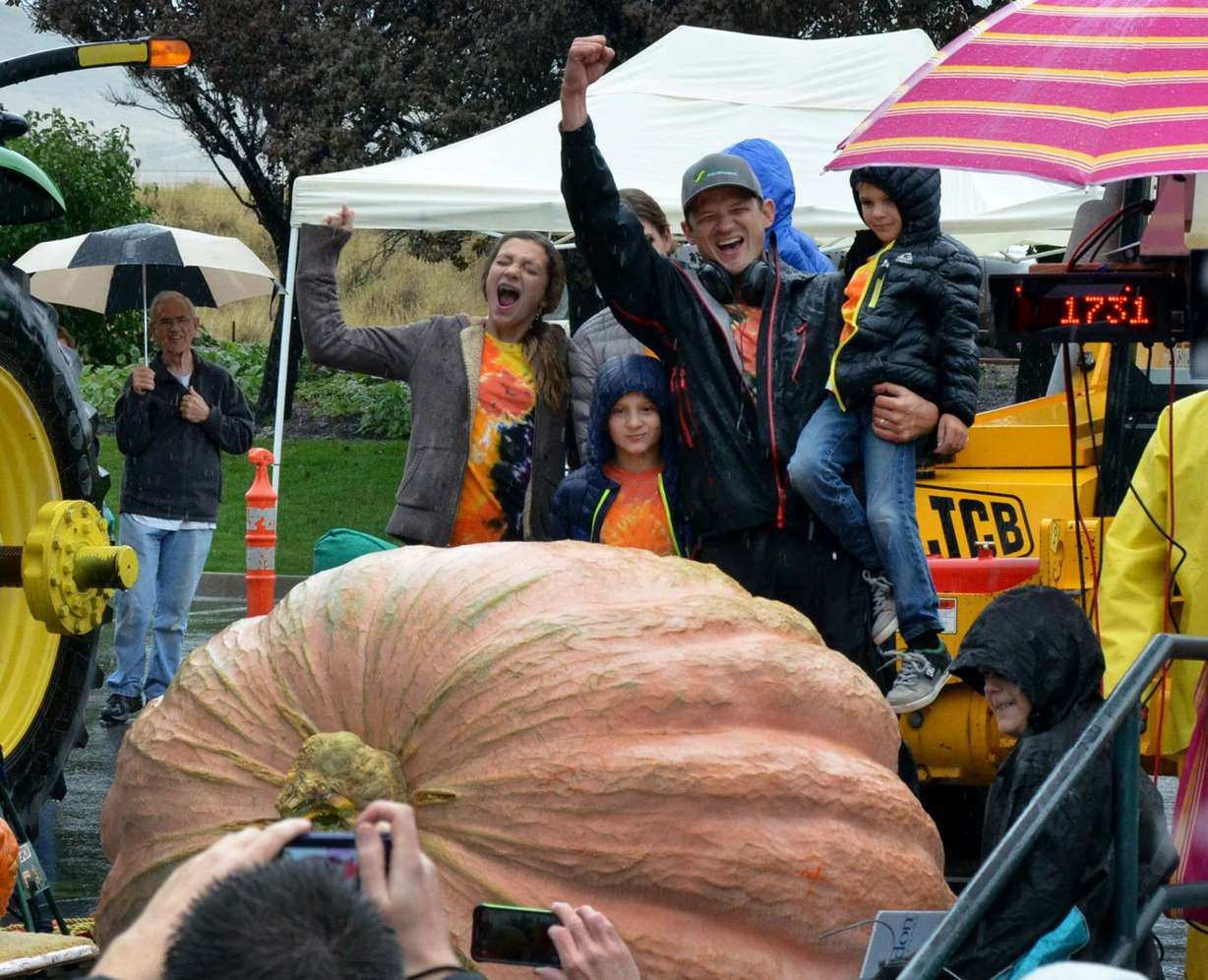 During their peak growth at the end of July, the pumpkins gain up to 50 pounds per day.
"It's a big job just moving one of these pumpkins," McConkie said. "We pick them up with a backhoe or a crane, set it on a pallet and move it around on a forklift."
McConkie said the secret of pumpkin growing lies in its genealogy.
While comparing pumpkins to racehorses, he said growers breed them together to create a more impressive specimen.
"We date the genetics back to the 1980's." McConkie said. "We know who the parents were, how big they were, what color and everything. It's a fun part of the hobby."
McConkie's additional labors include managing temperature, mixing the proper soil chemistry and maintaining the perfect feeding schedule.
Each year at the Utah Giant Pumpkin Growers Weigh Off, judges examine the pumpkins to ensure there aren't any rotters or cracks in the bunch.
"It has to be a sound specimen," McConkie said. "Once they've been judged, they go on a scale and the crowd has the pleasure of seeing what the weight is."
Though there is a monetary prize that accompanies the largest pumpkin, McConkie said pumpkin growing is more about bragging rights.
"The pumpkin was heavier than I estimated, so that was a pleasant surprise," McConkie said. "A new state record is never a bad thing."
Instead of letting the pumpkins rot on their front porch, the Utah's Giant Pumpkin Growers participate in several festive events to dispose of their giants.
Some are used to feed elephants on Thanksgiving Day for Hogle Zoo's event "Feast With A Beast." Others will plunge from a 15-story building Oct. 25, landing on top of cars and in swimming pools at Hee Haw Farms' annual Ginormous Pumpkin Drop, which raises funds for March of Dimes.
"We've got a great group of growers in Utah," McConkie said. "That brings a lot of fun and excitement, and above all else, we're really good friends."
×
Photos
Related stories
Most recent Utah stories