Estimated read time: 4-5 minutes
This archived news story is available only for your personal, non-commercial use. Information in the story may be outdated or superseded by additional information. Reading or replaying the story in its archived form does not constitute a republication of the story.
SALT LAKE CITY — Calling him a role model for other Hispanic youths, particularly those battling ADHD, family and friends of an 18-year-old man shot and killed earlier this month pleaded Wednesday for witnesses to step forward.
"I'm just asking for anyone with the tiniest bit of information, even if you don't think it will help the investigation," said Jose Jarquin, the father of Gustavo Jarquin. "I don't believe any human has the right to take someone else's life away from their family or their dreams."
Gustavo Jarquin's body was found the morning of Sept. 18 lying face down on the grass on the northwest corner of Indiana and Pueblo streets. Detectives ruled the case a homicide. As of Wednesday, there had been no arrests.
Salt Lake police detective Cody Lougy said investigators have received about 25 phone tips since the killing. But they are hoping for that one piece of information that will lead them to an arrest.
On Wednesday, about a dozen family members, friends, a mentor and a life coach of Gustavo Jarquin asked the public for help. Many wore T-shirts with his picture. There were also pictures of Gustavo hanging in the police department media room with the word "justicia" written on them — Spanish for justice.
"This individual meant a lot to his family," Lougy said.
Jose Jarquin, through a Spanish interpreter, asked anyone with information about his son's death to not be afraid to call police.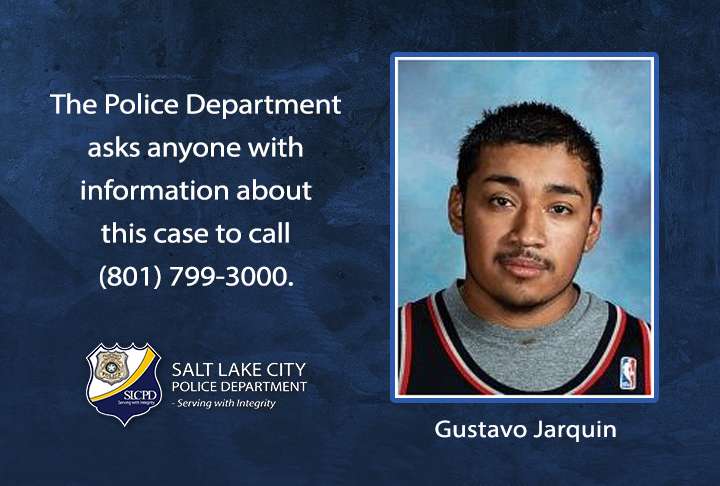 "As a society, we need to help each other out to prevent these things from happening the future," he said. "I'm not asking for revenge. I'm asking for justice."
"I wouldn't like for any mother to have to go through this," Monica Gonzales, Jarquin's mother, said in tears through an interpreter.
Gilberto Rejon-Magana, of the Hartland Youth Center, said Jarquin was a soft-spoken man who recently graduated from high school and had enrolled at Salt Lake Community College. He was able to overcome his attention deficit hyperactivity disorder and began volunteering as a soccer and basketball coach at the youth center to give back to the community.
"He did this from his heart," Rejon-Magana said. "We don't want no more young people going this way. We remember Gustavo as a very fine young man.
"Over 150 children right now are asking for him. I had to tell them a few days ago what happened to their coach. The whole community is suffering — kids, children. For dear sake, help us," Rejon-Magana pleaded.
Jose Jarquin held up his son's high school diploma as police spoke to the media.
"I just know that he had a lot of dreams. One of them was to have a lot of kids, and be a psychologist," he said.
---
We need more young men in the community doing the right thing, and he was doing the right thing, and his life was cut short.
–Teresa Moline, Gustavo Jarquin's schooling mentor
---
Gustavo Jarquin's schooling mentor, Teresa Molina, also noted his dreams of becoming a psychologist.
"We need more young men in the community doing the right thing, and he was doing the right thing, and his life was cut short," she said.
People who were touched by Gustavo Jarquin say he taught them to be a community.
Of the children Molina has mentored, she knew Gustavo Jarquin longest.
"This is the team that he was helping," Molina said at a soccer field Wednesday. "As well as all the kids that are playing here is the team that he was helping coach Mondays and Wednesdays. So he would have been here, yeah, today."
Molina watched as Gustavo Jarquin started coaching young players three months ago and continued until his death.
"This work that Gustavo was doing as a Latino young man coaching them in soccer was very important in building them as community," she said.
Salt Lake police said they do not believe Jarquin was a member of a gang. Neither police nor the family would speculate on a possible motive for the killing. Family members also declined to answer questions about the last time they saw their son or where he may have been the night before.
Jarquin's house is near the area where his body was found.
Last week, police announced they were seeking a person of interest to question in connection with the case. A couple of hours after the press conference, police announced they had located Palu William Lose, 36, questioned him, and released him. Police say they do not believe Lose is a suspect in the case.
Both Rejon-Magana and Molina pleaded with the public to "put their fears aside" and "do the right thing" and contact police.
Anyone who may have any information is asked call Salt Lake police at 801-799-3000.
Contributing: Devon Dolan
×
Photos
Related stories