Estimated read time: 3-4 minutes
This archived news story is available only for your personal, non-commercial use. Information in the story may be outdated or superseded by additional information. Reading or replaying the story in its archived form does not constitute a republication of the story.
SANDY — Sebastian Velasquez has had an interesting year with Real Salt Lake, both on and off the field.
It's made him grateful every time he steps on the pitch, and wanting to impress enough to regain his regular spot in the first team.
If Tuesday night's match against the reigning third-division champs is any indicator, Velasquez will see his number called quite a bit.
Velasquez and Robbie Findley each scored a second-half goal to lead RSL past Sacramento Republic FC 2-0 in a late-night friendly at soggy Rio Tinto Stadium.
"I'm always trying to get into the first team and get more minutes," said Velasquez, who has two assists in 145 minutes with the first team in 2014. "I think being able to get on the scoreboard gives me a bit more confidence. To be able to provide something for the first team every time I get the opportunity to play is great."
RSL came out in unfamiliar territory in front of an announced crowd of 20,555 rain-soaked spectators. Jeff Cassar rolled out a 4-3-3 formation, with Velasquez sitting behind forwards Devon Sandoval, Sebastian Jaime and Findley, who wore the captain's armband. Cole Grossman and Justen Glad sat in front of the back line, suggesting a 4-2-3-1 never used in training by the mostly reserve lineup.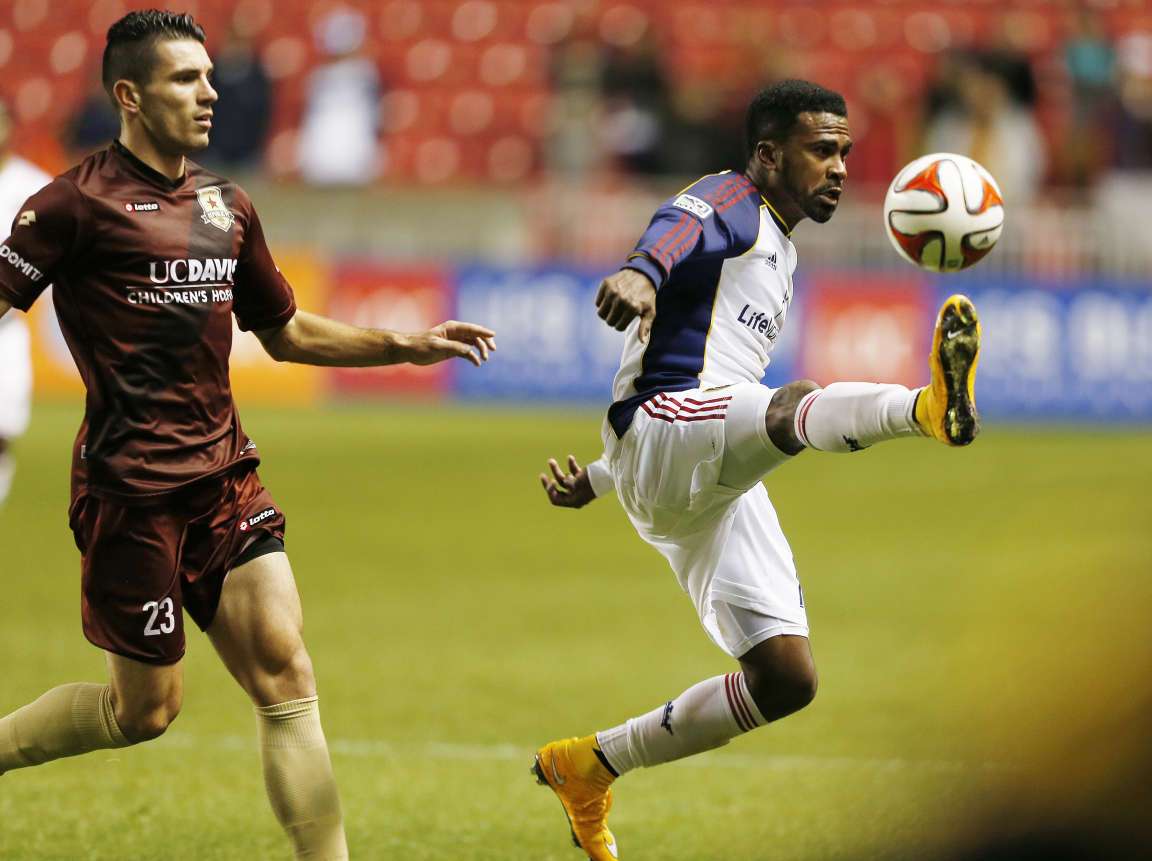 It took 45 minutes to get used to the play, as well as the wet surface, but RSL eventually found its footing, Grossman said.
"I think it was really good for Justen; I thought he did great," said Grossman, who played in similar formations with Columbus. "He's really young, so it's really impressive that he can step into a position he's never played before and hold his own. We've got guys in spots they've never played."
Findley drew a penalty kick in the 57th minute, then stepped up to the spot to slide one down the middle as Sacramento goalkeeper Dominik Jakubek dived to his right for the opening goal.
RSL continued to apply pressure throughout the half, outshooting Republic FC 12-6 and holding the USL Pro side without a shot on goal. The lower-division champs also used six of their eight substitutes in the game to RSL's three, with one coming in the final two minutes as Luis Gil replaced an injured Glad just before the whistle.
"We're such a deep team," Velasquez said. "It doesn't matter what 11 you put out there; I think our second team has a lot of technical players, and very good players. I think today we were able to show what we are about, even with the formation."
Within seconds of Gil stepping on the field at the start of the 90th minute, Velasquez took a pass from Grossman and curled a left-footed shot inside the far post for the final dagger in third-string goalkeeper Lalo Fernandez's shutout.
"They're a talented team. I think any team with their quality that you give time to can punish you," Cassar said of Sacramento. "Tonight we didn't give them much time on the ball. (Former San Jose forward Adam) Jahn and Justin Braun, they're a handful for anyone. Carlos (Salcedo) and Aaron (Maund) did a great job on those two. They're well coached, and I felt they were organized. Our fight was there tonight, and we scored two quality goals."
Cassar played with Sacramento coach Preki with the now-defunct Miami Fusion, and the duo have seen each other through Preki's coaching stops at Chivas USA and Toronto FC.
"He's a competitor," Cassar said. "I know he doesn't enjoy losing this game, whether it's a friendly or not. Same with me. It's always nice to be on the winning side."
×
Photos
Related stories
Most recent Sports stories