Estimated read time: 3-4 minutes
This archived news story is available only for your personal, non-commercial use. Information in the story may be outdated or superseded by additional information. Reading or replaying the story in its archived form does not constitute a republication of the story.
CANNONVILLE, Garfield County — Garfield County sheriff's deputy Clint Pierson still isn't sure how an Italian couple made it out of a river alive after the rain-soaked ground around them collapsed.
"Everything I know says they should have been swept away and been dead," he told the Deseret News Sunday.
The two tourists were saved in a dramatic rescue in southern Utah late Saturday after their car plunged into the Paria River.
Sussana Dursi, 47, and Roberto Bellocci, 62, were driving back to their campsite at Kodachrome Basin State Park about 9 p.m., and had just finished crossing the bridge that spans the Paria River when the blacktop collapsed under the flood-eroded ground and their car plunged into the river below.
The car was carried 150 yards in the river before stopping upside down in the middle of the water. Duri and Bellocci were able to climb out of their vehicle through the broken back window, according to the sheriff's office, and climb on top of the overturned vehicle.
---
The flow was huge. There was a lot of water moving. They were just basically hanging on for dear life in the middle of a huge flow.
–Clint Pierson, Garfield County Sheriff's Office
---
"I don't know how they got out of that car and onto the car without getting swept away," Pierson said.
A short time later, a woman drove by the area and saw the gaping hole where the road had collapsed. That woman just happened to be Pierson's daughter. She called dispatchers, who in turn called Pierson. At that time, the daughter did not know that a car had plunged into the river.
Pierson, who was just about to head out on a call of overdue hikers, decided to swing by the bridge first and see how bad the damage was.
"When I got here, the entire southbound lane of the road was gone. It was just a big hole with water running underneath it," he said. "When I stepped out of my truck I could hear people yelling."
Pierson turned on the spotlight from his truck and saw the couple holding onto the undercarriage of their vehicle. He later found out they had been in the water for about 20 minutes at that point. Because of the noise the rushing water was making, Pierson doesn't believe the couple could hear him. But he said they could definitely see him and knew he was there.
"The flow was huge. There was a lot of water moving," Pierson said. "They were just basically hanging on for dear life in the middle of a huge flow."
He called for backup and the county's swift water rescue team arrived, along with deputies from Garfield County and Kane County.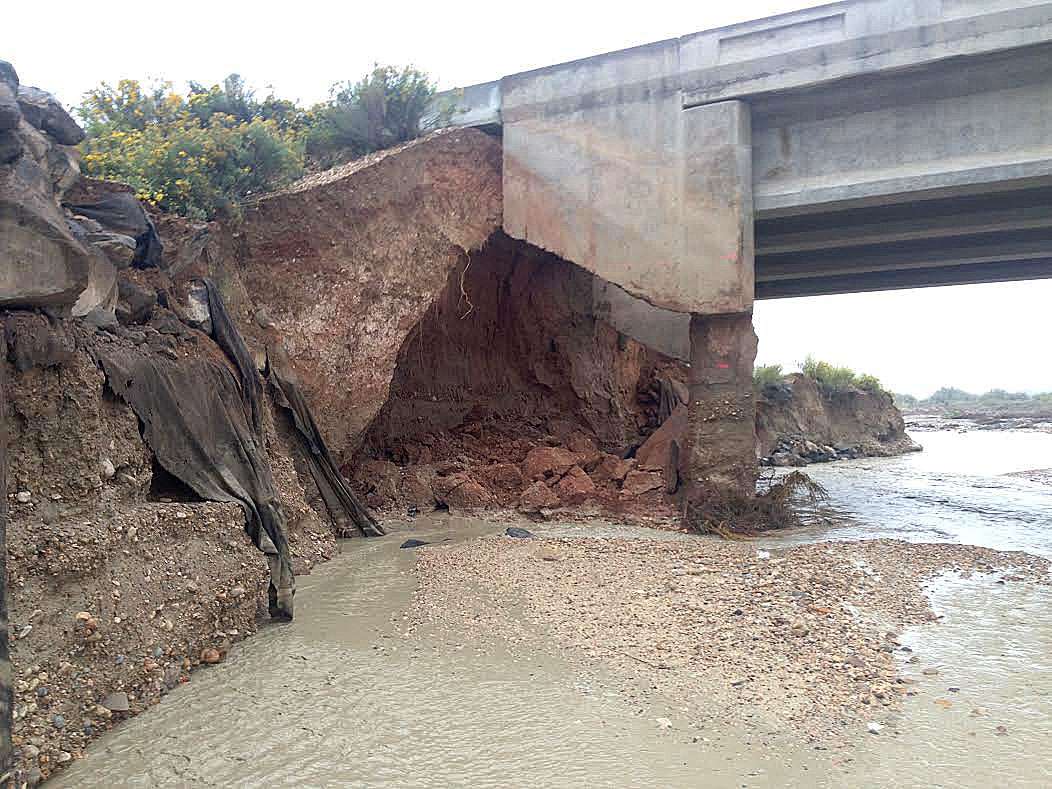 For the next 45 minutes to an hour, the team set up ropes and put a rubber raft into the fast moving water that rescuers used to manuever to the overturned car and eventually save the stranded tourists.
"They absolutely, positively put themselves in harm's way to get those people out safely. They could have so easily been killed," Pierson said of his rescuer colleagues. "It was amazing."
Dursi and Bellocci both suffered "extreme hypothermia" and were taken to Garfield Memorial Hospital.
Pierson has been with the Garfield County Sheriff's Office for 18 years and has been patrolling that particular area for the past 12.
"I don't remember seeing a flood like that in my time over here," he said.
The flooding problems continued on Sunday. Pierson said a temporary road was set up where the old one was washed out. But that road was only expected to last a couple of hours before it, too, was expected to wash away.
By 6:30 p.m. Sunday, deputies were able to evacuate all the campers from Kodachrome Basin State Park who had been trapped by the road collapse. No one was being allowed into the camp areas Sunday.
Contributing: Jed Boal
×
Photos