Estimated read time: 3-4 minutes
This archived news story is available only for your personal, non-commercial use. Information in the story may be outdated or superseded by additional information. Reading or replaying the story in its archived form does not constitute a republication of the story.
WINDOW ROCK, Ariz. — History was made Friday just south of the Utah border.
The U.S. government settled a lawsuit with the Navajo Nation for $554 million — the largest payout ever to an Indian tribe.
In a place that some say is in the middle of nowhere, hope either left or can be hard to find. But Leslie Jensen was smiling Friday.
Jensen is a Navajo living on reservation land and, for the first time in a long time, she said she can feel hope.
"It's quite a historic event, you know what I mean?" Jensen said of the settlement. "They can get electricity lines, additional water lines, better homes, better heating, just everything."
During a ceremony at the capitol of the Navajo Nation, the tribe officially accepted a settlement from the U.S. government for $554 million.
"For decades, the Navajo Nation has had a fighting relationship with the Department of the Interior, and I hope it ends today," Ben Shelly, president of the Navajo Nation, said.
The settlement ends a $900 million lawsuit the Navajo Nation filed eight years ago, claiming the federal government mismanaged Navajo trust assets, natural resources and funding for decades.
"We have a history that is painful," U.S. Interior Secretary Sally Jewell said. "We have a history of broken promises."
---
That's what is so important about this. We both get to stop spending money on lawsuits and start spending money on the things that are important to the Navajo Nation.
–U.S. Interior Secretary Sally Jewell
---
Jewell feels this settlement brings peace.
"That's what is so important about this," she said. "We both get to stop spending money on lawsuits and start spending money on the things that are important to the Navajo Nation."
The biggest question is how will the money be spent.
"Hopefully, there is a better future for my kids," Navajo Nation resident Sherwynn Williams said.
The 27,000-square-mile reservation is larger than any American Indian land base, and covers sections of Arizona, New Mexico and Utah. Almost two-thirds of the 300,000 Navajos live on the reservation that has some of the most iconic landscapes in the Southwest and is rich in natural resources.
"The needs across the Navajo Nation are great," Shelley said.
About 70 percent of the roads on the reservation are unpaved, an estimated 16,000 families don't have electricity and many more don't have telephone service, water or natural gas services, according to the tribal utility provider.
Money is being promised for education, housing and infrastructure.
Public meetings will be held starting in October to seek community input on how the money should be spent.
"After that is heard, then we begin to put a strategy together as to how to make it work," Navajo Nation Speaker pro tem Lorenzo Bates said. "Because, this is a one-time amount of money, one time."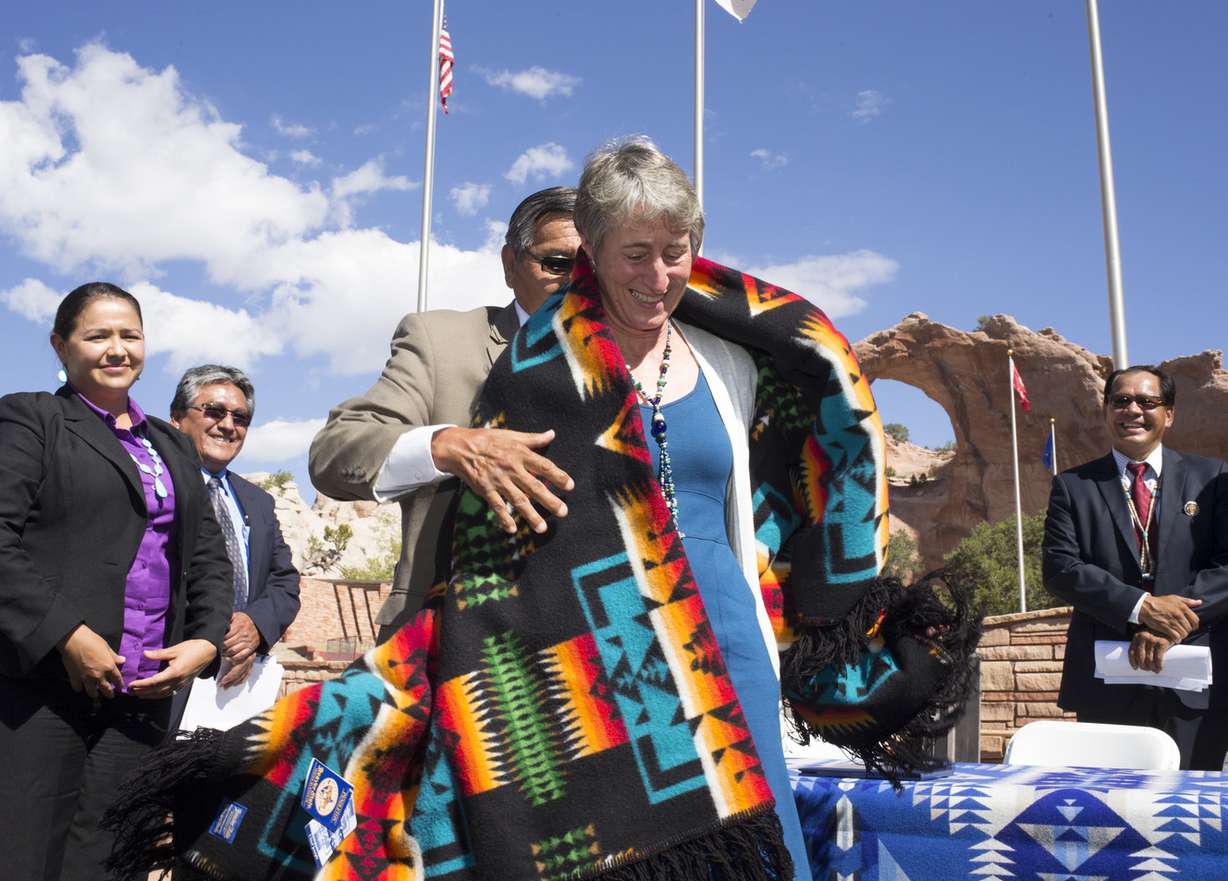 Proving once again how important hope is. And how, at least for the Navajo Nation hope has a chance of becoming a reality.
"Hopefully something positive, something good for the people, but we'll see," Jensen said.
The Navajo Nation should receive its money within 60 days.
The deal comes amid a flurry of similar, though smaller settlements. The Navajo Nation settlement exceeds the next highest amount by $170 million, Sandler said.
Tribes across the country have filed more than 100 breach-of-trust cases against the U.S. government. Since October 2010, the Obama administration has settled about 80 cases, totaling more than $2 billion. The Interior Department said it is working to resolve cases with other tribes without going to trial.
Hundreds of thousands of Native Americans, meanwhile, received final cash payments last week in one of the largest settlements involving individual trust funds in U.S. history.
The $3.4 billion Cobell settlement, named for Elouise Cobell of Browning, Montana, resolves a class action lawsuit over billions of royalties lost from the accounts of individual Indians.
×
Photos
Most recent Utah stories