Estimated read time: 5-6 minutes
This archived news story is available only for your personal, non-commercial use. Information in the story may be outdated or superseded by additional information. Reading or replaying the story in its archived form does not constitute a republication of the story.
PARK CITY — A gleam entered Jerome Epstein's eye as he described what it was like to have generations of his family gathered for Rosh Hashanah, one of the holiest days for Jews.
"Wonderful. Wonderful," he said, his gaze piercing. "It's thrilling."
Epstein has worked to ensure the continuance of the Jewish traditions in his family. Wednesday evening he attended a service on the first evening of Rosh Hashanah at the [Temple Har Shalom](< http://www.templeharshalom.com/>) in Park City with his daughter, Miriam Footer, and granddaughter, Emily Epstein.
"I think they are aware of who they are and what they are," he said of his posterity.
They were among the more than 250 gathered for the service on the first evening of the holiday, which runs through Friday evening.
There are an estimated 1,641 Jews in Utah, according to the 2010 Religious Congregations and Membership Study conducted by the Association of Statisticians of American Religious Bodies.
Rosh Hashanah is the beginning of the High Holy Days for Jews. After candles were lit at the front of the room and prayers were spoken and sung, those gathered in the sanctuary were asked to silently reflect on the past year while reading prayers that petitioned for peace and help to avoid evil in the coming year.
"All rise. The ark is opened," said Rabbi Jim Simon, Temple Har Shalom interim rabbi, before wood panels were pulled back at the front of the sanctuary, revealing three identical Torah scrolls. Simon, the cantor and those observing stood facing the scrolls.
Avinu Malkeinu, a prayer that combines call and respond with parts sung solely by the cantor, was next. It is what Simon calls "the quintessential prayer" of Rosh Hashanah. After this, the congregation sat and the ark was closed.
Rosh Hashanah is the anniversary of Adam and Eve's creations and a time for Jews to look forward to the new year. Similar to the American New Year, Jews often look back on the past and make resolutions for the coming year.
Simon suggested Jews give a uniquely Jewish gift to the world — that of being a light to the nations. This light does not mean they're better; it means they have something to share, he said.
"The light comes when we offer to the world something that God has taught us is crucial, not just to our own well-being, but the well-being of others," Simon said.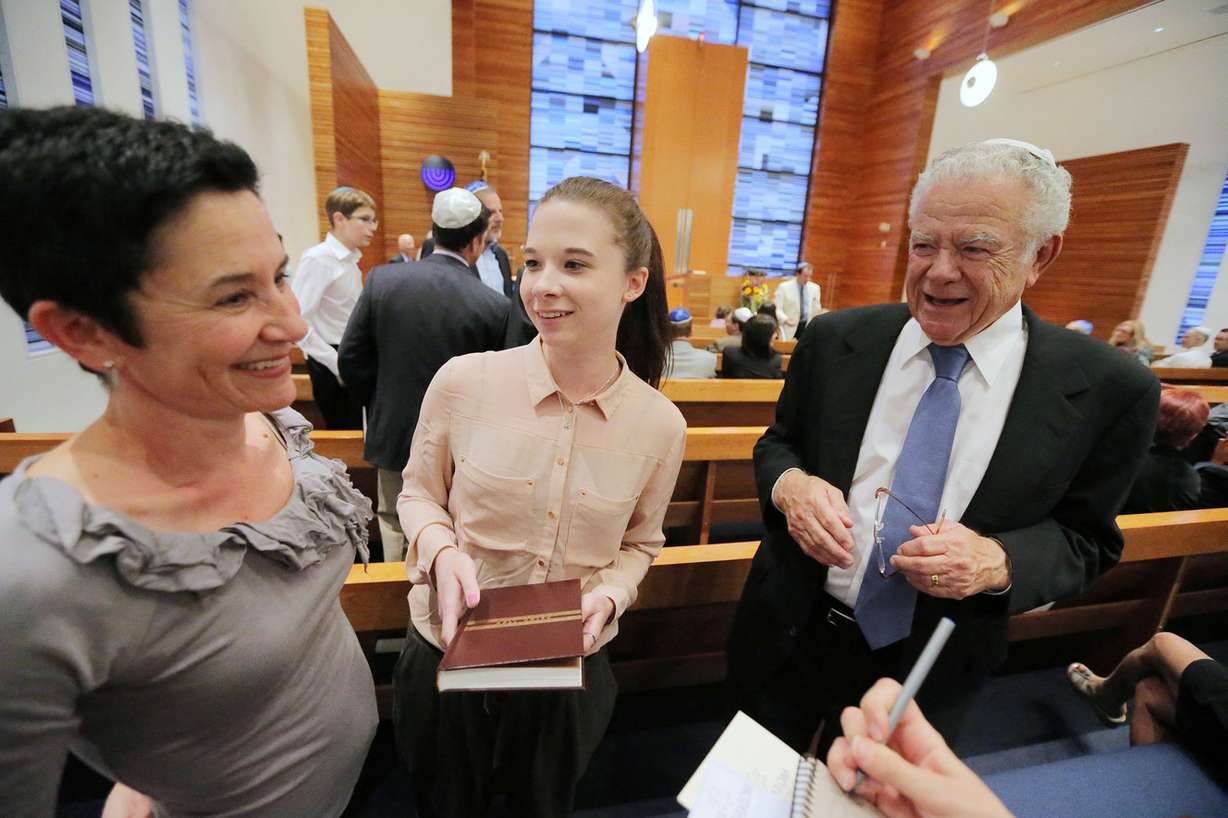 He suggested practicing empathy rather than sympathy to feel what someone is feeling, borrowing from Daniel Goleman, author of "Emotional Intelligence: Why It Can Matter More Than IQ." Simon suggested looking in the Torah for ways in which God is empathetic, following the empathetic cues of women, and drawing on memories of one's own suffering to help others who are in pain.
Jewish New Year greetings of "L'Shanah Tovah Takatevu," or "Shanah Tovah" — which mean "may you be inscribed (in the Book of Life) for a good year" and "good year," respectively, according to judaismabout.com — could be heard through the temple as people greeted one another with a kiss on the cheek.
During a reception after the service, apples dipped in honey and other sweets symbolized a sweet new year.
Thursday, the first day of Rosh Hashanah, Simon and other Jews will toss bread from their pockets, known as Tashlich, into a creek or river, as a symbol of casting their sins away.
Jews sound a shofar, or ram's horn, at the beginning and end of the High Holy Days, in a synagogue. The Torah mentions that it is blown at the beginning of the year. There are many interpretations of what it symbolizes, but Simon prefers to liken it to an alarm that reminds people to be better and to change.
Rosh Hashanah begins a 10-day period of repentance ending with Yom Kippur, which runs between the evenings of Oct. 3 and Oct. 4.
During the days between Rosh Hashanah and Yom Kippur, often known as the Days of Awe, Jews will often try and reconcile with people they have offended over the prior year. The Talmud teaches that the Yom Kippur atonement only reconciles sins between man and God, according to Judaism 101.
Many Jews believe that God writes people's names in books, determining who will live, die, have a good life or bad life, according to Judaism 101. They are written in on Rosh Hashanah and sealed during Yom Kippur. People's actions — repentance (teshuvah), prayer (tefilah) and good works (tzedakah) — during the Days of Awe can reverse God's decisions.
Depending on the level of orthodoxy, Jews will avoid working for part or all of Rosh Hashanah and may abstain from using technology as well.
Yom Kippur will conclude the Days of Awe. This is the most important Jewish holiday and will often be observed by most Jews. Jews are encouraged to fast for 25 hours, from sunset on the night before Yom Kippur until nightfall on Yom Kippur. They are asked to avoid working, and some observe other restrictions, including washing, bathing, makeup and deodorant use, and sexual relations.
Rosh Hashanah and Yom Kippur both require a new liturgy and those who observe will also pray frequently through the High Holy Days, according to Judaism 101.
Traditionally, those who observe Yom Kippur will wear white as a symbol of their cleanliness.
"At this season, we turn from our ordinary ways to contemplate extraordinary issues, to ponder large — and largely unanswerable — questions: What are we? Whence do we come? Whither are we going? What is the divine, and what is our relation to the one whose name conceals more than it reveals?" read the introduction to "Gates of Repentance," a prayerbook for the Days of Awe. "Measuring ourselves against our ideals during this season, we are moved to express regret for past errors and to reaffirm our aspirations for the future."
Rosh Hashanah and Yom Kippur services will also be held at Congregation Kol Ami and the Chabad Lubavitch of Utah — both in Salt Lake City — as well as at the Chabad Lubavitch of Park City.
×
Photos
Related links
Related stories