Estimated read time: 2-3 minutes
This archived news story is available only for your personal, non-commercial use. Information in the story may be outdated or superseded by additional information. Reading or replaying the story in its archived form does not constitute a republication of the story.
OREM — The Utah Valley men's soccer team has averaged 2,754 fans at Clyde Field during the first month of its inaugural season in Division I.
It added one more Wednesday, and it's a name soccer fans will recognize — whether he's checking in from Sandy, Vancouver or any of 16 other cities in Major League Soccer.
"You've got a fan in me," said Real Salt Lake midfielder and captain Kyle Beckerman, visiting the men's and women's teams before practice at UVU's Intramural Field in Vineyard. "I'll definitely be checking your scores regularly."
The U.S. international spoke to a group of students on campus in Orem in the morning, an event that took him away from a training session at America First Field in Sandy to meet-and-greet the fans. RSL is preparing for a game against Vancouver, where a win or a draw will see the Salt Lake side clinch a berth in the MLS Cup playoffs.
On Wednesday, Beckerman took some time to motivate the team, sign autographs and — because these are 20-year-old college students — pose for a few selfies.
"My time here has been great," Beckerman said of his reception at UVU. "They really rolled out the red carpet for me.
"The support for Real Salt Lake and soccer has been great since day one. Utah has great fans. They've shown that with Utah Valley games; it's a mini-RSL game. The fan base has been loyal, and it's only going to get better."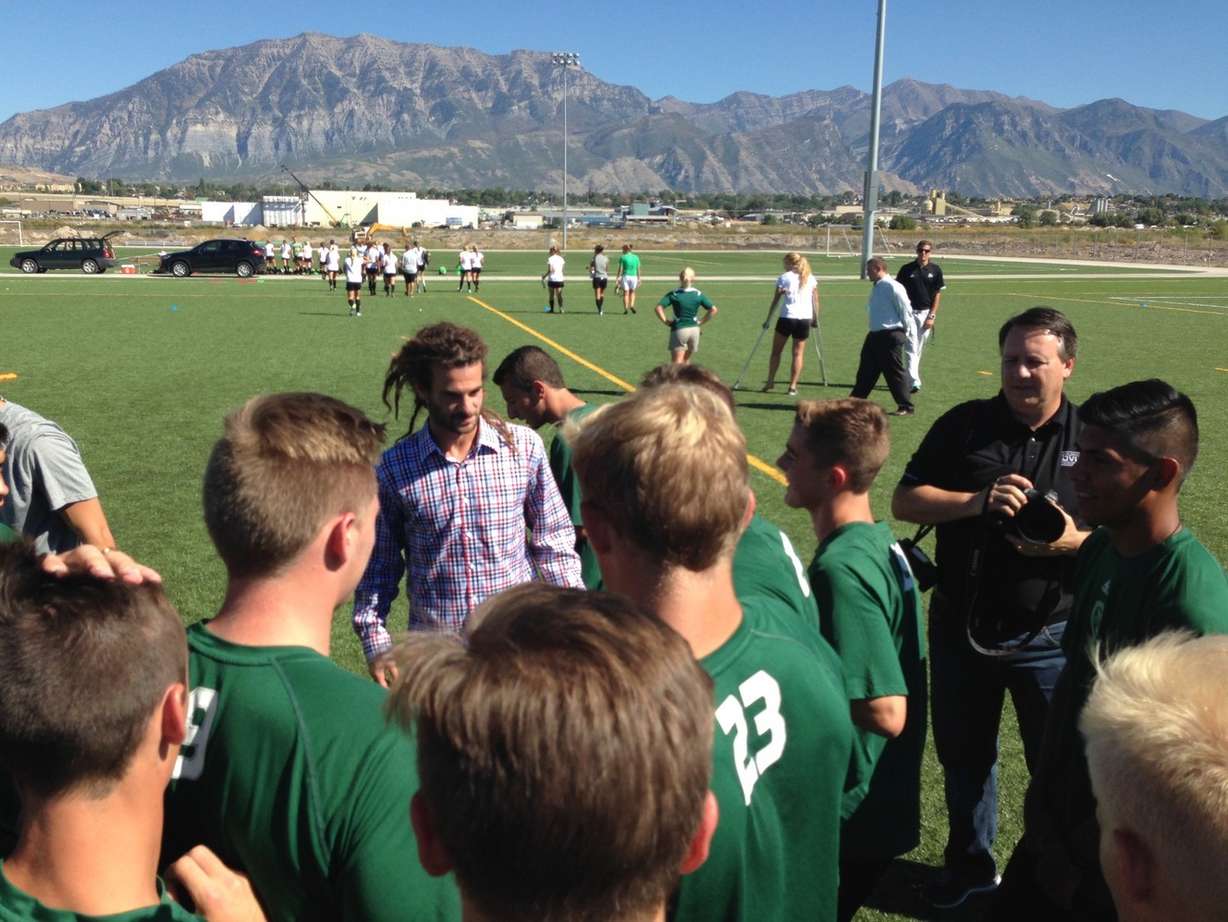 The visit by a professional soccer player who makes his home in Utah was a motivation for the men's team, the only Division I men's soccer club in the state.
"I feel like all the soccer supporters in Utah look at UVU," said freshman midfielder Victor Galindo, a Ben Lomond High grad. "They kind of hop on board with us. We're lucky to have the experience to be a part of the first soccer team in the state of Utah."
Beckerman mentioned the 2-1 upset win over No. 21 Denver by the UVU men's team (3-2) last week, but added team success is more often measured by what happens in losses rather than wins.
"Success is not by wins or beat a top 20 team like Denver," he said, "but when you lose. Will you come together and get better?"
Utah Valley travels to Las Vegas to play UC Riverside (2-3-1) on Friday, and will face its second ranked team on Sunday in No. 4 UC Irvine (5-0-1) at Johann Memorial Field at UNLV.
The UVU women (5-3-2) begin Western Athletic Conference play Sunday at Seattle.
×
Photos
Related stories
Most recent Sports stories