Estimated read time: 4-5 minutes
This archived news story is available only for your personal, non-commercial use. Information in the story may be outdated or superseded by additional information. Reading or replaying the story in its archived form does not constitute a republication of the story.
LOGAN — Utah State will head into this week's bye week with a 2-2 record after a 21-14 overtime loss at Arkansas State.
But don't expect the Aggies to sit around feeling sorry for themselves. They've already got a lot of work planned before next week's road game at BYU.
"We'll review film, we'll get into some work that is very specific for our veterans, and very specific for our young kids," Utah State coach Matt Wells said during a media conference call Monday. "Coaches will continue to prepare for BYU. We will start that prep in the middle to the end of this week. We'll get a lot of young guys some reps."
Wells added that he and several of his coaches will use the week to catch up on recruiting, both in Utah and looking at several out-of-state targets. The head coach did not address the media from Utah State's campus, instead using a conference call for his weekly remarks.
Focus quickly turned to senior quarterback Chuckie Keeton, who sat out the Aggies' game in Jonesboro, Arkansas, with a 'banged up' knee on the same side as his anterior cruciate ligament injury from last year.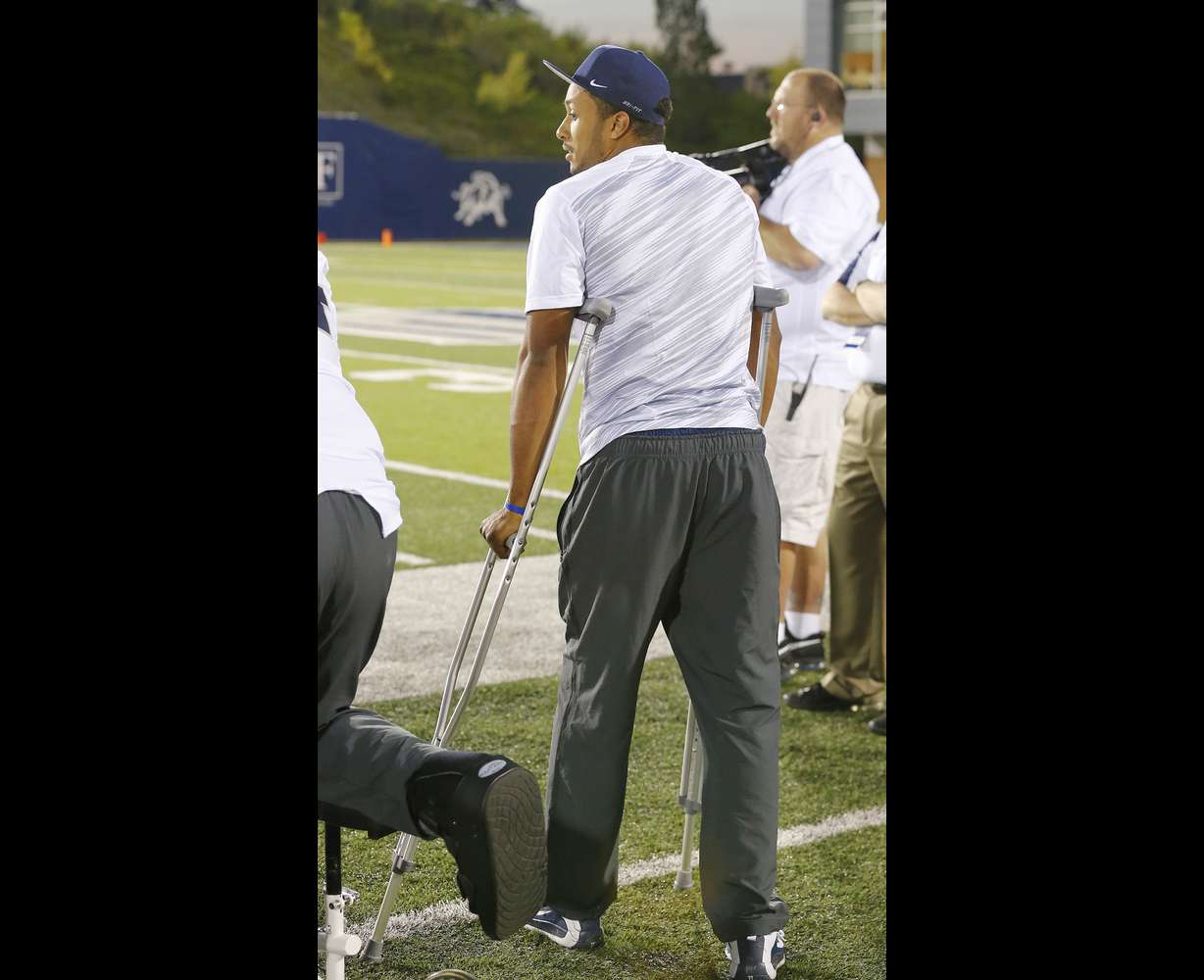 "We'll see where Chuckie is at the end of this week, beginning of next week from a health standpoint," Wells said. "We'll see where he is, and we'll be able to make our decision from there."
Keeton's return date will be determined by a combination of decisions by the coaching staff, medical staff and Keeton himself.
"The doctors will clear him or not clear him," Wells said. "He has to feel right. He has to be right, and he has to be able to go full speed and protect himself. Absolutely, he has a voice in this. I'm going to do what's best for this kid. That's my main concern with him."
Sophomore quarterback Darell Garretson replaced Keeton against the Red Wolves, throwing for 268 yards and two touchdowns on 27 of 46 completions in the loss. But the loss still stings as a "missed opportunity," Wells said.
"We had multiple chances to win the game in any of the three phases, and we didn't get it done," he added. "I thought that they prepared well, I thought that in a lot of ways we executed well, and in some ways we executed very poorly. I think inevitably it cost us the football game because we couldn't capitalize on things on offense, or in the kicking game, or even a couple of times on defense when we could have gotten off the field and saved the game."
Both of Utah State's touchdowns came on big plays, an 81-yard pass to Hunter Sharp and a 41-yard pass to Ronald Butler. That doesn't make for the best model of consistency in the red-zone offense, the team agreed. The Aggies were officially 0-for-1 on red-zone chances, with an interception that also took them out of contention as they got close.
"Not good," Wells said succinctly. "Part of the issue is getting down there a little bit more. Actually, I guess in some ways you could say we got down there a third time, but one of the missed opportunities was an unsportsmanlike conduct penalty we had called on us. It's a hidden yardage. It was almost a 30-yard penalty.
"I view those as missed opportunities. Had we even just kicked a field goal, that's the ballgame."
While the Aggies improved in some areas, such as on the offensive line, allowing only three sacks for a loss of 17 yards, Wells also said that special teams took a step back from two standout performances against Idaho State and Wake Forest.
"I'm not real pleased with the field goal team, the protection, the kick, the snap and the hold," he said. "There's a lot that goes into it. It's not just a missed kick. We had some leakages in protection."
The Aggies plan to address several of these concerns during the bye week.
"I'm hopeful that we will kick better. I'm hopeful that we will protect better. When we're put in that position again, we'll have a little bit more success."
×
Related stories
Most recent Sports stories