Estimated read time: 2-3 minutes
This archived news story is available only for your personal, non-commercial use. Information in the story may be outdated or superseded by additional information. Reading or replaying the story in its archived form does not constitute a republication of the story.
PLEASANT GROVE — Pumpkins are usually to eat, decorate or carve. Not ride.
Recently, however, a few people took a giant pumpkin for a ride on the Colorado River near Moab.
"These are a lot like riding a bull. There's a little bit of control, but not a lot," said Kyle Fox, the man who helped hollow out a giant pumpkin to get in it and float down the river. "The pumpkins sit pretty low in the water, so we needed a big river."
Fox and his friends are members of the Utah Giant Pumpkin Growers. It's a group dedicated to growing the biggest, heaviest pumpkins they can.
The biggest pumpkin Fox ever grew weighed in at 1,171 pounds.
He showed us the pumpkin he was growing in his Pleasant Grove backyard that he's hoping will come close to that weight.
"This pumpkin I'm sitting on came from 1421 Stelts. So, there's genealogy, genetics, and this seed is one of the top in the world," said Fox.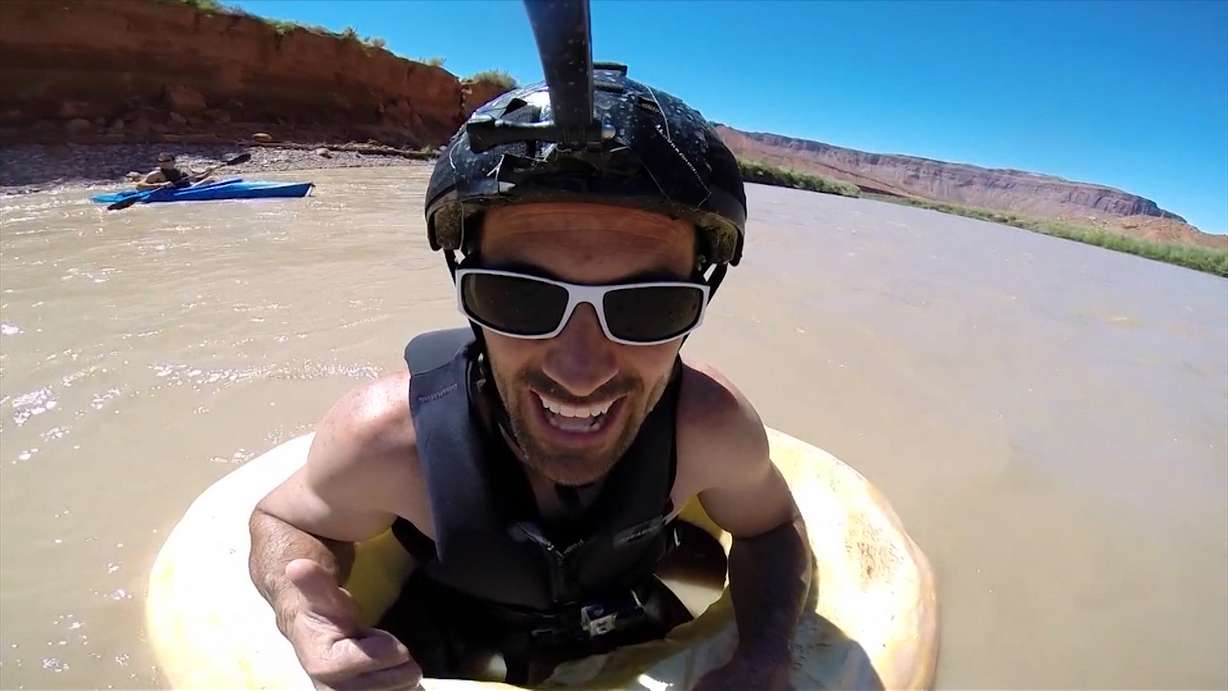 That kind of dedication is what attracted Daria Matza, a Los Angeles-based filmmaker, who decided to do a documentary on the group after seeing a picture of one of the giants.
"I fell in love with it, and I thought to myself, 'What is this thing? Is it real? Is it Photoshopped?' You hear they can grow 50 pounds a day, and your mind is blown," said Matza.
Matza followed growers in Utah and Napa, California, for more than a year from seed to weigh-off.
Her documentary is called "Rise of the Giants."
"We found out Utah weighs more pumpkins than anywhere else in the world," said Matza. "They are really into it. I think it's because of the friendships and the community and the way you can show your children of being together and having fun."
Although the competition is fun, Fox says his favorite part is meeting new people.
He's been growing giant pumpkins for eight years — ever since he remembers seeing a weigh-in at the big red barn in Santaquin when he and his family stopped for ice cream.
"I couldn't believe it. I was hooked. We saw them and we were blown away," said Fox.
Now, Fox has made lifelong friends through the Utah Giant Pumpkin Growers.
"My favorite part is getting to meet people. I've met the best people because of pumpkins. One of my best friends is over 80 years old," said Fox with a laugh.
A sneak peek of "Rise of the Giants" will be held at 4 p.m. Saturday at the theater inside the Museum of Ancient Life at Thanksgiving Point.
×
Photos
Most recent Utah stories