Estimated read time: 4-5 minutes
This archived news story is available only for your personal, non-commercial use. Information in the story may be outdated or superseded by additional information. Reading or replaying the story in its archived form does not constitute a republication of the story.
SARATOGA SPRINGS — "Today is about Darrien."
Those words from Andrew Scivally, a friend of Darrien Hunt, set the tone for an emotional funeral Thursday, a little more than a week after Hunt, 22, was shot and killed by two Saratoga Springs police officers.
For the past week, there has been tension between police and the family over what transpired on Sept. 10, when Hunt was reportedly carrying a Katana sword and confronted by officers. A short time later, a shot was fired in the parking lot of a credit union, followed by more shots 200 yards away in front of a Panda Express restaurant.
Hunt was shot from behind six times and killed — likely while running from officers, according to the family's attorney. Investigators say he was shot after lunging at police with the sword. His mother says she believes he was shot because he was black.
But on Thursday, all of that controversy was put aside in order to remember and celebrate Hunt's life as family and friends said goodbye and laid his body to rest.
Over the past six months, Scivally said Hunt was making strides transitioning from being a boy and stepping into manhood by accepting new responsibilities such as trying to get a job. He described Hunt as a person who was "trying to figure out how to grow up." And in doing so, he took on new challenges with no fear.
"He just did it," Scivally said.
He recalled stories of Hunt agreeing to join his Ragnar relay team with only two weeks' notice and no prior running experience. Scivally said his team needed a last-minute replacement for an injured runner and Hunt agreed to do it — and successfully fulfilled his 12-mile leg. He also recalled the time Hunt agreed to stand with other men in front of their LDS ward on a particular Sunday and sing a song with them that the rest of the group had been rehearsing for awhile, even though Hunt was hearing it for the first time.
"He was trying hard things. He was accomplishing hard things. He was growing up," Scivally told the congregation that gathered at the LDS Saratoga Springs North Stake Center.
Likewise, several teens from the ward recalled how Hunt joined a recent Scouting trip to Moab.
"Everything about him was just amazing," said Noel Patten.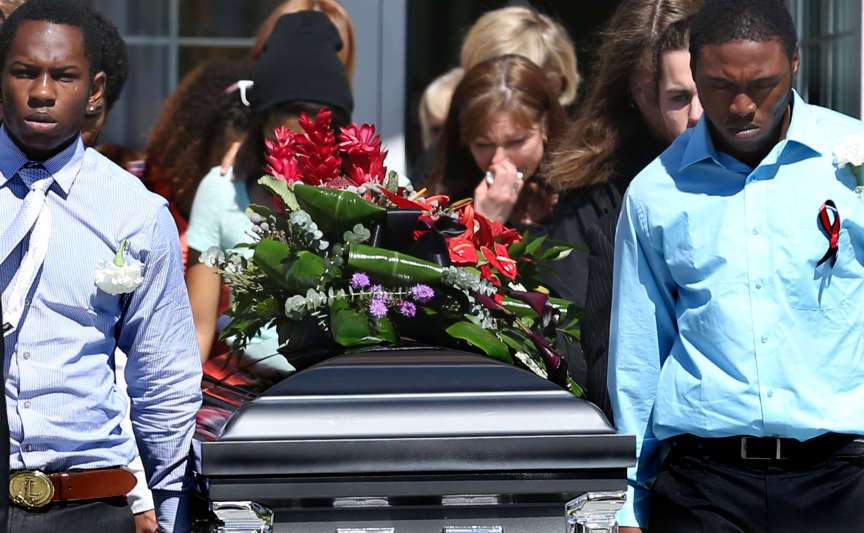 Another Boy Scout named Mason recalled how Hunt was "extraordinarily observant," especially when it came to people.
While "today" was about Hunt, Scivally told his family that tomorrow would be about focusing on the future and wrapping arms around each other.
"It's all about hope. It's about living your life and believing in the future," he said.
Hunt did hard things that made him stronger, Scivally said. He hoped his family could now do the same, recognizing that the weeks and months ahead won't be easy.
During an opening prayer, Hunt's friend, Rosie Doke, asked for the blessings of forgiveness and understanding to be bestowed on both Hunt's family and the community so the healing process could begin.
The most emotional part of the ceremony came when Hunt's father, Curtis Hunt, who has remained mostly out of the public eye since his son's death, sang a solo, "My Soul Hungered." He had to stop singing a couple of times to collect himself, burying his face in his hands and wiping away tears, as he was too overcome with emotion to continue.
At the end of the song he simply said, "We love you, Darrien."
Member of Hunt's family wore red ribbons in his honor. Several photographs of Darrien, or Big D as he was known, were on display on a table in addition to some of Hunt's own drawings and the medal he received for running Ragnar. Friends also recalled his love for music and how he listened to it almost constantly.
Jesus Christ's plan for happiness, his plan of salvation, were also common themes of the funeral.
"We either believe in the hereafter … or we believe this is it. It's my testimony this isn't it," Scivally said.
Related
Several people talked about Hunt's tender heart and his desire to help others who were struggling.
His friend, Duane Domino, spoke of Hunt wanting to "help the world." Ironically, he said, because of Hunt's death, there have already been many discussions in the community about the issues Hunt cared about.
"In his death, he's allowing us to teach each other," Domino said. "Now he's much more capable of carrying out his mission."
Domino also encouraged Hunt's family to follow Darrien's example of moving forward on the days they feel like giving up.
Bishop Rick VanValkenburgh said Hunt was his home teaching companion. He, too, talked of families being reunited in the afterlife.
"I don't know everything he's been doing (over the past week). But I know one thing he's done, he's been in the arms of his loving Savior," he told the family.
An interment was held at the Crescent Cemetery, 11105 S. State in Sandy.
×
Photos
Related stories
Most recent Utah stories