Estimated read time: 2-3 minutes
This archived news story is available only for your personal, non-commercial use. Information in the story may be outdated or superseded by additional information. Reading or replaying the story in its archived form does not constitute a republication of the story.
Nicole Gonzales and Paul Nelson reportingAbout 50 to 60 people rallied outside the Utah Jazz playoff game Thursday, chanting for Texas to release the children taken into state custody from a polygamist sect.
Many of the protesters want the rest of the Jazz-Rockets playoff series to be canceled. Though it's doubtful that will happen, the protesters say all they really want is for the children removed from the YFZ Ranch to be reunited with their mothers.
"Texas, you've got to stop abusing those children!" said protester organizer Bob Breeze. "A lot of people in Texas are in town for the games, and when they go home, they're going to deliver the message for us."
Protesters held signs saying "Free the Kids," "Boycott Texas" and "Is this America?" Cars honked as they drove by. One sign went as far as comparing the FLDS raid in Texas to the Holocaust. Protesters waved Texas flag signs with swastikas stamped on them.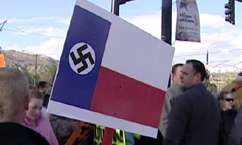 They called for justice for all and repeatedly stated that Texas' actions were unjustified, especially now since the initial call from a 16-year-old claiming abuse might be phony.
Another protester, Colleen Wooten, said, "The point is here that there is a Constitution in place and there was a violation of someone's constitutional rights. That's why we're here."
The rally's organizer says it was a big success simply because people showed up. Breeze says he's still hoping Saturday's game will be canceled or delayed. "If they delay the start of the game by 30 minutes, that would send an earthquake around the entire planet Earth," he said.
While all protesters oppose the raid on the FLDS compound, not all protesters were on board with the games being canceled. One man said, "I think it should be going on, but I think we need to be here to make sure people are aware of what's going on."
Others just thought the protest made Utah look bad. One Jazz fan said, "I think it's great they're trying to help, but I think this is the wrong place to do it."
Rally organizers say Saturday's rally should be bigger than yesterday's.
To hear the interview the Nightside Project conducted with Breeze, click the related link.
E-mail: ngonzales @ksl.com
E-mail: pnelson@ksl.com
(The Associated Press contributed to this report. Copyright 2008 by The Associated Press. All Rights Reserved.)
×
Related links
Most recent Utah stories