Estimated read time: 2-3 minutes
This archived news story is available only for your personal, non-commercial use. Information in the story may be outdated or superseded by additional information. Reading or replaying the story in its archived form does not constitute a republication of the story.
Un hombre de California se declaró culpable el lunes de pintarrajear dos murales en Park City atribuidos al misterioso artista británico del grafiti Banksy.
Si David William Noll, de 36 años, paga 13.000 dólares en costos de restauración antes de una audiencia fijada para el 17 de noviembre en la que se dictaría su sentencia, los fiscales dicen que no pedirán la cárcel como parte de un acuerdo.
Noll le dijo a un juez el lunes que estaba sufriendo un brote de desorden bipolar cuando condujo hasta Park City y dañó las obras en la víspera de Año Nuevo.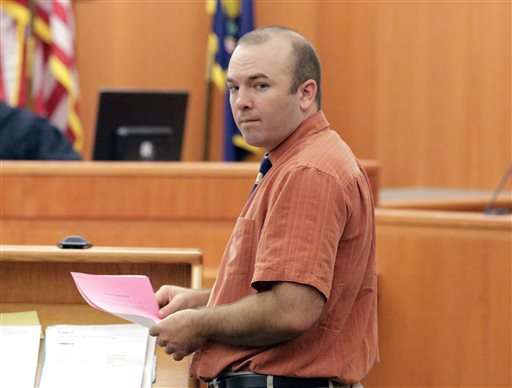 "Banksy" es un seudónimo del artista del grafiti conocido por las siluetas de figuras y mensajes en aerosol que aparecen inesperadamente en distintos lugares. Sus trabajos se han vendido por hasta 1,1 millones de dólares en subastas.
Los murales de Park City aparecieron en la histórica Main Street de la ciudad en el 2010, cuando Banksy se encontraba en la ciudad para el estreno de su documental "Exit Through the Gift Shop" en el Festival de Cine de Sundance.
Uno de los murales muestra a un niño con un halo rosado y alas de ángel arrodillado en oración detrás de una lata de pintura rosada. Fue hallado cubierto de spray café tras un vidrio protector roto. También sufrió daños una cubierta de cristal templado sobre un mural de un camarógrafo filmando una flor. Una grieta en el cristal oscureció la imagen.
Citando videos en YouTube que la policía dijo que Noll publicó sobre su acto de vandalismo, el abogado del condado de Summit David Brickey dijo que el acusado parecía ser un artista frustrado que no comprendía los elogios al evasivo Banksy.
"Dijo que era grafiti y que él simplemente estaba incrementando su valor", dijo Brickey al describir los videos.
En la audiencia del lunes, Noll lució una corbata decorada con una pintura de Norman Rockwell que muestra al artista mirando un espejo, pintándose a sí mismo en un lienzo. Noll le dijo al juez del tribunal estatal Todd Shaughnessy que casi no recuerda haber pintarrajeado los murales, pero que ver los videos y hablar con su familia lo convenció de que lo había hecho.
Noll también pasó cinco meses en la cárcel tras presentar una declaración de nolo contendere a un cargo de vandalismo por arruinar obras de Banksy en Los Ángeles. Se mantiene en libertad condicional en California.
×