SALT LAKE CITY — An April stabbing that left one man dead and another facing murder charges started as a simple misunderstanding, witnesses testified Tuesday.
Nestor Vasquez said he believes his friend Harlin Argelio Ramos confused his white car for another parked across the street while waiting to give the man a ride.
"That's the wrong car," Vasquez said through a Spanish interpreter. "That's how the fight started."
When Ramos opened that car's door, an altercation began that resulted in the death of Joaquin Gonzalez, 33.
Vasquez was one of several witnesses to testify before 3rd District Judge Denise Lindberg on Tuesday in a hearing on the evidence against Ramos. The 30-year-old is facing a single count of murder, a first-degree felony, in the fatal stabbing on April 19 near 500 West and 100 South.
Gonzalez and Megan Sellers had just finished watching a movie at The Gateway and were saying their goodbyes when Sellers noticed two men walk past their car.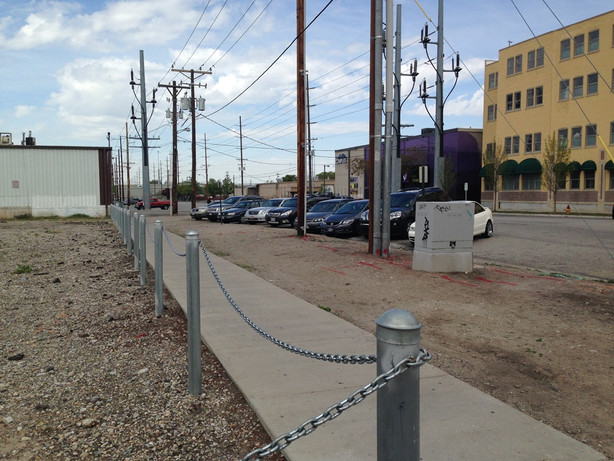 "It really creeped me out immediately," Sellers testified. "It was like, 'What is that guy doing? Why does he keep looking over here? I'm not comfortable.' I opened up my glove compartment and got my stun gun out."
She said Gonzalez reassured her that nothing would happen and told her to put the gun away. She and Gonzalez were sharing a goodbye embrace in her car when the door behind Gonzalez opened and she saw an arm reach in.
"It shocked both of us," Sellers said. "(Gonzalez) turned around and pushed the person and said, 'What are you doing?' Him and whoever opened the door started fighting."
Vasquez said Ramos called him for a ride from The Gateway around 1 a.m. The man, who was working as a cab driver, said he drove the 15 minutes from his West Valley home and had parked his white Nissan Versa when he saw Ramos approaching.
But his acquaintance walked instead to another car — Sellers said she drove a white Toyota Corolla — parked across the street. He, too, watched as the fight began.
"I could hear both falling on to the ground, and that's all I could hear at that moment," Vasquez said. "That's when Harlin started calling out for help because the other man was hurting him."
---
When I stepped out of the car, I heard Quino (Gonzalez) asking for help, begging, 'Please don't kill me. I have kids.'
–Megan Sellers
---
Sellers said the scuffle prompted her to honk her horn and search for her phone on the floor of her car. When she sat up, she could see no one.
"When I stepped out of the car, I heard Quino (Gonzalez) asking for help, begging, 'Please don't kill me. I have kids,'" she testified.
The men were struggling on the ground, and Sellers said one man was straddling Gonzalez and appeared to be punching him. She said she attempted to stun first the attacker's leg and then his neck before he stood up.
She ran back to her car and called 911.
Vasquez said Ramos jumped into his passenger seat, bleeding from his head and explaining that he thought the man was trying to kill him. He said he dropped the man off at a North Temple motel.
Christopher Graham, a paramedic and combat flight medic for the U.S. Army, was leaving a friend's apartment and heard a woman screaming. He said he saw two men running from the area and that one man looked at him for a "split second," and he identified that man as Ramos.
"I only lost sight of them as I confirmed they were running away from the scene," Graham said. "I wanted to double-check to make sure that nobody came back behind us."
He responded to the cars and found a man lying on the ground with a woman screaming and crying over his body. He said blood was on the man's shirt, and Graham determined that the man's pulse was weak.
"He was in the last stages of gasping for air," Graham testified. "He was unconscious from the time I approached him to when he was pronounced."
He attempted to treat the wounds, which he described as "four sharp force trauma wounds" in both the man's chest and abdomen. Sellers said Gonzalez was dead by the time an ambulance arrived.
It is anticipated that more witnesses will testify before the preliminary hearing ends Wednesday, at which time prosecutors will ask the judge to order Ramos to stand trial on the murder charge.


×
Photos
Related Stories