PLEASANT GROVE — Todd Wuergler loved riding his motorcycle.
"He's a very good rider," said his widow, Carolina Wuergler. "He's very careful."
But on June 14, just outside of Escalante, something went horribly wrong.
"He was coming around a corner and he lost the bike and it started sliding from underneath him," Wuergler said.
He died instantly. In the weeks since his death, Wuergler said she couldn't stand to see his favorite bike in the garage each day, so she made the decision to try to sell it and use the money to help pay college tuition for one of her children.
A close family friend, Craig Johnson, offered to list the Honda CBR 1000 for her.
"I didn't want her to have people coming to her house to test drive a motorcycle," Johnson said.
On Thursday night, a very interested customer stopped by his Pleasant Grove home.
"He was very excited," Johnson said. "He told me, 'this is the bike I've been looking for.' "
Johnson told the man that he was selling the bike for his best friend's widow. The would-be thief left the keys to his Ford Explorer as collateral and took off on a test drive. The problem is, he never came back.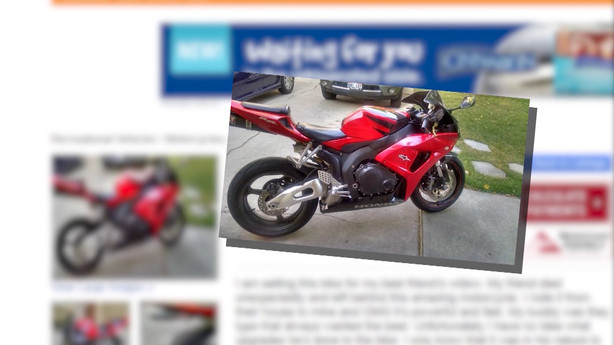 "I felt horrible," Johnson said. "I thought now I have to make the call to Wuergler and tell her the bike was stolen."
It turns out the Ford Explorer the man left parked at the curb was a stolen vehicle as well. Wuergler said it's not really about the $6,000 bike, it's the fact someone took advantage of their grieving family.
"It's just so unfair that there are people in our community that would do such a thing," she said.
The thief is described as a white male in his mid-40s, with short hair and tattoos on both arms. Johnson said he noticed the man also spoke with a thick Southern accent.
Pleasant Grove police say they don't have any leads, and ask if you have any information to please contact their office at 801-785-3506.
×
Photos
Related Stories