SALT LAKE CITY — Nearly 70 years ago, Air Force 1st Lt. Boyd Madsen flew dozens of dangerous missions over Japan.
One of his missions during World War II earned him the Distinguished Flying Cross, the United States' oldest military aviation award.
He died in May 2003 at the age of 81. After going through documents, his family discovered he had never received the award. On Thursday, Sen. Orrin Hatch, R-Utah, presented the family with the award.
Dennis Madsen said as he was growing up, he always knew his father was in the Air Force, but like so many in "the greatest generation," didn't talk much about the war.
Boyd Madsen was moved into the Veterans Administration hospital in Salt Lake City toward the end of his life.
"He would then talk to me a little bit about what they did," his son said. "He was never really happy about the war. He just wasn't that kind of guy. He did his job."
First Lt. Boyd Madsen was a bombardier on 27 B-29 missions over Tamashima, Japan, in 1945. On June 22, 1945, the planes came under attack.
"They really got into some real messes," Madsen said. "And he would say it would be something to watch one of those B-29s roll over and go down and everybody watch for the chutes."
Madsen was credited for delivering his plane's bombs with "decisive results," according to the citation, "patterning 50 percent of his bombs within 1,000 feet of the main point of impact."
For that, he was being honored with the Distinguished Flying Cross Medal, one that is issued "to any officer who distinguishes himself or herself in support of operations by "heroism or extraordinary achievement while participating in an aerial flight."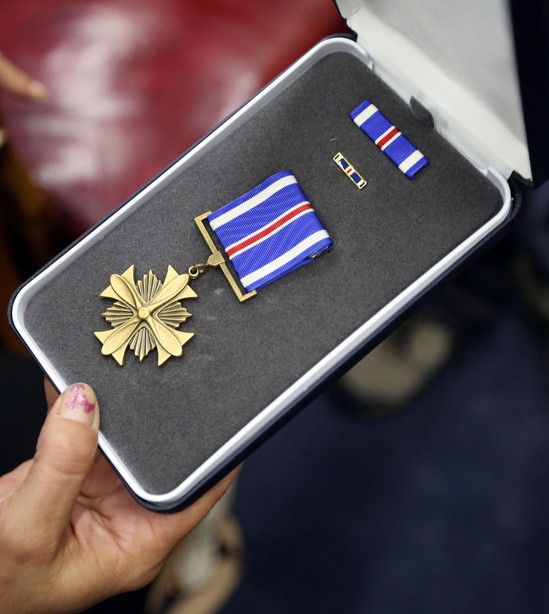 "He had some harrowing missions. Today we call them sorties," Madsen's son said. "They had a lot of kamikaze attacks, a lot of ack-ack fire. Because they knew they were coming in formation, it was obvious they were coming."
He came home in 1945. He received his citation for his service, but not the medal.
"The presentation was scheduled for Aug. 24, 1945," Dennis Madsen said. "The reason it didn't happen is the war was over, everybody just wanted to go home. They were all pulling out by then."
But it wasn't until his mother died recently that Madsen went through all the war records and didn't find the medal. In March, he contacted Hatch to make a congressional inquiry to the U.S. Air Force.
"Lo and behold that letter came back, and said Boyd Madsen did earn that citation, and we're sending the medal to you," his son said.
Thursday, Hatch presented the Distinguished Flying Cross to Dennis Madsen.
"Throughout my service as a United States senator, being able to give military medals to deserving veterans or their family members is one of the highest honors I've been given in my life," Hatch said.
"It's incredible to know that you have a history, and that your father did these things," Madsen said.
Contributing: Marc Giauque


×
Photos
Related Links