This archived news story is available only for your personal, non-commercial use. Information in the story may be outdated or superseded by additional information. Reading or replaying the story in its archived form does not constitute a republication of the story.
KAYSVILLE — Dozens of traps are baited with carbon dioxide, the same chemical compound emitted with each human breath.
Hundreds of mosquitoes flock to it, quickly becoming a statistic — part of a state record of infectious diseases, as they are tested for West Nile virus.
Mosquitoes carrying the potentially fatal disease now have been identified in at least seven counties across Utah, five of which are the most populated counties in the state.
And recent, frequent rainfall has mosquito abatement crews working even harder to curtail the rising population of the insect nuisance, said Davis County Mosquito Abatement District manager Gary Hatch. He said the presence of disease "definitely heightens our concern."
"The public should be taking precautions," he said, adding that the mosquitoes that carry West Nile virus, culex pipien and culex tarsalis, bite only after dark.
The virus, commonly found in Africa, West Asia and the Middle East, is carried by mosquitoes and causes disease in birds, horses, humans and other mammals, including cats and dogs (although symptoms in pets are usually benign). It was first reported in the United States in 1999 and presented in Utah in August 2003.
No human cases have been reported in Utah this year, though, she said. There has been at least one every year since the virus arrived in the state.
"There is no vaccine for West Nile virus, so it is always going to be an issue when there are mosquitoes around," said Becky Ward, a health educator with the Utah Department of Health. "We know that the mosquitoes are here and the virus is active."
"Even one case is too many," Ward said.
The worst year for humans and the highest mosquito population year since then was 2006, when 158 Utahns were infected, including five people over age 65 who died from the disease.
---
A lot of virus activity has popped up. It's definitely a concern that it is showing up all over. We're operating at a heightened level now. We try to cover as much country as possible.
–Gary Hatch, Davis County Mosquito Abatement District manager
---
A bite from an infected mosquito doesn't always cause sickness, but about 20 percent to 30 percent of people infected may feel symptoms that include headache, body aches and pains, vomiting and diarrhea, or a rash. Some people also might experience a fever. The elderly and anyone with a compromised immune system are particularly at risk.
"Any time there is mosquito activity, there is a possibility of a person contracting West Nile virus," Ward said. "We're cautiously optimistic that won't happen."
Results from weekly statewide trap testing were posted online Wednesday, revealing higher counts of West Nile-infected mosquitoes in Salt Lake, Washington, Uintah, Utah, Davis and Box Elder counties. Weber County also has evidence of infection, detected in the last two weeks.
Mosquito testing traps are strategically located throughout each county. Hatch said West Nile has been found in mosquitoes caught in traps that are in urban neighborhoods, as well as in rural areas of Davis County.
"We're out in the fields finding and checking mosquito populations every day," he said, adding district crew members are actively pursuing mosquitoes and spraying chemicals to kill them six days a week.
"A lot of virus activity has popped up," Hatch said. "It's definitely a concern that it is showing up all over. We're operating at a heightened level now. We try to cover as much country as possible."
The state's 24 mosquito abatement districts can answer questions and deliver treatments for any mosquito-infested situation, ranging from standing water in ornamental ponds to storm-related larvae growth.
The product used to kill mosquitoes has little residual effect, which is better for the environment but requires more frequent reapplication, Hatch said, adding that the ever-changing mosquito population is a tough tackle.
He said crews will be out until the first frost.
"It's a concern for public health, and that's why we are out every day, doing what we do to keep it under control and prevent it altogether if we can," said Jordan Chambers, a mosquito control technician with Davis County's mosquito abatement district. He said prevention efforts continue throughout the year.
The most common mosquito species, culex pipien, he said, comes from containers of water and abandoned pools. Ponds can be treated with fish that eat mosquito eggs. Other areas are sprayed with pesticides, but water management is key.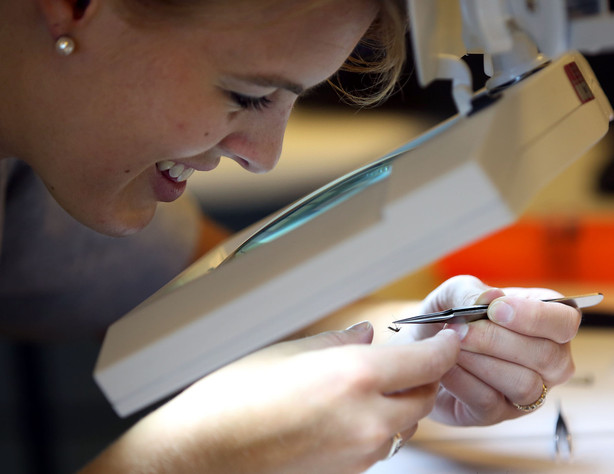 "If we can eliminate standing water, then mosquitoes don't have a place to lay their eggs," Chambers said, adding that homeowners should check and remove places where water can pool and remain stagnant.
Elimination of standing water, he said, "will eliminate the nuisance in our neighborhoods."
The state tests for West Nile through October, depending on weather conditions. Results are posted every Wednesday at www.health.utah.gov/wnv.
"People need to take precautions if they are going to be out after dark," Hatch said. "Wear repellent with DEET, wear long-sleeved shirts and pants, or stay indoors. Limit traffic in and out of the house at that critical time when mosquitoes are active. Be sure to remove standing water around the house and call for help with ornamental ponds."
So far, so good for Utahns, though, as some neighboring states have already reported human cases this year, according to the U.S. Centers for Disease Control and Prevention. Humans have been infected in Colorado, New Mexico, Arizona, California, Oregon and many Midwest and Eastern states.
But Ward and others at Utah's health department are keeping fingers crossed that human cases won't come later in the season, which can run as late as October.
"We can't predict anything that will happen, but hopefully it won't," she said. "We're hoping we won't see any this year."
×
Photos
Related Links