This archived news story is available only for your personal, non-commercial use. Information in the story may be outdated or superseded by additional information. Reading or replaying the story in its archived form does not constitute a republication of the story.
SALT LAKE CITY — Facing a relentless pass rush for most of the day, Utah's quarterbacks took a step back from the progress they had made throughout fall camp.
"I wasn't impressed with any quarterback," Utah head coach Kyle Whittingham said to describe the performance of the six QBs that received reps during Tuesday's scrimmage at Rice-Eccles. "It was disappointing because they've all been really sharp up until today, however in a game-like situation we didn't respond."
The quarterbacks combined for a not so good 15-of-44 passing, and while they didn't throw any interceptions, two handoff exchanges were dropped, both of which were recovered by the defense, and one was returned for a 89-yard fumble return for a touchdown by safety Tevin Carter.
"We have to throw the ball better," Utah offensive coordinator Dave Christensen said. "We've got some work to do on some route assignments and alignments, but we also have to throw and play catch when guys are open."
Junior quarterback Travis Wilson, a returning starter and currently No. 1 on the depth chart, threw two touchdowns - one a 25-yard strike to WR Dres Anderson and the other a 13-yard pass to Delshawn McClellon. But his performance was far from perfect, completing just eight passes on 21 attempts.
"It was probably not his best day," Christensen said about Wilson. "He turned the ball over a couple of times and didn't complete a lot of balls, so we'll watch the film and make some adjustments with him, get him corrected and ready to go for Saturday."
"We started off really slow," Wilson said. "We played well in certain areas, but not good enough. We'll have to watch film and correct it for the next scrimmage on Saturday."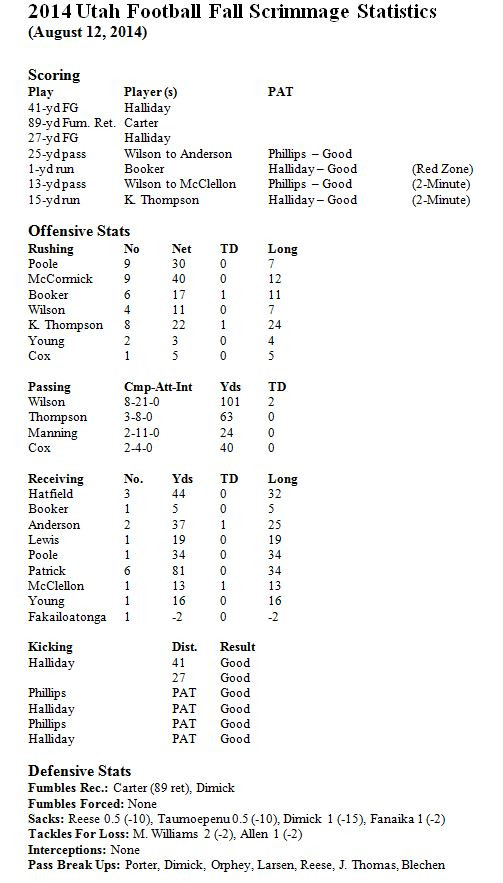 Transfer Kendal Thompson, who is splitting the first team reps with Wilson, completed just three passes on eight attempts, while adding 22 yards on the ground, including a 15 yard touchdown run.
"We need to throw a higher completion percentage," Utah quarterback coach Aaron Roderick said. "We had done that so far in fall camp, but today we weren't as sharp."
When Whittingham was asked if any quarterback separated themselves from the rest of the pack, he replied, "I expected more. Based on today's performance, we don't have a starting quarterback, because none of them played well enough to start. That group has got to get better, without a doubt."
Those are some pretty harsh words coming from the head coach, but perhaps it will motivate the players into a better effort during the team's next scrimmage, set for Saturday.
"We have to come out with the right mindset," Wilson said. "We have to treat the scrimmage with more motivation."
Thompson described most of the problems on offense as "fixible stuff".
"Offensive football is a lot of film work," Thompson said. "Offensively we have to watch film, regroup and on Saturday we'll look a lot better."
"It is important for us that we make improvement over the next few practices and that we are a much better offense on Saturday than we were today," Christensen added.
Defensive standouts
Whittingham was pleased with the effort on the defensive side of the ball in today's scrimmage.
"The defense flew around today, made a lot of nice plays - recovered a couple of fumbles and was good in situational work," Whittingham said.
In addition to Carter's 89-yard return for a touchdown, Hunter Dimick also recorded a fumble recovery, as well as a sack on Thompson that resulted for a loss of 15. Dimick was also credited with a pass breakup. Greg Reese, Pita Taumoepenu and Jason Fanaika also recorded sacks, while Marcus Williams had two tackles for a loss and Brian Allen added another.
While the defense didn't come away with any interceptions, seven different players batted down passes, including a breakup by Justin Thomas that averted what surely would have been a long touchdown pass from Wilson to WR Dominique Hatfield.
Camp Kyle notes
QB Travis Wilson and WR Dres Anderson were the only players wearing yellow jerseys, signifying they were off limits to tacklers.
DE Nate Orchard, DT Stevie Tu'ikolovatu and WR Kenneth Scott sat out for precautionary reasons. Robert Jackson is the cross platform sports and weather producer for ksl.com and KSL-TV. He has covered the Utes for KSL since 2008. You can catch him and co-host Brian Swinney Tuesdays and Thursdays from 7-9 p.m. on the Ute Sports Report 1320 KFAN.
×
Photos
Related Links
Related Stories