Estimated read time: 1-2 minutes
This archived news story is available only for your personal, non-commercial use. Information in the story may be outdated or superseded by additional information. Reading or replaying the story in its archived form does not constitute a republication of the story.
Whit Johnson reportingAfter a year of hard work, University of Utah engineering students put their projects on display today. From souped-up dune buggies to downhill wheelchairs, the teams of students put all their toys on display today.
Professor Bob Roemer's freshman engineering class worked the entire semester developing catapults that could transfer an egg into a skillet. "It's a bunch of things you really can't learn in a classroom. You have to do it and fail and succeed and try again," Roemer said.
Roemer, along with several other professors, provided a healthy incentive for the most effective inventions created by their students: no final exam!
But many of the students say they got so involved in the competitive spirit they stayed up at night just to perfect their projects. "We were in the lab until 3:30 last night. Pretty much every weekend we'd spend, like, eight hours tops; and to win like this, it's really gratifying," said Chagyub Tyler Lee, of the Infinite Design Team.
Ben Martin, of Team Teknik, said, "It's definitely made us work on our problem-solving skills, and of course the team-building skills, as well as working within a time constraint."
Although none of the teams placed its eggs in the skillet from the starting point today, Roemer blames someone else. "Some of them have been consistently able to do it, but Murphy showed up today with his laws," he said.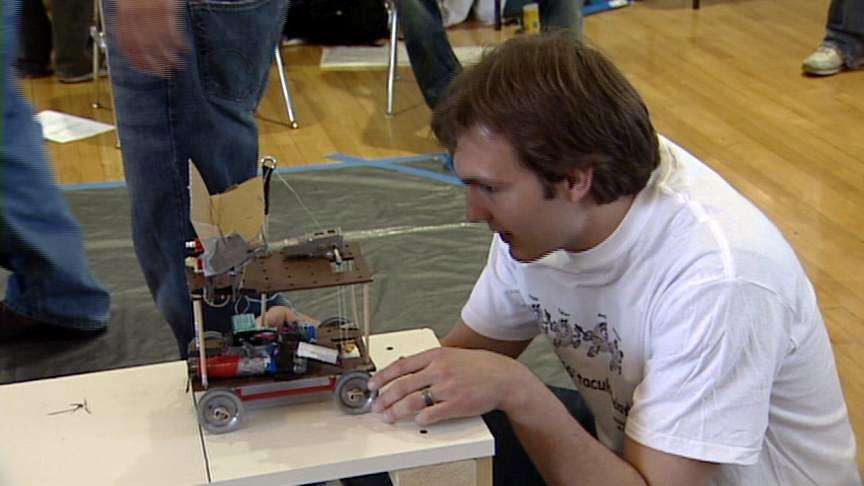 Roemer admits he may have outdone himself with today's "Sp'egg'tacular Relay" and will consider changing next year's competition back to one that focuses more on distance rather than placement of the tossed egg.
E-mail: wjohnson@ksl.com
×
Most recent Utah stories