RICHFIELD — When he was just 17, Bryant Washburn's high school coach drove him and a friend one night from Monroe to the National Guard office in Richfield to enlist in the service.
"The captain said 'we can't take you becasue you're 17 years old, but what we'll do is we'll put you down as 18,' " Washburn, now 92, said. "So we said, 'we'll join then.' "
They each received a dollar for enlisting.
Washburn worked his way up from a private assigned to KP duty to a sergeant overseeing a heavy artillery crew with an 8-inch Howitzer. They were on the front lines in Europe, firing 200 pound shells more than 10 miles toward the German troops.
"When the infantry got in trouble they called the 'fire friends,' " he said. "That was us."
When the war ended, Washburn returned to civilian life, but those experiences from World War II never left his mind.
"I talked to Edna (Washburn's wife) one day (and said) I didn't think the World War II (veterans) got the credit they deserve. So I said, 'Let's have a reunion for the World War II veterans,' " he said.
The 2008 gathering of more than 100 people — including World War II veterans from Sevier and neighboring counties— in the Washburn's back yard, became three volumes of written war stories, "Heroes of World War II." The self-published collection includes war stories from almost 400 veterans.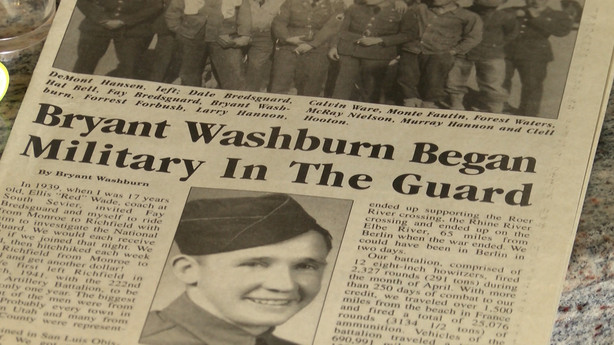 "In high school, where they're using this book for their history book," Bryant's wife, Edna Washburn, said. "One little girl turned the book open and found her grandfather's story in there. She didn't know it was in there and she didn't know what he had done in the war and so it really made a big impression."
"Twenty years ago I didn't think my story was important," said former B-17 tail gunner Delos Julander. "I thought it'd be good for my posterity to know what the old man did.
"I think they ought to remember that during our time they didn't realize how precarious our situation was," he said. "We could have been speaking a dialect of English and German on the East Coast and German and Japanese on the West Coast."
"The most faded ink is better than the best memory," Bryant Washburn said. "So if you have it in writing, their grandkids and their grandkids after that will be able to read these books and see what their great-great grandfather did in World War II."
×
Photos
Related Links
Related Stories