This archived news story is available only for your personal, non-commercial use. Information in the story may be outdated or superseded by additional information. Reading or replaying the story in its archived form does not constitute a republication of the story.
EAGLE MOUNTAIN — As heavy summer rains caused problems across the state Tuesday, Loraine Perkins watched helplessly as a 15-minute downpour undid years of work on the home where she chose to retire.
"You couldn't stop the water. It was rushing too badly," said Perkins, who moved to the area two years ago with Thomas Weidaur, her companion of 37 years. "The water had no place to go. The drains couldn't handle it."
Hours after the rain had stopped, the Eagle Mountain couple had filled sandbags, bailed water and called in an emergency cleanup service to start pumping the muck out of their home in the North Ranch neighborhood.
The National Weather Service reported Tuesday afternoon that more than 1.23 inches of rain had fallen in the area in 36 hours.
When the downpour began, Perkins and Weidaur ran outside to protect the newly poured cement around their barn, the last of two years of landscaping and renovation projects. About 15 minutes later, the worst of the rain and hail seemed to have passed. That's when Perkins saw "a wall of water" flowing around her home.
Again, the couple rushed outside to join their neighbors trying to divert several inches of fast-flowing water rushing through the neighborhood. As they worked, no one had realized the house was filling up with water.
"It was already a little too late," said Perkins, who discovered the water in the home. "Water was already up to my first step coming up into the house. It was bad."
Perkins and Weidaur knew the home had flooded once before they bought it but had been reassured that Eagle Mountain had fixed the drainage problems in the area. Nevertheless, they added berms and barriers around their property, but as the water back-filled, it flowed around the house on all sides.
---
It's water. It's fixable, I guess, but you would not believe the money we have just poured and landscaped this place. Tom and I were just so happy that we got this place to a good point, that it looked beautiful after two years.
–Loraine Perkins, Eagle Mountain resident
---
Perkins estimates about 10 neighboring homes also took on varying degrees of water damage, but it appears her home was "the worst of them all."
"It's water. It's fixable, I guess, but you would not believe the money we have just poured and landscaped this place," Perkins said. "Tom and I were just so happy that we got this place to a good point, that it looked beautiful after two years."
The flooding in the area also briefly blocked nearby Wride Highway, state Route 173, as water and debris spilled onto the road. The road reopened about 4 p.m.
The summer storm delivered rain across the state, dumping between a half-inch and an inch of rain in many areas. South of Duchesne, as much as 1.7 inches of rain fell, while Summit Park got 1.5 inches. Echo, Kaysville, Fruit Heights, South Jordan and Holladay all received more than an inch of rain.
The rain was expected to move out through Wednesday and Thursday, leaving lingering humidity, but the rains are expected to return Friday afternoon and again Monday, according to KSL meteorologist Kevin Eubank.
Roads through Little Cottonwood Canyon became blocked Tuesday when the downpour sent running water carrying rocks and debris across the road about 2 p.m. Crews from the Utah Department of Transportation briefly closed the road as they worked to clean up the mess and later limited travel to one direction at a time.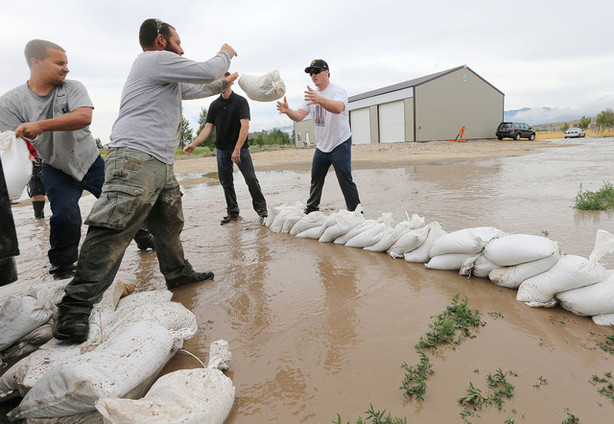 "The ditches and culverts are equipped to handle the majority of these storms, 99 percent of these storms, but every once in a while you'll get a major rainstorm like this that, with the slope of the canyon, will bring down rocks and trees," said UDOT spokesman John Gleason.
Debris from the downpour blocked culverts, sending more water into the roadway. UDOT crews in backhoes cleaned out the culverts and cleared the road, lifting travel restrictions by 6 p.m.
"We do a lot of preventative maintenance on the ditches and culverts to make sure they're clear and not obstructed, but when you have a storm that dumps this amount of precipitation in this short of time, that can really spell out trouble," said Gleason, who recalled responding to flooded roads in the same area last July.
While the summer storm brought relief for the fires burning across the state, wet conditions on the scorched earth created treacherous conditions for firefighters. Crews fighting the Levan fire were met with slick conditions and had to find alternate routes as debris flows off the recent burn scar blocked state Route 28 and state Route 132.
"It's quite a mess up there," said Dorothy Harvey, of the Western Great Basin Incident Command Team 3. "With the storms we had (Tuesday), you kind of go from fire suppression to flood control."
Officials reopened state Route 28 from Levan to Gunnison around 10:18 p.m.
The Levan fire was reported at 65 percent containment and 4,343 acres in size Tuesday night. An infrared survey was scheduled for Wednesday morning in hopes that the rain had extinguished lingering hotspots.
Meanwhile, the Bureau of land Management reported Tuesday that with the rain received, the 4,150-acre Simpson Complex fire was fully contained. Officials for the Uinta-Wasatch-Cache National Forest announced that the Spring Canyon Fire, Ether Fire and Black Fire had all received "significant moisture" and were fully or nearly contained.
×
Photos