Estimated read time: 7-8 minutes
This archived news story is available only for your personal, non-commercial use. Information in the story may be outdated or superseded by additional information. Reading or replaying the story in its archived form does not constitute a republication of the story.
SALT LAKE CITY — A former federal judge says criminal charges should never have been filed against a West Valley police detective who shot and killed a woman during an undercover drug investigation.
Paul Cassell, now a University of Utah law professor, said he's so convinced that he agreed to join the team defending former detective Shaun Cowley.
Cassell said he "became convinced" Cowley was legally justified when he shot and killed Danielle Willard on Nov. 2, 2012, after recently reviewing the evidence in the case provided to him by Cowley's attorney, Lindsay Jarvis.
"I reach this conclusion as someone who has taught criminal law (including manslaughter issues) and criminal procedure (including deadly force issues) and related classes at the College of Law for more than 20 years," Cassell wrote in a letter to Brent Rawson, general counsel for the Fraternal Order of Police. "I believe that the materials provided to me demonstrate a case of justifiable homicide on the part of officer Cowley — and obviously, at the very least, a case in which criminal charges should never have been filed."
Cowley was charged last month with manslaughter, a second-degree felony, in the shooting death of Willard, 21, during a botched drug operation. He is also named in a civil lawsuit filed by Melissa Kennedy, Willard's mother.
Cowley is scheduled to appear in 3rd District Court at 2 p.m. Monday. A hearing is also scheduled next month before the West Valley Civil Service Commission in an attempt to have his firing overturned.
Cassell, who served as a federal judge from 2002 to 2007, said he didn't have any preconceived notions before examining the evidence and told Jarvis he wouldn't accept the case until he had reviewed it. After he did, he said he "became very interested in trying to prevent what I thought would be a conviction that shouldn't occur.
---
The materials provided to me demonstrate a case of justifiable homicide ... and obviously, at the very least, a case in which criminal charges should never have been filed.
–Paul Cassell
---
"I think when all the facts are heard, the ultimate result will be a not guilty verdict, if the case even gets all the way to trial," Cassell told KSL.
Salt Lake County District Attorney Sim Gill, who filed the charges, said Cassell — whom he has worked with in the past — informed him last week that he would be taking the case.
"I have always respected Paul and will continue to do so. We have been on the same side of other projects, and in fact, we are working on one together now. On this one we happen to be on different sides. Nothing personal. Both of us just doing our job," he said.
Cassell said he generally does not take cases as a defense attorney since his main expertise is crime victims' rights litigation. But he believes the Cowley case is consistent with his victims' rights work.
"Effective law enforcement is critical to preventing victimization in our society. And part of effective law enforcement work is the ability to be able to defend one's self against deadly threats," Cassell said. "I've always been concerned about having an effective law enforcement system. And I think it's important that police officers be able to effectively respond to threats against them."
Jarvis said the defense team is excited to have Cassell join them, calling him a "brilliant guy" with "tons of experience" and a "perfect fit" for the case.
"He felt strongly that Shaun was, in fact, the victim and this would cause a huge problem for law enforcement. He asked to jump on board, and of course we had no problem with that," she said.
Jarvis said Cassell will be doing a lot of the legal research for the defense team and presenting several briefs in court asking for dismissal.
Cowley made a short, routine court appearance Monday.
---
On this one we happen to be on different sides. Nothing personal. Both of us just doing our job.
–SL County D.A. Sim Gill
---
The defense team for former West Valley police detective Shaun Cowley believes not only that the potential jury pool been tainted by prosecutors, but the criminal charge filed against him should be thrown out because it is based on protected testimony.
Outside the hearing, however, the defense team of Lindsay Jarvis, Bret Rawson and Paul Cassell went on the offensive, filing a 48-page motion asking for what's called a "Kastigar Hearing" and for the manslaughter charge to be dismissed due to the improper use of compelled testimony.
Soon after the Nov. 2, 2012 shooting, the entire West Valley Police Department's Neighborhood Narcotics Unit was scrutinized and investigations were launched both internally and externally. Those investigations ultimately uncovered problems throughout the unit, such as improper handling of evidence.
During this investigation, Cowley was compelled to make "Garrity statements," meaning that he was forced to answer questions for an internal investigation under the threat of being fired. But those statements were obtained with the assurance, "that it would never be used in a criminal investigation or prosecution," Jarvis said.
"Yet the district attorney's office has now taken that information and tried to bring it in so they can ruin Shaun's credibility," she said. Cowley's defense team says some of those statements were improperly given to the Salt Lake County District Attorney's Office by West Valley police.
"And as a result, the entire investigation and prosecution team is tainted. The burden is on the state to prove there has been no taint. We do not believe they will be able to meet that burden," Cassell said.
Related Story
It would be up to the state to prove during a Kastigar Hearing that it did not use his compelled statements in making its decision to prosecute him. Using such statements would violate his Fifth Amendment rights. The defense wants to hold that hearing before Cowley's preliminary hearing. If the state cannot meet its burden, then Jarvis believes the manslaughter charge against him should be thrown out.
Jarvis says not only are statements made by Cowley being illegally used against him, but the statements he gave had nothing to do with what he's charged with. She called it "complete, improper use of information."
Furthermore, Rawson said during District Attorney Sim Gill's press conference to announce the filing of the charge against Cowley, he talked about what forensics and other experts said in their reports, and even presented ballistics diagrams.
"You are essentially laying out your case before the entire public. The problem is, at some point if you are going to file charges, as has been the case here, you've now tainted a jury. Anybody within Salt Lake County who is watching this is potentially no longer in a position to act as an impartial jury member," he said.
Media attorneys in similar cases have argued that while there have been many high-profile cases in Utah, there has never been a case in which there was a reversal of a defendant's conviction because of pretrial publicity.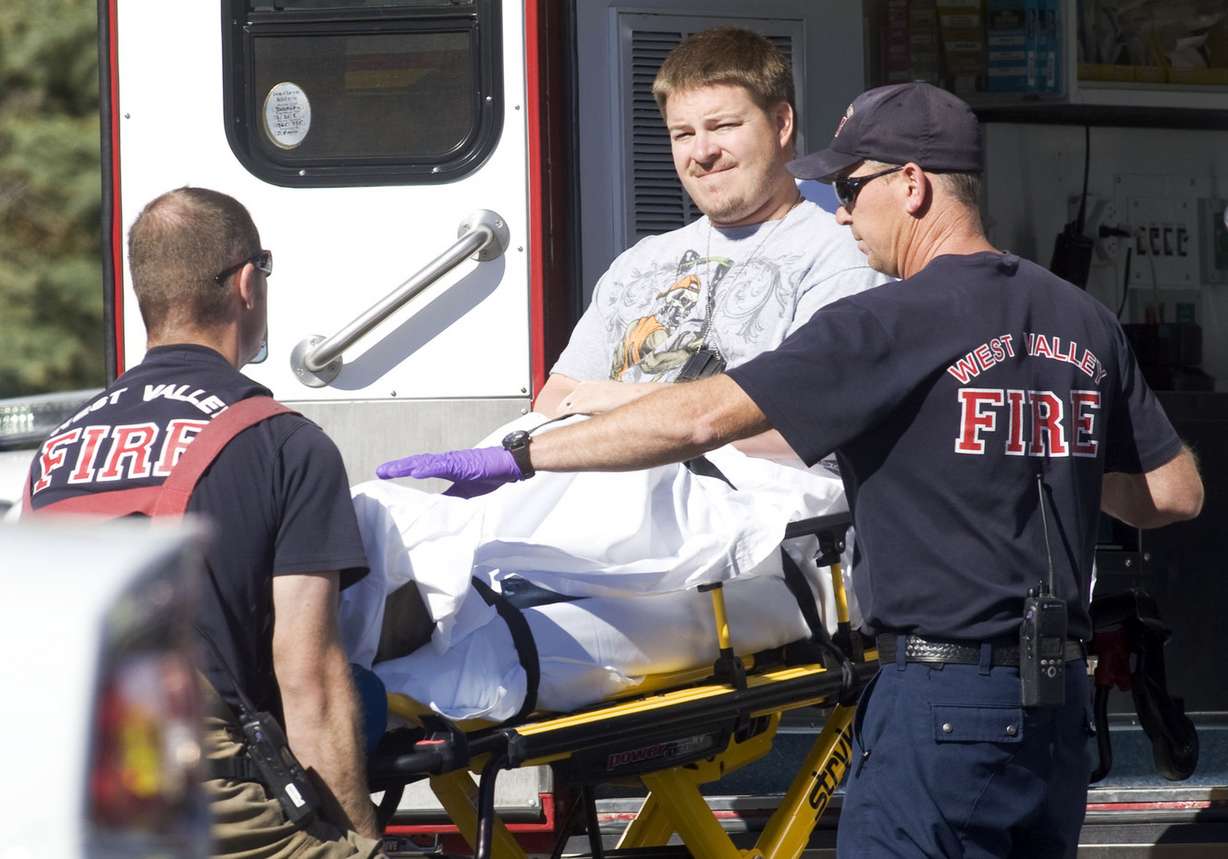 Also Monday, Cassell — a University of Utah law professor and former federal judge — made his official appearance as co-counsel for Cowley.
"The more I looked at the facts of the case, the more I became convinced that a very good office made a very bad mistake in this case," he said of his decision to join the defense team.
Cassell believes the facts of the case are for the most part not in dispute. What is still in dispute — even after Gill's office found the shooting was not legally justified — is what the law says about officers using deadly force.
"The law says an officer is entitled to use deadly force if he is in a situation where he is facing a situation of serious bodily injury or death. And we think as the evidence comes out in trial, the officer was definitely faced with that kind of threat," Cassell said.
Jarvis also revealed Monday that West Valley City has dissolved its Civil Service Commission, and Cowley — who was scheduled to have a hearing to dispute his firing from the police department — received a notice saying his hearing is no longer happening until further notice.
"West Valley pulled a fast one," Jarvis said. "We will appeal that decision to the Utah Court of Appeals because that's clearly a violation of detective Cowley's rights."
Like the last hearing, security was heightened for Cowley, who attended the hearing with his family. A wall of media photographers and reporters followed him from the courthouse elevators to the courtroom and back.
"Shaun has been in good spirits ever since charges were filed and the reason for that is he's now able to respond to some of those allegations. Up until this point it's been a lot of allegations rendered against him. He's never had the chance to speak. At the preliminary hearing, at his trial, he will finally have the opportunity to tell his side of the story," Jarvis said.
Contributing: Sandra Yi
×
Photos
Related Stories