This story is sponsored by the Utah Division of Wildlife Resources. In addition to managing and protecting Utah's wildlife, we manage hunting and fishing opportunities within the state.
If you've ever taken kids fishing, you know that it can be an intimidating experience. The patience and discipline needed to fish does not always come in kids' DNA. The following tips, though, can turn what might seem like an intimidating task into one of the most enjoyable experiences you and your child will ever have.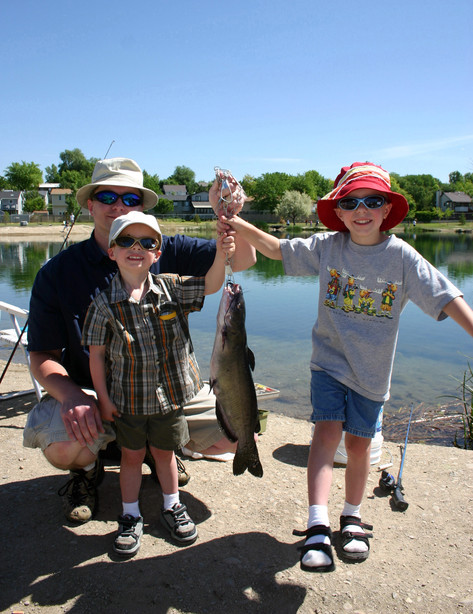 In addition to the memories you'll make, fishing can build positive attributes in your child. According to the Utah Division of Wildlife, "Kids benefit from fishing immensely, since they can participate solo or with others. It's a sport that builds self-esteem and confidence while enhancing problem-solving and decision-making skills."
Follow these five tips to make fishing an activity you and your child will treasure.
1. Plant an idea
The first thing you need to do is peak curiousity in your child. Simply take an evening, go to a local lake or pond, walk around and watch others fish. That might be all that's needed to get him or her excited about fishing. "Just being outside and seeing people enjoying fishing will trigger even more curiosity from an already curious toddler," according to West Virginia Wildlife Magazine.
2. Bring the right equipment
Takemefishing.org has great tips on the type of equipment you'll need to give your child her or his best chance at catching a fish. For example, the website says to avoid "kids' fishing equipment" that's sold in many stores. Instead, buy an ultralight spin casting rod, some small hooks, light fishing line and night crawlers that you can break off and fit on the hook. Keeping the equipment simple will make it easier for your child to use it. And having the right equipment will give him or her a good chance at catching a fish. If you need help setting up a rod, read more here.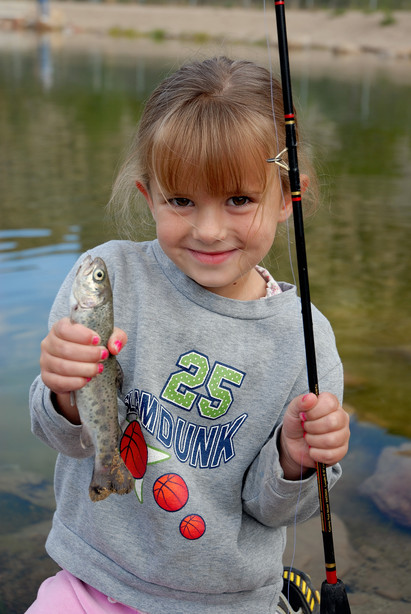 3. Have other activities planned
It should not be a surprise that kids will get bored while waiting for fish to take the bait. Clickondetriot.com's Outdoor section says it's a great idea to plan activities to keep your child occupied during the downtimes. A card game, a dice game, I-spy or simple storytelling games can help keep the day fun. Also, don't be surprised if your child decides to sit his or her fishing pole down and explore the natural world around them. If she or he does, great! Let your child step into the water, chase a butterfly or catch a frog. Activities like this will lead to some of the happiest times you and your child will ever have together.
4. Keep it short
Kids will enjoy fishing if it is not something they have to do for a long period of time. Instead of planning an all-day adventure, plan on spending just an hour or two after work one evening. Shorter is always better when teaching kids how to fish.
5. Go somewhere the fishing is easy
Families can go to a fish farm or a community fishery where the lake or pond is stocked with lots of fish so kids have great chances of getting a catch. A total of 50 community fishing waters are found in communities across the state. The Division of Wildlife Resources stocks these waters with lots of fish. Community waters provide a great, close-to-home place to enjoy a family outing and hook your child on fishing.


×