This archived news story is available only for your personal, non-commercial use. Information in the story may be outdated or superseded by additional information. Reading or replaying the story in its archived form does not constitute a republication of the story.
MANTI — Tucked behind the Manti Market grocery story, nestled in a small sea of weeds, there's an empty shell of brick and dust. The old factory sits idle now, but 72 years ago in this small central Utah town, hundreds of women with sewing machines helped save lives a world away. They sewed parachutes.
The Standard Parachute Company of San Diego, looking to expand World War II operations, was lured to Manti by Gov. Herbert Maw in 1942.
For the people of Sanpete County, still hard-hit by the Depression, the new business was, according to Dora Fautin, "a lifesaver."
"Times were tough in Manti," said Amanda Borneman, who wrote a chapter about the plant in the book "Utah in the Twentieth Century."
"They were struggling, their farms were struggling, and now they felt like they could hold on with these good jobs."
Fautin moved to town to take a job at the plant and send money home to her family's farm in Carbon County.
"They needed money to plant seeds, you know," she said.
Fautin, 91, said she was lured not just by money, but by the opportunity to contribute to the war effort.
"Oh yeah, I had brothers in the service," she said, "and I wouldn't feel good if I didn't do something to help them."
Fautin said she sometimes packed notes to the soldiers in with the parachutes.
"We were thinking about you and we miss you and we hope that this war will get over soon so you can get back home safely."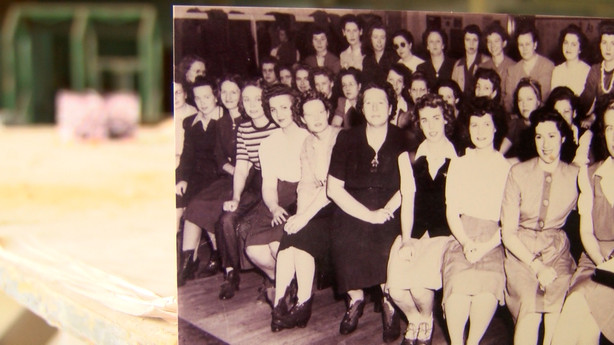 Margaret Greenwood could hear the sewing machines out of her bedroom window. The factory sat directly behind her house. Both she and her mother got jobs there.
"Saved a lot of lives, the parachutes that we made," she said. "When their airplanes were shot up and they had to jump out, it saved their lives and we felt that every time we'd sew."
During World War II, men went off to war and women went to work. In Utah, they worked at the Ogden Arsenal, the U.S. Naval Supply Depot, Hill Field, the Tooele Ordnance Depot, the Remington Arms Co., and the Eitel McCullough Radio Tube Plant.
Borneman said while many scholars say war work had a limited impact on introducing women into the workplace, jobs, like those at the parachute plant, had an effect that can't be quantified.
"The war work gave them (the women) confidence," she said. "They felt like (if) they could do this, they could do anything."
"It gave them a sense of pride, a sense of independence and a new sense of worth as well."
"Yes, it did," Greenwood, 92, said. "We found out we could do a lot of things. We found out we could do the painting of our homes and we had to do it and we found out we could pretty much survive. Women are tougher than we think," she said. "I guess that's why we live longer than our husbands. We're tough."
×
Photos