This archived news story is available only for your personal, non-commercial use. Information in the story may be outdated or superseded by additional information. Reading or replaying the story in its archived form does not constitute a republication of the story.
MILFORD, Beaver County — Crews in western Utah have been working away at a seemingly endless task in picturesque — but very dangerous — places.
They're trying to reduce safety hazards by sealing up old mines.
"We've made good progress," said Chris Rohrer of the Utah Division of Oil, Gas and Mining. "We still have lots of mines left to go."
About a dozen miles west of Beaver County's newest big industry, a wind farm near Milford, state contractors have been working on the remains of an industrial complex from a different era.
It's a mining complex in the San Francisco Mountains that blossomed in the 1870s and died out in the 1950s. The nearby ghost town of Frisco was once considered one of the wildest towns in the West, boasting 23 saloons.
Most of the old buildings are gone, but many mine openings remain, presenting hazards for recreationists on ATVs or explorers on foot.
As he walked up to a ladder emerging from a deep black hole in the ground, engineering consultant Bill Maehl noted its surprising depth.
"(It's) at least 440 feet," he said, "straight down."
Maehl has been surveying old mine sites for 25 years, helping the state seal them up for safety.
"They've still got a lot of mine sites to go, but we're making progress," he said. "I believe that they're addressing the most dangerous ones first."
Maehl and Rohrer inspected a grate that was just installed to keep people from falling into a vertical mine shaft.
"It's 85 feet deep," Maehl said.
At another mine entrance, sparks were flying as workers welded safety bars in place to seal off a horizontal mine entrance. The resulting barrier is designed to keep people out, while allowing bats to come and go as they please.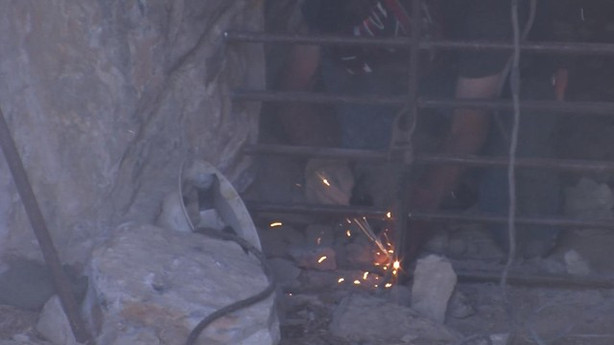 The sheer number of such mine openings is astounding. Rohrer said there's an estimated 20,000 around the state.
"In the life of the program, we've closed somewhere around 5,000 or 6,000," Rohrer said. "Just within a 3-mile radius of this mine there are 225 more openings."
One of the headaches for the state is that many people love to come to old mines and ghost towns for the history, adventure and picture-taking opportunities.
"It feels like it's in the middle of nowhere," Rohrer said. "But nearly daily there are multiple people out here exploring."
From time to time such adventures get people into a lot of trouble. The list of potential hazards is a long one. In addition to the possibility of falling into a deep shaft, explorers have to worry about rocks or buildings falling on them.
Some undergound areas have bad air — known as "black damp" — that is so starved of oxygen that it can prove fatal for anyone venturing in. There's also the possibility of poison gas in some places.
And yet people come for the fun.
"It is a worry," Rohrer said. "I totally get where they're coming from. I totally understand the appeal of mines. But they are hazardous places. They are basically abandoned industrial sites."
According to state figures, 10 people have died at abandoned mines in Utah in the past three decades, and 41 others have been trapped or injured.
Mine explorers also run the risk of prosecution. According to Rohrer, it is illegal to enter an abandoned mine wherever an entrance has been sealed. It's also unlawful to enter a mine on private property if there's a "no trespassing" sign.


×
Photos