This archived news story is available only for your personal, non-commercial use. Information in the story may be outdated or superseded by additional information. Reading or replaying the story in its archived form does not constitute a republication of the story.
SALT LAKE CITY — How long do you think you could last without your mobile phone?
If you'd feel uncomfortable going without it for more than 24 hours, you're not alone, according to the first Trends in Consumer Mobility Report from Bank of America. Thirty-four percent of people surveyed said they'd feel naked if they went without a mobile phone for 24 hours, while an additional 13 percent said they didn't think they could even make it an hour.
The survey was conducted by an independent market research company for the Bank of America and included 1,000 adults from across the country who own a smartphone and have a bank account with any financial institution.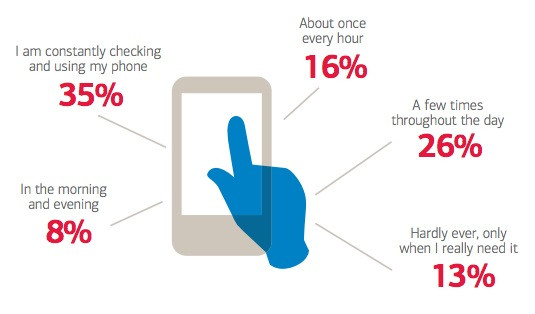 The respondents appeared to be very attached to their phones — 79 percent said they would be willing to completely give up alcohol or chocolate to get their phone back if it were unexpectedly taken away from them, although women were less willing to forsake chocolate than men.
Those surveyed also ranked mobile phones as being equally as important to daily life as cars and deodorant and more important than computers, television and microwaves. Toothbrushes and the Internet, however, were deemed more important than phones.
The attachment could be driven by a fear of being disconnected, according to the survey. A majority of respondents, 68 percent, said they would be very concerned about not being able to connect with friends and family while waiting for a replacement if their phone was lost or stolen.
Slightly less than half of respondents, 44 percent, reported they would be bored without their phones.
×
Related Links