Estimated read time: 4-5 minutes
This archived news story is available only for your personal, non-commercial use. Information in the story may be outdated or superseded by additional information. Reading or replaying the story in its archived form does not constitute a republication of the story.
SALT LAKE CITY — Before they can do anything else this summer, Misty Nicol's kids have to read and do their chores.
"They do it sometimes because they want to and sometimes because they have to," Nicol said. "Reading is extremely important, as is being active. We really believe that in our house."
Among sacks of candy and other prizes, Nicol's four children snatched up new reading material Saturday during KSL-TV's Family Book Festival, an annual event to help parents kick-start summer reading in their homes.
"I've always loved reading and I want my kids to love to read. I want everyone to love reading," said KSL's Deanie Wimmer, who champions Read Today, a statewide reading proficiency and incentive program. "Reading is one of the most important foundational skills a child can learn for success throughout life. It is fundamental to learning and educational attainment."
More than 20,000 books were doled out, as well as 800 pounds of candy and myriad other trinkets. Kids were invited to play games and visit various informational booths so their parents could learn about college savings, seat belt safety and other valuable causes, including foster care options in Utah.
"There's a large need for families who can accommodate large sibling groups," said Dan Webster, area representative for the Salt Lake Valley region of Utah Foster Care. "Children fare better when they are able to live with biological siblings."
---
There's a large need for families who can accommodate large sibling groups. Children fare better when they are able to live with biological siblings.
–Dan Webster, Utah Foster Care, Salt Lake Valley region
---
Webster said that while foster care provides a temporary home for kids in need, occasionally there are opportunities for foster families to adopt the children they foster.
Jennie Sheperd, of American Fork, adopted two of the children she once fostered and said, "there's a lot of ups and downs — it's like a roller coaster of emotions."
"But it allowed me to build an amazing family and my heart expands with joy just looking at these children that are now mine," she said.
Utah has more than 2,600 kids in need of foster care, and just 1,300 parents available for placement. Webster said parents who will foster teenagers are at a premium, as well as Hispanic families who can welcome Hispanic children for a time.
"We don't feel any different from other families," Sheperd said. She and her husband also previously adopted two other children and Sheperd now works for Utah Foster Care as a recruiter.
A big purpose of the Utah Foster Care Chalk Art Festival — held in conjunction with KSL's book festival on Saturday — is to raise awareness of the needs of the foster care program in Utah, showcasing "the importance of permanency that family can mean for a child," Webster said.
"I want people to feel something when they walk by, that you can tell there's love in this family," said Justine Peterson, a portrait artist and art educator from St. George.
She and her husband, also a portrait artist, were using brightly colored chalk to copy a photographic image of her and their 2-year-old son, Van, in a moment of embrace, onto the pavement.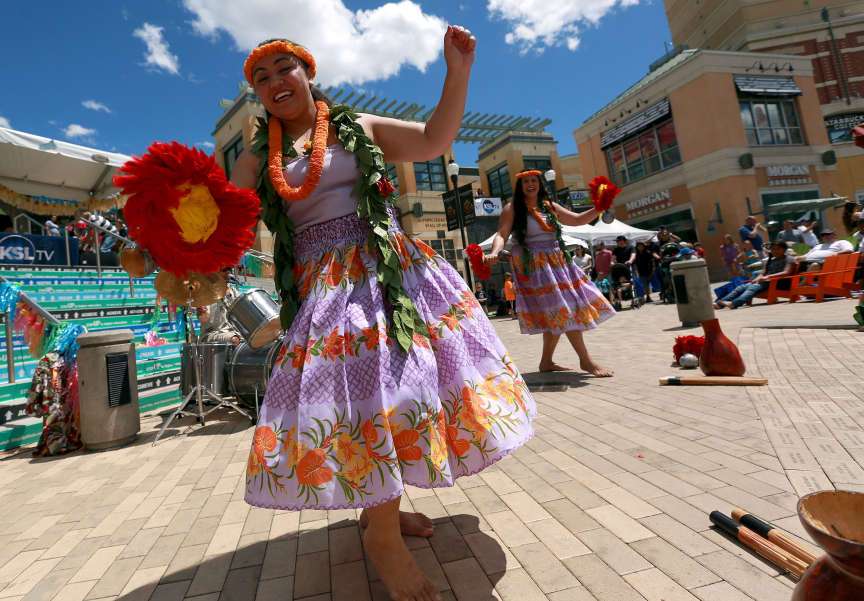 "It hopefully will spread the love of a family and share that with kids who might not have that atmosphere," she said.
While the duo create inspirational pieces on a daily basis, this one seemed to take shape more easily, partly because of the simple medium, but also because "it's for such a good cause," Rod Peterson said, adding that he loved hearing feedback from passers by as he worked through the day Saturday.
The "family friendly" images created on the pavement at the Gateway by about 150 different Utah artists will remain available for public viewing until Monday, Webster said. He said the event is one of the biggest awareness efforts the organization holds throughout the year.
"Everyone gets what this is about," he said. "We need good families for good children and they have to be willing to go through the hard times."
For more information about KSL's Read Today program, visit www.readtoday.com. And for information about Utah Foster Care, visit www.utahfostercare.org. Results from the chalk art festival contest and voting will be posted at www.chalkartfestival.org.
×
Photos
Related links