Estimated read time: 4-5 minutes
This archived news story is available only for your personal, non-commercial use. Information in the story may be outdated or superseded by additional information. Reading or replaying the story in its archived form does not constitute a republication of the story.
PARADISE, Cache County — David Smith estimates he has gone ballistic some 9,000 times in his lifetime.
His children also attest to his unusualness.
"You never know what dad's going to do next," David Smith Jr. said. "He's always been a bit crazy."
Even after 40 years of being jettisoned from the barrels of circus cannons and bouncing into suspended nets, the pangs of adventure are just as insatiable as ever for the 72-year-old man called "Cannonball Smith."
Earlier this year, Smith decided to take a journey with physical demands similar to his former occupation as a human cannonball, but without the usual glory and fanfare. On May 12, he left his home in Cache Valley, his wife and his two youngest children to travel by bicycle to his daughter's home in South Carolina.
The reason behind his trip is made plain by two messages painted on a trailer he tows behind his bicycle — "Jesus Loves Us" and "Could Compassion and Sharing End Hunger and Homelessness?"
"One reason for my journey is to turn people's thoughts to Jesus and their neighbors, some of which are hungry and homeless," Smith wrote in his blog, The Journey of Cannonball Smith.
On a typical day, Smith wakes up in his home-built trailer and rides or pushes his way along, averaging about 15 miles per day. Rests are frequent, and some meals are provided courtesy of strangers.
"What will the months ahead bring?" Smith writes in his blog. "Is my name David or Don Quixote?"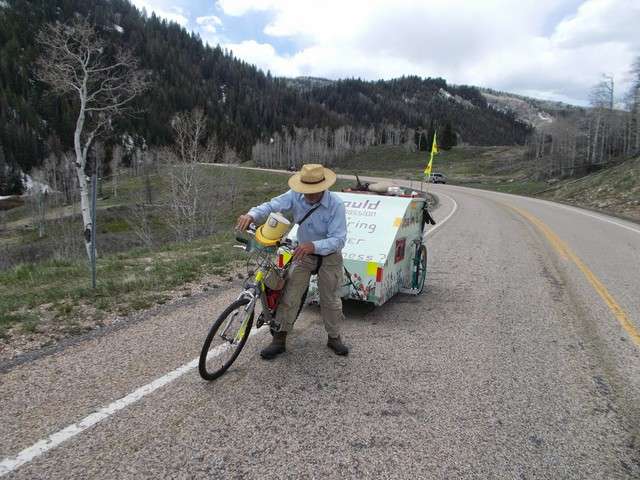 Wednesday was Day 17 for Smith, and already, compassion and sharing have been plentiful, he says.
"I'm learning that this journey is not about me. It's about you," he said. "I don't ask for anything, but with my little house and my situation, I provide a lot of opportunity for people to do a good thing, to be helpful. And they feel good about that. It makes their day."
Smith's wife, Marie, says worrying has been something she's gotten used to during her husband's cannonball years.
"He was always very safe ... so it would have just been some freak accident, like getting in a car accident on the way to work," Marie Smith said. "So it didn't just leave all of us scared all the time."
But even as the wife of a human cannonball, Smith wasn't thrilled when the idea of her 72-year-old husband riding and pushing a bicycle to the Atlantic Ocean didn't blow over.
"I was like, 'Why don't you just run a marathon?'" she said.
Hearing of the kindness of others when her husband calls each day helps to lessen her anxiety.
"Of course it's concerning to me, but I don't just feel worried all the time," Marie Smith said. "He's doing it, and so far, he's having a great time and meeting a lot of people."
David Smith attributes much of his well-being to unseen aid.
"I'm a religious person. I don't believe that I'm doing this alone," he said. "Too many things have happened, and somebody's there (to help). It's amazing. I really don't have any worries about it."
David Smith Jr., a second-generation human cannonball with two world record titles, said finding new ways to learn has always been characteristic of his father, who holds a master's degree in education from Utah State University.
One such experience came while David Smith Sr. was preparing to give a talk in his ward in The Church of Jesus Christ of Latter-day Saints.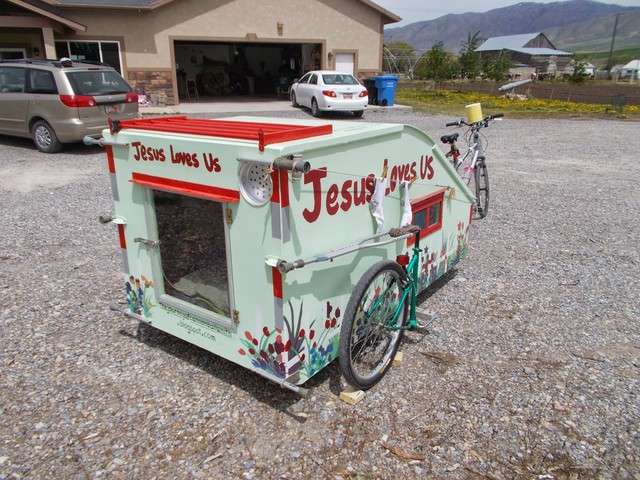 "I remember one time when we were kids, he crawled on his hands and knees for several miles from my grandma's house to the temple, and then went into church the next day and said, 'Well, you have no excuse not to go to the temple or come to church,'" David Smith Jr. said. "I was laughing because my sister and I had to walk with him so he wouldn't get hit by cars."
Jennifer Schneider, David Smith Sr.'s daughter who lives in South Carolina, hopes the encounters with kind people continue until he reaches her home.
"I'm scared out of my mind. But I'm very appreciative of the people that have been helping him along the way," Schneider said.
Jane Davis, who met Smith in her family's LDS ward in Oakley, said she was intrigued as Smith talked with members of her family while having dinner at their home.
"He's a very genuine person who's learned a lot about what really matters in life," Davis said. "He said how important it is that all of us look for the good in each other, ... (that) we should be kind and look for ways that we can lift and help each other along the way."
It's a message that is slowly, painstakingly making its way from Paradise, Utah, to Myrtle Beach, South Carolina.
"If you look at the whole journey, it's daunting," Smith said. "People have a hard time with the tomorrows in their lives. And I just learn not to worry about that. I've got 10 feet to worry about, not the 3,000 miles that are left.
"I'm not going to change the world," he said. "But I might change a person or two that is in a position to decide to help." Email: mjacobsen@deseretnews.com
×
Photos