Estimated read time: 2-3 minutes
This archived news story is available only for your personal, non-commercial use. Information in the story may be outdated or superseded by additional information. Reading or replaying the story in its archived form does not constitute a republication of the story.
Gene Kennedy reportingA Utah man is charged for lying to authorities about the production of the deadly toxin ricin. This comes after the poison was found in a Las Vegas motel room in February.
The man charged in this federal indictment, Thomas Tholen, lives in Riverton. He's not charged with making ricin, but federal authorities say he lied about its production and should have reported it. All this came after Tholen's cousin became deathly ill in a Las Vegas motel room a couple months ago.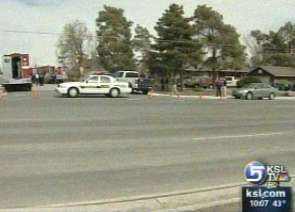 It was Valentine's Day when a man called for an ambulance at the Extended Stay America motel in Las Vegas. That was Roger Bergendorff, who once lived in Riverton, exposed to the biological agent Ricin. Bergendorff's cousin, Tom Tholen, visited him at the motel, according to the FBI.
In March, hazmat crews and federal authorities spent days searching Tholen's home in Riverton and some storage sheds in West Jordon. The FBI won't say what evidence they recovered. They also don't know if Tholen made ricin in the home, but the FBI thinks he knows more than he's letting on.
FBI Special Agent Tim Fuhrman said, "Mr. Tholen knew ricin was being potentially produced in this area. Now, I can't say for certain where it was produced."
Tholen's attorney, Greg Skordas tells KSL his client "worked with federal authorities and allowed them to search his home. He was cooperative, honest, and forthcoming in every way."
But the indictment alleges Tholen failed to report a crime and concealed it by making false statements. U.S. Attorney Brett Tolman said, "He knew more than he stated, and what he did state was misrepresentative."
The only legal use for ricin is in conjunction with cancer research or treatments. But the U.S. Attorney thinks, in this case, it was for an unknown criminal purpose. Tolman said, "The FBI and Homeland Security has long been saying that we need to be diligent because you can have lone-wolf scenarios," in other words, a person committing a lone terrorist act.
But the FBI says there's no evidence that the ricin was connected to some kind of terrorist plot. If Tholen is convicted of this charge, he could spend three years in federal prison.
Tholen's cousin, Roger Bergendorff was in a coma for weeks but has awakened and is cooperating with the FBI.
E-mail: gkennedy@ksl.com
×
Related links
Most recent Utah stories