NAPLES, Uintah County — A Uintah County sheep rancher has accused a Naples police officer of using excessive force during a traffic stop last month that was recorded on the officer's chest-mounted video camera.
Naples Police Chief Mark Watkins said the video, obtained through a public records request, clearly shows officer Ben Fishler did not brutalize Pablo I. Geronimo after pulling him over for driving a truck with expired registration.
"In reviewing the video and talking to all involved, I believe the force that was used was justified," Watkins said. "The injury that happened to Pablo was unfortunate and I'm not excited about that whatsoever."
Some who have known Geronimo for years, however, believe Fishler didn't need to take the 5-foot, 5-inch tall, 63-year-old man to the ground, causing him to suffer injuries to his face and head.
"The police have gone too far. They didn't need to use that kind of force on somebody his age and his size," said Camille Ericksen, who has known Geronimo for about 15 years.
On March 26, Geronimo was stopped on U.S. 40 in Naples after Fishler spotted the expired registration tags on his truck. In the video, Geronimo acknowledges he doesn't have a valid license and that his truck's registration is not current. Fishler — who has been on the job for eight months — collects insurance and other information, then heads back to his patrol car.
"Can you telephone someone to come drive the truck, car away?" Fishler asks when he returns to Geronimo's truck. "I can't let you leave. You're not a licensed driver."
"But I am working with the sheep," Geronimo replies, explaining that the longer he is delayed in getting back to his flock, the more difficult it will be to gather them up.
When Geromino says he doesn't have a phone, the officer pulls out his personal cellphone and calls a number Geronimo gives him. The person on the phone isn't able to help and the call ends.
---
Police officers should be your friends, somebody you look up to, somebody that you're not scared of when you get pulled over.
–Camille Ericksen
---
"OK, what's the next number to call?" Fishler asks.
"Everybody's working," Geronimo replies before going quiet as Fishler tells him he'll have to impound the truck if someone can't be reached in 10 minutes.
"I don't want to do that. I don't want to have to impound it," Fishler tells Geronimo, who then becomes obviously emotional, takes his seat belt off and starts to get out of his truck. Fishler gives Geronimo three commands to stay in the truck, but Geronimo tells him he's going home and walks away.
"Sir! Come here!," Fishler shouts as he follows the crying man down the shoulder of the busy highway. "Sir! Come here! Come here! Come here!"
Fishler grabs Geronimo's left arm and the older man pulls it away, telling the officer, "I am not stealing anything!" and "I am not animal, I am man! I can talk to you!"
"Put your hands on your head!" Fishler orders as he moves Geronimo back toward the truck. "Put your hands on your head!"
When Geronimo turns back toward the officer instead, Fishler takes him to the ground. The officer's chest-mounted camera comes off and its lens is blocked by the ground, but Geronimo can be heard crying as Fishler tells him he's under arrest.
"You didn't obey my commands," the officer says. "I told you to stay in the vehicle."
Geronimo was taken to the hospital for medical clearance before being booked into the Uintah County Jail. After his release, Ericksen uploaded photos of Geronimo's swollen face to her Facebook page in post that blasted Naples police for "unwarranted police brutality." The post has been shared hundreds of times and has drawn numerous comments of support for the sheep herder.
After watching the video of the traffic stop, Ericksen said her opinion hasn't changed.
"I don't think there's any reason they should have to do that, unless (someone) has a gun or something," Ericksen said. She also questioned whether Geronimo fully understood what was happening during the traffic stop.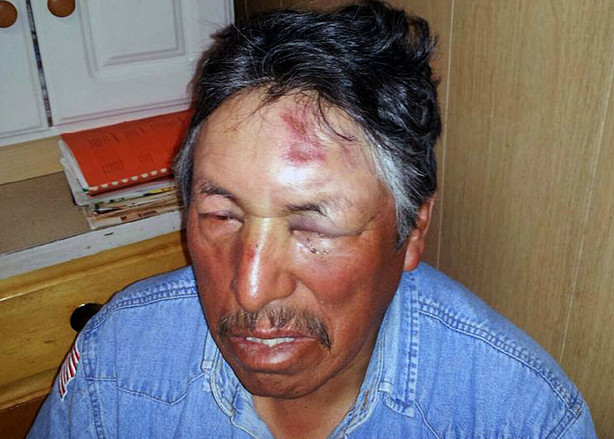 "I think if things were maybe explained a little bit better to him, he might have had a better understanding and the officer could have calmed him down a little bit before he got out of control," Ericksen said.
State court records show, however, that Geronimo has had plenty of experience being stopped by police. Since 1994, he has been ticketed 14 times for a variety of traffic-related offenses, including failure to register a towed vehicle, driving without insurance and operating a vehicle with faulty equipment. In many of those cases, the charges were dismissed after Geronimo repaired his vehicle or showed proof of insurance to the court. In other cases, he paid the ticket.
After his run-in with police last month, Geronimo was charged in 8th District Court with assault on a police officer, a class A misdemeanor, interfering with an arrest, a class B misdemeanor, no valid license, a class C misdemeanor, and using plates registered to another vehicle, a class C misdemeanor. His preliminary hearing is set for May 21.
Ericksen has encouraged others to attend the hearing to show support for Geronimo and believes Fishler's law enforcement career should be over.
"Police officers should be your friends," she said, "somebody you look up to, somebody that you're not scared of when you get pulled over."
Geronimo's attorney, Greg Lamb, described his client is a "simple man" whose focus right now is on taking care of his sheep during the critical lambing season. He added Geronimo believes he is a victim of police brutality, but declined to comment further on the case.
Watkins stands by Fishler. He said the preliminary findings of an internal investigation into Geronimo's excessive force complaint show that Fishler did not violate department policy.
"If my officer did something wrong, then he'll be judged for that. He'll be judged for the truth," Watkins said. "If my officer did something right, he should be judged for that truth, and the truth always comes out in the end."


×
Photos
Related Stories